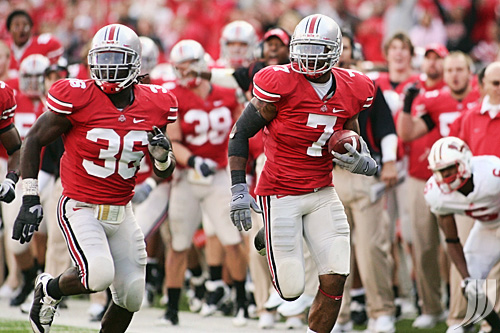 For a unit returning three multi-year veterans, the Buckeye secondary is getting a lot of scrutiny in the late heat of a soupy central Ohio summer. Such scrutiny is likely warranted by the fact that Ohio State faces one of the nation's more prolific passers in just its second game: Jacory Harris, who has thrown 36 touchdowns in his first two years in Coral Gables.  Fortunately for us, he has balanced out said success with an unsightly 24 picks. Nevertheless, the returning talent at receiver for the 'Canes, and in the Big Ten at large (Nick Toon, Marvin McNutt, Derrell Johnson-Koulianos and Keith Smith, to name a few solid veterans) make it so that even an average Buckeye secondary could spell trouble for the team as a whole down the road. The soul of last year's defensive backfield, Kurt Coleman, is off rocking faces in the NFL. His uncanny ability to make a play on the ball will be missed. Hoping to pick up the slack are three rising seniors, two of whom - Chekwa and Hines - have been making big plays for the Buckeyes over the course of the prior 2+ years. Chekwa and Devon Torrence are not shutdown corners, but they were good enough in helping Ohio State finish 5th nationally in pass efficiency defense. The hope among many Buckeye fans is that whatever issues this secondary may have will be masked by a spectacular front seven, but I have confidence that these guys will hold up quite well, even against the more prolific attacks on Ohio State's schedule.
Unit Eligibility

| | |
| --- | --- |
| SR | Chekwa, Gant, Moeller, Torrence, Hines |
| JR | Evege, Oliver |
| SO | Barnett, Domicone, Howard, Johnson |
| FR | Brown, Bryant, Clarke, Griffin, Hagan, Roby, Wood |
Cornerbacks
It seems like Devon Torrence and Chimdi Chekwa both have been at Ohio State for eight years. In their final season as Buckeyes, they're hoping to evolve into the conference's best corner tandem, if not one of the best in the country. While the latter may be a stretch, Chekwa and Torrence have proven in the past that they can make big plays.
The reason so many of us feel Chekwa has been here forever is because his first major action was against Purdue waaay back in 2007, when he played nickelback like a veteran in registering 10 solo tackles against the Boilers' spread attack. In helping hold the Boilers to seven points, Chekwa solidified himself as the heir apparent at cornerback after Malcolm Jenkins, even as a middling prospect out of Florida. Buckeye fans were very excited for his first full season as a starter in 2009, but Chekwa struggled at times, especially against bigger receivers. Perhaps his most infamous play was late in the game against Iowa. True freshman Hawkeye QB James Vandenberg lobbed a pass to the corner of the end zone for receiver Marvin McNutt, who hauled the pass in to tie the game at 24, sending it into overtime. Chekwa had failed to look for the ball, opting instead to stick to McNutt like a magnet (and arguably committed pass interference, to be honest). This failed, because McNutt has roughly four inches on Chimdi, and Chimdi was cast aside like a ragdoll. It's hard to be too tough on Chekwa, though. He has his detractors, and they have very reasonable grievances with him. However, he's largely been solid in pass coverage, isn't known for blowing coverages all that consistently, and does well against targets who do not make him look like Mighty Mouse. He's an experienced senior starter, and a valuable weapon to have on your side.
Torch a Dumpster If
Chekwa and Torrence notch 2+  picks against INT-prone Jacory Harris, Scott Tolzien and Ricky "Rick Six" Stanzi, and Hines finds his big hit swing again
Avoid Sharp Objects If
More than one of these guys goes down with an injury, as inexperience and youth cloud the depth chart after Evege
On the other side of the field is Devon Torrence, who is largely unremarkable because he neither gives up many big plays nor pulls in a ton of interceptions. He's just sort of there. Always. He hugs receivers pretty tight in coverage, and has enough speed to stick with shifty bastards like David Gilreath and Martavious Odoms in space. He had 35 tackles last year, on top of interceptions at Purdue and Michigan. You may remember him best from a sack on a corner blitz during the USC game. The back-up situation at corner is cause for at least some trepidation. Donnie Evege has mostly special teams experience, while everyone else is either a true freshman or otherwise wet-behind-the-ears. The guys riding the pine this year have plenty of talent, but there's a reason they haven't seen the field yet, and it's not because Chekwa and Torrence are worldbeaters.
Safeties
Right, so uh, this was horrifying last year:
The man you saw getting burnt ever-so-crispy on that play - Anderson Russell - is gone. After that game, he was stripped of his starting job and replaced by fan favorite Jermale Hines, a kid with a history of being a big hitter. Fortunately for Russell, he bounced back to have a fairly good senior farewell, while Hines slowly developed into one of the better free safeties in the Big Ten. He wasn't perfect though, which is why the staff saw fit to sprinkle Russell back in again throughout the season, and the two combined to keep the deep portions of the field relatively impenetrable for opposing quarterbacks. The defensive backfield will rely much more on Hines this season, as he is paired with redshirt sophomore and bona fide newbie Orhian Johnson. Johnson has impressed in camp in his first couple years at Ohio State, enough so that he beat out veteran guys like Nate Oliver and Aaron Gant; guys who have actual game experience. That's impressive, even for a redshirt sophomore. I stand by what I wrote last week:
He has big shoes to fill in the wake of Kurt Coleman, who I maintain was the soul of last year's defense.... Johnson patrolling the deep field adequately and coming up in run support might not be enough to make a true difference; he'll need to take away the deep right side of the field for opposing quarterbacks to fill that gap in the secondary.
As murky as things seem at corner after the starters, things are even more so at safety: Hines and Johnson are supplement by perennial backups Aaron Gant and Nate Oliver, as well as project player and former late offer Zach Domicone. After that, freshmen, redshirt or otherwise, provide just enough depth to keep things from getting too scary. Still, experience is hard to come by in this lot outside of Gant and Oliver, and I tend to think those guys have been restricted to blowout duty with good reason. In the end, many Buckeye fans will continue to hope that this secondary's issues - if they indeed have as many as is feared - will be marginalized by the play of a defensive line that could be one of the best in the last decade at Ohio State. If Heyward and Williams are making s'mores in opposing backfields all night, Ohio State could get by just fine with an average outing from Chekwa, Torrence et al. But I think we'll see marked improvement out of each this season, en route to another top-10 finish in pass efficiency D (and total D) to round out the season.