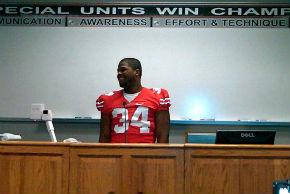 With just 43 days left until the Buckeyes kick-off against Marshall on September 2, there are plenty of questions to be answered about Jim Tressel's team in 2010. One of those questions surrounds the incoming freshman, most notably who will make an impact off the bat, who may work their way into the rotation during the season (a la Marcus Hall 2009), and who will be slapped with a redshirt, providing them a chance to improve their skills and learn in year one. 17 of the 19 players signed in the class of 2010 are on campus and currently performing in summer workouts (mostly 7 on 7 drills) with the rest of the vets. Roderick Smith is likely to join his future teammates come August, while Jamel Turner is trying to get back into the game of life, let alone the game of football. While all 18 of the expected reporting members for camp in August would like to see the field from day one, that's just not feasible, as the 2010 Buckeyes are deep in most areas of the depth chart and lead by a very talented junior class. To give you an idea of the difficulty of a freshman getting playing time in year one under Jim Tressel, just 9 of 23 players in the class of 2009 did not redshirt, with only Marcus Hall, John Simon, Zach Boren, and Jordan Hall seeing time on the field other than on special teams. The class of 2010 is very talented, but not everyone will be able to take meaningful snaps this season, leaving the rest of the summer and camp in August as opportunities for them to compete amongst each other and the current players for spots on the two-deep on offense, defense, or special teams this upcoming season. Here's a look at what we anticipate for the 18 members of the class of 2010 who will don the Scarlet and Gray for the 2010 football season:
OFFENSE
The eight offensive players in the class of 2010 include RB Carlos Hyde, OT Andrew Norwell, WR James Louis, WR Corey Brown, WR Tyrone "T.Y." Williams, RB Adam Griffin, RB Roderick Smith, and QB Taylor Graham. In this group I see Hyde, Louis, and Brown as the only members who will see the field this season. Louis and Brown can make an immediate impact right away at a now-thinner wide receiver position (thanks Duron!). Both players have tremendous speed and will compete with Chris Fields and Taurian Washington for the third receiver spot, as well as for a return man position. Hyde has impressed many in camp so far with his combination of power and speed and it looks like he has a real chance to be a big part of the running back rotation this year. Taylor Graham may never see the field at OSU, especially after the Bucks got a verbal from top 2011 gun slinger Braxton Miller earlier in the year, but will spend this year learning the offense and finishing his rehab from a leg injury that cut his 2009 season short. Norwell, the top ranked recruit in the class, also is recovering from a knee injury, but if healthy he would be providing immediate depth much like Hall did last season. At runningback, Griffin is not ready for this level of college football and doesn't really have a set position as of now, while Smith is extremely talented, but his academic shortcomings have left him out of the loop this summer. He'll need to impress the staff greatly this fall. Finally, the 6-6/215 Williams is the ideal red-zone target for Terrelle Pryor, but likely needs some time to work on playing the receiver in terms of route running and engaging defenders at the line of scrimmage.
DEFENSE
There are nine defensive players in the 2010 recruiting class and they include DB Christian Bryant, DB Bradley Roby, DB Verlon Reed, DB Chad Hagan, LB Scott McVey, LB David Durham, DT Jonathan Hankins, DE JT Moore, and DL Darryl Baldwin. Of this group, Bryant, Durham, Hankins, and McVey will see the field in my opinion. Bryant is a kid who is impressing everyone during summer workouts. He could end up playing safety down the road in his career, but will start at cornerback for now. Look for his impact to come mostly on special teams, but he could see some time in the secondary during mop-up duty in blowouts. Durham reminds Luke Fickell of James Laurinaitis and to keep the comparisons coming, Durham will wear #33 at OSU. I've liked Durham since I saw his tape after his commitment and I think he can have a big impact, especially on special teams this season. He will start out playing the MIKE position, but has the skills to play any of the three linebacker positions and even the LEO position if he puts on a little bit more weight (think Nathan Williams). Hankins is the big plug in the middle everyone has been waiting for and he too has impressed the veteran players this summer with his agility and quickness despite his large frame (6-3/315). Hankins has a chance to compete for a spot in the two-deep with Garrett Goebel, Evan Blankenship, and Adam Bellamy , and while it's likely Goebel and Bellamy will be the third and fourth d-tackles, don't count Hankins out from seeing some time there this season. McVey is a dark horse in this group because he's not as hyped-up as some of the other guys in this class. He is listed as a linebacker, but at 6-0/225, I feel he is an ideal fit for the STAR position in Jim Heacock's defense. I like to compare McVey to a Tyler Moeller type player and feel he can be a good addition on special teams this season and have a future impact on passing downs as the STAR in the nickel.
SPECIAL TEAMS
The final member of the class of 2010 is K Drew Basil. Basil was one of just two members of the class to enroll in time for spring practice (Carlos Hyde being the other) and made his presence shown, displaying possibly the strongest leg on the team for kick-offs. While many think Ben Buchanan and Devin Barclay will hold down the special team duties this season, don't count out Basil making his way into the mix just yet. I think it is really a toss-up whether the staff will redshirt the Chillicothe product and it will come down to competition during camp to decide whether he will see the field or ride the bench in 2010. Do I think he will kick field goals for the Buckeyes this year? Absolutely not. What I do think though is that Basil could be given kick-off duties, giving the Bucks someone who can consistently put it in the end-zone for the first time since Josh Huston left town. It seems strange to most that the coaches would burn a redshirt on someone just to give them 10 more yards of kick-off distance, but knowing the important Jim Tressel puts on special teams and field position, don't write this one off just yet.