No, we're not throwing some sort of crazy, million dollar bash here at the 11W headquarters that is to be featured on MTV. That would be cool though, and in our fantasy world the party would be held at Ohio Stadium and would place Mark Titus as emcee, Matt Terwilliger as guest of honor, The Vest as guest bartender, a full-studded cocktail hour and affair with Mike Hart, Jake Long, and Chad Henne as the guys carrying around the pigs in a blanket, and a game of "Pin the tail on the DickRod" for the kids.
Yeah, unfortunately that's not going to happen in the near future, but we do have a party of some sort to celebrate this weekend as it's time for the Sweet Sixteen. Making it past two games in the tournament is something to write home about, especially this year the way top dogs are flying off brackets everywhere, causing high rollers to teeter on the ledges of their vegas hotel rooms. Recently, Dave Biddle of Bucknuts wrote an article ranking the remaining tournament teams in order from 1-16. Dave's list is pretty stellar and while we agree with the top and bottom of the list, it's the in-between that we're going to attempt to reorganize a bit today. Without further adieu, here goes THE 11W SUPER SWEET SIXTEEN.
1. Kentucky- The top dogs remain the same as Biddle's and for good reason. DeMarcus Cousins, Patrick Patterson, and John Wall are enough to beat any team in the country, but throw in the sniper Eric Bledsoe, and contributors Darnell Dodson, Darius Miller, Perry Stevenson, DeAndre Liggins, and Daniel Orton and you have a juggernaut that sent a message to America by thrashing 9-seeded Wake Forest 90-60 in round two of the tournament. This team has only lost twice this season and is capable of slipping up, but if OSU is to make the finals, there is a good chance we will finally see a Evan Turner vs. John Wall match-up.
2. Syracuse- The Orange had a round two thrashing of their own as they downed Mark Few's Gonzaga squad 87-65 last weekend. This is possibly the best coached team in the tournament and their veteran laden squad is not going to fold because of pressure. The match-up zone Jim Boeheim employs seems to be unbreakable for the most part this season and if any team wants a shot, they should hope they can get a hold of Rick Pitino whose Louisville team dissembled the Orange twice this season. Wesley Johnson brought it down to Syracuse and Ohio State when he left ISU. If the Bucks had him this year the tournament would already be over. Instead, WJ4 gives 'Cuse a good shot themselves as they take on Butler and then either Kansas State or Xavier as they march to Indianapolis.
3. West Virginia- Yes, I know this is a 2-seed ahead of a 1-seed, but the Mountaineers are playing very good basketball. The Big East Tournament Champions have won eight in a row and 10 of their last 11 and don't seem to be slowing down just yet. They took care of Morgan State by 27 after a slow start and beat a tough 40-minutes-of-hell Mizzou team 68-59 to advance to the Sweet 16 where they will face #11 Washington. If Da'Sean Butler played this way all year (18.4 ppg/7 rpg over the eight game streak), he would be right up there for Player of the Year, but you can't forget his supporting cast. Kevin Jones, Devin Ebanks, Darryl Bryant, Wellington Smith, Joe Mazzulla, and the rest of Bob Huggins' arsenal make this team very dangerous and possibly the biggest threat to top dog Kentucky.
4. Duke- I only put Duke here because I feel that their bracket should (key word: should) be easy for them to take and advance to the Final Four where they await a thrashing from Kentucky or WVU. Duke is a good, senior laden team that plays great fundamental basketball and can shoot from the outside, so don't get me wrong, I'm not saying they are bad by any means. I just haven't been impressed with the Blue Devils who played in a weak ACC this season and send far too many white guys onto the hardwood to be considered a serious title contender in my mind. Kyle Singler has been impressive and scored 17 in the team's 68-53 victory over Cal, while Nolan Smith played his Robin and scored 20 last game in the full 40 minutes. Brian Zoubek and Lance Thomas are serviceable on the inside, but it is John Scheyer who is really the engine that makes this motor run. He can't expect to shoot 1-11 again in the tournament, like he did against Cal, if he wants to help Coach K reach the promised land for the first time in nine years.
5. THE Ohio State University- Yes, the "THE" is important and so is this team in the eyes of bracketeers across the country, especially with top-seeded Kansas out of the picture. I, like Luke, had the Buckeyes out against the Hoyas in this round, but Tennessee is the team that awaits, making a Final Four run a bit more likely. If the Bucks can get past UT, I think they will get to Indy as they face a Kalin Lucas-less MSU team or this year's cinderella story, Northern Iowa. Evan Turner is obviously the most important player and may have to put the Bucks completely on his back for a few games down the final stretch, but Dallas Lauderdale, William Buford, and especially David Lighty and Jon Diebler have stepped up big-time in the first two games. Despite some potential size match-up issues, the bottom line is if ET plays like ET the Bucks can beat anyone.
6. Kansas State- Frank Martin is a Bob Huggins disciple and is coaching like it this post-season. The 2-seeded Wildcats are becoming a wide spread Final Four pick, but they face a tough Xavier team and then potentially an even tougher game against Syracuse. Dennis Clemente (a Miami-FL transfer) might be the fastest player in the country and is averaging 18 points per game in the tournament. His cast includes a deep group consisting of Curtis Kelly, Dominique Sutton, Luis Colon, Wally Judge, Jacob Pullen, Jamar Samuels, Martavious Irving, and Rodney McGruder. I wasn't too high on K-State coming into the tourny and still don't think they are going to win it all, but after watching them last weekend I think it is very realistic they could be heading to "Nap-town" soon enough.
7. Tennessee- This team underperformed during the season, but after losing key players to a legal incident, it is understandable. Bruce Pearl teams are very well coached and despite OSU's recent run of success against the Vols, this will be a very tough draw for the Buckeyes. Wayne Chism, JP Prince, and Scotty Hopson are the UT Big Three, but they get some help from Bobby Maze, Brian Williams, Melvin Goins, Cameron Tatum, and coach's son, Steven Pearl. Tennessee's problem is lack of talented size, making this a poor match-up for them with OSU. Williams is 6-10/275, but his 5.2 points per game show just how much of a inside threat he really is, while Chism at 6-9/240 is more of a high-flying athlete. Tennessee is good, but is kind of a long shot to do any more damage (we hope).
8. Baylor- Here's where things start getting tough, but the number three next to Baylor's name is there for a reason.. BU has had an easy road so far playing a 14-seed, an 11-seed, and now a 10-seed in the round of 16. St. Mary's is solid, but Baylor should have no trouble getting to the elite eight where they'll finally be tested against Duke or Purdue. Former Wolverine, Epke Udoh, and 7-footer Josh Lomers run the middle for the Bears, while Anthony Jones, LaceDarius Dunn and Tweety Carter man the perimeter and wings, making this a very balanced team. Dunn and Carter may have two of the cooler names in college basketball, so that gives them so ranking credit here too.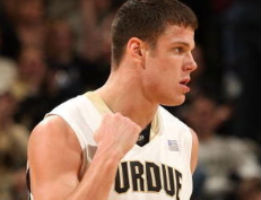 9. Purdue- It took a last second lay-up by Chris Kramer to beat Texas A&M, but this team is here to play. Even without Robbie Hummel, the Boilermakers are playing pretty good basketball and it seems like they have the magic with them to do something special. Matt Painter's squad has the potential to upset Duke and then take care of Baylor or St. Mary's and be a very big surprise team in this year's Final Four. E'Twaun Moore has yet to have his "he's a lottery pick" game yet, and if that comes soon, opponents should get ready to Boiler Up , because pairing Moor's top performance with that of JaJuan Johnson and Chris Kramer could be the recipe for success. The next game could go either way, but without Hummel I'd say this tournament has been a success so far for Purdue.
10. Xavier- Former Indiana stud, Jordan Crawford, is really stepping up this March. Crawford scored 27 and had 6 rebounds in a 71-68 win over Pitt and had 28 points, grabbed 6 rebounds, and dished 5 assists in a first round victory over streaking Minnesota. He is carrying the team on his back a la The Villian, but like Turner, has gotten help from teammates in Terrell Holloway, Jason Love, Dante Jackson, Jamel McLean, Kenny Frease, Brad Redford, Mark Lyons, and Andrew Taylor. This Xavier team just has a knack for doing it in the post-season, no matter who the coach is, and if they can dig deep for just one more game, they have a chance to go to the elite eight for the third time in the last six years.
11. Butler- As Buckeye fans know, Gordon Hayward can score with the best of them, while Shelvin Mack is a nice little player and Matt Howard just seems to find a way to get the job done down low. The Bulldogs narrowly escaped Murray State 54-52 and they needed their own last second effort to advance, but nonetheless they are in the sweet 16. The bad news is Hayward has just 25 points combined in the two games thus far, but the good news is that his less than stellar shooting performances have been supplemented by side show contributors stepping up. Ronald Nored had 15 against Murray State and Veasley had 10 against the Racers and 8 points and 9 rebounds against UTEP in round one. If the Bulldogs can get contributions from those two and can get a solid three-point shooting performance from Hayward and Mack, they have a chance to break Syracuse's match-up zone.
12. Michigan State- This team would be ranked a lot higher if Kalin Lucas wasn't going to miss the rest of the tournament and Delvon Roe wasn't playing with a bum knee. All injuries aside, this team still has a good chance of advancing this week against Northern Iowa and Tom Izzo is a good enough coach where it is feasible (not likely, but feasible) that Sparty could take down OSU or Tennessee in the elite eight. Korie Lucious hit the big shot against Maryland to advance last round, but it was Durrell Summers who stepped up the most in Lucas's absence, as he scored 26 points against the Terps. Raymar Morgan had 17 against UMD as well, and Izzo will need those two, as well as Lucious, Draymond Green, Chris Allen, Garrick Sherman, Derrick Nix, and Austin Thornton to play to their potential if the Green and White want to make a second consecutive trip to the Final Four.
13. Washington- Talk about a team that underachieved during the regular season. Washington has very talented players in Quincy Pondexter and Isaiah Thomas, a good coach in Lorenzo Romar, and a good balance of veterans and younger players that can score from all areas of the floor. I am not sure what took this team so long to gel, but upset wins in a big comeback victory over 6-seed Marquette and a blow-out win against 3-seed New Mexico have Husky Nation believing that this team can do it again against WVU. While it is certainly possible, it would take all that U-Dubb has and even then I'm not sure it's enough. Either way, unless UK gets upset, the elite eight is as far as Washington will go, but this run is definitely a big stride for the program who needed a Pac-10 Tournament Championship to even get a spot in March Madness.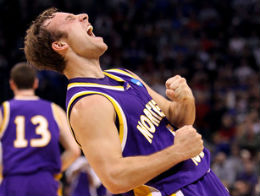 14. Northern Iowa- This Cinderella story has captured America's audience and hearts as they knocked off UNLV in the first round and the tournament's top overall seed in Kansas in round two. They now face a hobbled Michigan State team, but after last game I don't think they fear anyone. Ali Farokhmanesh is becoming a household name and is "gutsy" open-look three pointer put the Jayhawks away for good in the final minute of last weekend's upset. He gets help from senior Adam Koch and his brother Jake, Kwadzo Ahelegbe, Johnny Moran, and center Jordan Eglseder, who was offered a scholarship by UNI before they even saw him play a game. The Panthers have shot 40% as a team from 3-point range and if they continue their timely sniping, they could have another upset in store for Michigan State. At this point, it's scary but I'd almost rather play a injury-plagued MSU team than the hot Panthers of UNI.
15. Cornell- It's so hard to put the Big Red so low on the list, but this group of 16 teams is really talented. Cornell was a team who was in the Top 25 for a nice portion of the year and was terribly mis-seeded by the committee. The Big Red is 29-4 this year with all of those four losses coming on the road and three against power conference teams in Seton Hall, Syracuse, and Kansas. With their opening weekend wins against Temple (first tournament win in school history) and Wisconsin, CU has won nine in a row and 17 of their last 18 (and even further 27 of their last 29). Even more impressive is the fact that they have won those two games by an average margin of 15.5 points. If you haven't watched them yet, I suggest you do against Kentucky, and you will get to see Ryan Wittman (son of Randy), Louis Dale, Chris Wroblewski, Jon Jaques, and Jeff Foote get a chance to make some history in what should be a more competitive game then Kentucky fans will like.
16. Saint Mary's- Last, but not least is the little college from California who has made some splashes the last few years in the NCAA Tournament. This year, the Gaels are back and after upsetting Gonzaga in the WCC Championship, have taken down #7 Richmond and #2 Villanova on opening weekend. SMC has a tough draw against Baylor, but will play with nothing to lose as they have thus far in the tourny. Center Omar Samhan has been a star and his name has become familiar amongst college basketball fans this past week as he averaged 30.5 points and 9.5 rebounds per game over the first two victories. The Gaels have four other players who average in double figures including Mickey McConnell, Wayne Hunter, Ben Allen, and Matthew Dellavedova. Going nine deep as they do, should help against Baylor and it will be interesting to see the match-up of Samhan against the BU big men inside the paint.