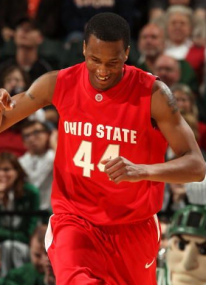 It almost seems sickeningly long sighted to even dare think about what the 2010/11 college basketball season has in-store before the Buckeyes' 09/10 tourney life has reached its apex, but with the super class coming in that the Buckeyes have, it's difficult not to begin to wonder what could lie ahead. ESPN Insider Chad Ford
released
an updated Top 100 prospects for the 2010 NBA Draft Wednesday. For those lacking an Insider Account, an ESPN The Magazine subscription, or a buddy who works at the world wide leader, the list (which does not discriminate with respect to underclassmen) lacks the presence of a certain William Buford amongst the contenders for the draft's 60 spots. NBADraft.net's latest
mock draft
(updated at time of this post as recently as Wednesday morning at 4 am(!)) also fails to list Ohio State's talented guard as a perspective draft pick as well. Unless Willie B's circle of influence includes horrible advice or he's got any kind of designs on playing in Europe next season, it's beginning to look safer and safer to assume he'll be back in the scarlet & gray for the full Jared Sullinger experience.
The monkey -- it lingers Part of me is in complete disbelief I'm about to dedicate any amount of words to this, but, uh, Ohio State's lady hoopsters (amusingly enough OS X 10.6's auto correct initially changed that to hipsters, but I digress) laid another second round egg, falling to the Lady Bulldogs of Mississippi State by a lot to significantly less than that. I entertained about 5 minutes of the game, saw some of the sloppiest, poor shot selection ridden, turnovertastic ball I've seen played by men or women in the last calendar year, and MSU looked to be playing a tempo not conducive to the Buckeyes' desired pace of play (dare I say SEC speed? *shiver*). Obviously it's difficult to discount what Coach Jim Foster's done for the Buckeyes (no matter how sparingly the vast majority of us typically pay attention to the team), but it's beginning to feel awfully Cooper'y in the Lady Hoopsphere. It would seem absurd to even suggest Foster go the way of John Markell, but perhaps a shake up of some variety is in order after the team faced an Oliver Purnell-esque 4th consecutive early exit from the tournament.
Et tu, Jeff, uh, eh? While on the subject of hoops, transitions, and the TWWL, ESPN's Andy Katz mentioned in his news and notes Tuesday that first year Ohio State assistant (and twitter hero) Jeff Boals is mentioned as a potential candidate for the vacant Toledo Rockets head coaching job. Boals, in his first year since moving over from Akron, was thought by many to be brought in to provide a certain edge to the team, and also assist with the team's performance on the glass and he's done just that. The Buckeyes improved from 9th in offensive rebounds in the Big 10 in 2008/09 to 7th in '09/10 and improved on the defensive front from 5th to 3rd in the league. Should Coach Boals go the way of John Groce before him and extend the Matta coaching tree even further, he would be missed. Fortunately we'd have the twittersphere to wish him our best and get the privilege to follow along as the Rockets upset some unwitting Big East giant in the first round of next year's incarnation of the dance.