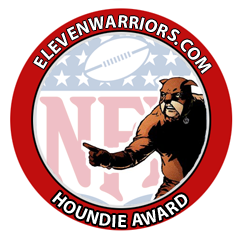 The Houndie is an award formerly known as the Buckeye NFLer of the Week. After 2 years of existence, we searched for a catchier name, so with the help of a well placed typo and the ensuing 11W comments, the current title was created.
We start things off this week down in Miami, where the receiving duo of Ginn and Hartline put up normal numbers for them, but both played a pivotal role in Miami's 22-21 comeback win over New England.
Ginn caught 2 balls for 34 yards and returned 4 kicks for an average of 26 yards. However, his long return of the day was 51 yards, right after Brady threw an 81-yard TD to put NE up 21-10. The return set Miami up at their own 48, where they went on to kick a FG 7 plays later. On that drive, Hartline drew a PI penalty on 3rd and 4, good for 37 yards to the Patriots 9. H-line then caught a TD pass later in the 3rd, to draw Miami to within 21-19, he ended the day with 4 catches for 41 yards.
Another solid WR effort came from Santonio Holmes, who caught 8 for 149 yards and a 34-yard TD in Pittsburgh's inexcusable 27-24 home loss to the Raiders. Holmes moved up to 7th in receiving yards and now sits 14 yards away from his first career 1,000 yard season. He has already caught a career high 64 passes on the season. For the victorious Raiders, Jay Richardson was credited with a solo and assisted tackle.
Brian Robiskie finally had a somewhat productive day, catching 4 passes for 69 yards in another Browns loss, while fellow rookie Beanie Wells carried the rock 13 times for 28 yards in Arizona's 30-17 win over Minnesota.
In Carolina, Chris Gamble registered 4 solo stops and 2 assists, while also intercepting a Josh Freeman pass with 18 seconds remaining. Na'il Diggs chipped in with 2 solo stops in Carolina's 16-6 thrilling win over Tampa Bay. Sticking with defense, Little Animal once again lead the Rams in tackles, this week going for 9 solos and 3 assists in St. Louis's 17-9 loss to Chicago. Even though the Rams are 1-11, JL has been a bright spot and now sits 8th in the league with 97 tackles, 5 behind rookie leader Brian Cushing. Meanwhile in KC, the veteran Mike Vrabel got 5 tackles.
Last week's winner, Donte Whitner had 6 total tackles in Buffalo's 19-13 loss to the Jets on Thursday night. Sadly, the Gun Show once again did not record any stats in the Jets win. In Monday night's game, AJ Hawk shadowed Todd Heap most the night and recorded 3 solo and 4 assisted tackles, while also making a sick interception off Joe Flacco in the 4th.
This week's winner though, might also win the year-end perseverance Houndie, is Malcolm Jenkins for undefeated New Orleans Saints. Jenkins had 9 solo tackles, the second straight game he has lead the Saints in tackles, as NO came back to win at Washington, 33-30 in overtime. Jenkins didn't see much playing time in the first 10 weeks, but has been making the most of his injury-related chance in the last 3 weeks, making 24 of his season's 34 tackles. This is obviously his first Houndie.