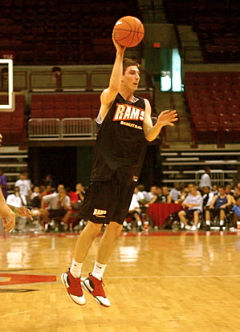 After serving up what turned out to be the deciding victory that pushed the Big Ten over the top for their first Big Ten/ACC Challenge crown, The Ohio State Buckeyes are feeling good. Their only loss on the season came to then #4 North Carolina (who will be back in the Top 10 next week) and they have notched some tournament resume-building wins in a neutral court victory over California and Wednesday's Challenge win over a solid FSU team. The Bucks will have another chance to prove their worth to the tournament committee on December 12 against Butler in Indianapolis, but first must protect their 6-1 record at home in a match-up against Eastern Michigan.
The Eagles come into the Schott playing good basketball at 5-2 on the season, but both of their losses have come away from home and they have yet to play a team even close to the caliber of Ohio State. Head Coach Charles Ramsey, in his fifth season, will try to rally his troops and pull off an upset, hoping he can catch the Buckeyes snoozing after beating the Seminoles and looking ahead to the Butler game.
The Buckeyes have won four straight games since dropping one to the Tar Heels in MSG, but have looked good since. They had a fairly easy time with a tough ACC team, but will they be caught sleeping on the Eagles? It's certainly possible, but when you have a coach as good as Thad Matta, it has become the norm for the Buckeyes to take care of competition like the sort that will be coming down from the state up north tomorrow.
| # | Name | PTS | REB | ASST | POS | # | Name | PTS | REB | ASST |
| --- | --- | --- | --- | --- | --- | --- | --- | --- | --- | --- |
| 21 | Evan Turner | 20.6 | 12.9 | 6.6 | G | 3 | Carlos Medlock | 12.0 | 4.1 | 5.0 |
| 44 | Wiliam Bufford | 10.4 | 3.3 | 2.3 | G | 21 | Quintin Dailey | 4.3 | 2.0 | 0.9 |
| 33 | Jon Diebler | 16.6 | 2.6 | 2.3 | F | 1 | Jay Higgins | 10.9 | 3.0 | 2.0 |
| 23 | David Lighty | 11.3 | 5.1 | 3.0 | F | 33 | Brandon Bowdry | 19.0 | 10.1 | 1.4 |
| 52 | Dallas Lauderdale | 6.7 | 4.7 | 0.5 | C | 25 | Justin Dobbins | 11.5 | 4.0 | 1.2 |
Opponent
Eastern Michigan's version of Evan Turner comes in the form of 6-6 forward Brandon Bowdry. Bowdry's ability to consistently carry the team in points and rebounds on a given night has lead the Eagles to a successful start to their season, but he will need as much help from his teammates as possible if they want any shot to take down the Bucks.
The MAC's second leading offense (73.0 ppg) uses an eight man rotation and likes to share the wealth around all of their talent. Bowdry is certainly the headliner, but the other starters as well as Antonio Green, Jamell Harris, and Matt Balkema off the bench have given their fair share towards the scoring effort. Shooting about 55% from the floor, look for the Eagles to get the ball in Bowdry's hand, but when it isn't beware of point guard Carlos Medlock to deliver. Medlock can drive the lane, shoot from the outside, and is a pest under the boards and on defense. He's helped the Eagles hold opponents to a MAC best 42% from the floor and EMU will hope to force the Buckeyes to take lower percentage shots.
Buckeye Breakdown:
The Buckeyes went to work on the Seminoles on Wednesday, and Evan Turner lead the way yet again. The three-time Big Ten Player of the Week this season scored 25 points, grabbed 13 rebounds, and dished out 6 dimes en route to leading OSU to a 77-64 Challenge-clinching win. Playing Robin to Turner's Batman was Jon Diebler who seems to have found his stroke this season and cashed in a 22 point effort while shooting 50% from 3-point land. Diebler has played with a new confidence this season and if he can keep it up throughout the season, opponents are in trouble.
The EMU game may be a remedy for one struggling Buckeye in William Buford. Buford, a sophomore from Toledo, was a McDonald's All-American coming into Columbus and was the conference's Big Ten Freshman of the Year last season. Buford had high expectations coming into 2009-2010 and many thought he may bolt for the NBA after the season, but so far he has been very inconsistent for Thad Matta. Against the Noles, those struggles continued as WB shot just 1-12 from the field, scoring 5 points. Buford seems to be forcing shots and trying to do too much, similar to what we saw many times from Daequan Cook after he was demoted to the bench upon Greg Oden's return in 2006. The game against the Eagles may come as the perfect time for Will, as he will feel less pressure from the EMU defense and should be able to put up some gaudy numbers to stroke his ego a bit.
Finally, the return of Dallas Lauderdale has certainly been felt and if you have watched any games this season it is apparent the team is much better with him on defense. The Bucks enter this game leading the conference in opponent shooting percentage (37.7) and are second in the Big Ten in points allowed (60.9) and third in allowing just 38.3 rebounds per game. These numbers are sure to improve with Lauderdale back, as the team can play more man to man. In the first half on Wednesday, Lauderdale limited Solomon Alabi's offensive production to 7 points and more importantly just 2 rebounds, getting better positioning under the boards than the 7-footer from Nigeria. It wasn't until the second half when Dallas was in foul trouble and Kyle Madsen had to play a bunch of minutes that Alabi dominated the paint, showing how important Big D is to this team. Serving as the team's only true big worthy of playing any crunch time minutes, Lauderdale needs to continue to stay out of foul trouble and keep up his intensity. The game against the Eagles gives him the perfect opportunity to continue to work on those things.
Etc
The Buckeyes are now 3-5 in the Big Ten/ACC Challenge, but helped the Big Ten win it's first ever Challenge. The conference is now 1-10 against the ACC.
Evan Turner has double-doubles in 6 of 7 games this year