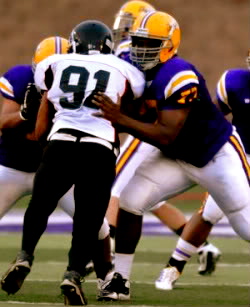 So the regular football season is over, Evan Turner's injury has put a slight damper on basketball season, and we still have 22 days or so until we get to see the Bucks vs. the Ducks in Pasadena. The question you all may have, like myself, is what do we have to be excited about in the next month? Besides watching the basketball Buckeyes take on Butler this weekend and play three cupcake games without ET, as well as listening to ESPN tell us why Oregon's offense will be unstoppable, the answer is the 2010 recruiting class.
Jim Tressel has secured 13 verbal commitments for the class of 2010 (14 if you include Carlos Hyde) and is looking to take 4-7 more players in the class depending on available scholarships. The class currently is ranked 11th in the nation by ESPN and Scout's Inc. and if things play out favorably for The Vest, we could be looking at another top 10 and even a top 5 recruiting class nationally yet again.
Here's a list, broken down by position, of players currently committed to the Bucks for 2010, players the staff is still on the hunt for, some surprises that could sneak in late, and of course, our predictions for who will make up the OSU Recruiting Class of 2010:
Quarterback The Buckeyes already have secured a verbal commitment from Taylor Graham, the son of former Buckeye Kent Graham. Graham had an injury plagued junior season in which he only saw action in six contests, but after promising summer camps, was given a Buckeye offer and accepted shortly thereafter. He came into his senior season with high expectations and started off the year pretty well, but the injury bug hit again as Graham had a season ending injury. His rehab is reportedly going well, but the Buckeye coaching staff may seem to want insurance, as they have reportedly offered local product Verlon Reed. I believe Reed will accept the offer and come in as a QB/ATH. Reed could be a Troy Smith case as it seems quarterback would not be the starting position for him at OSU, but he may be just the player Tressel is looking for under center. If he is even half the player Smith became, it was well worth the offer.
Running Back As mentioned above, Carlos Hyde will join this class and enroll at OSU in the winter, as he did not make the scores in time to be a part of the class of 2009. Hyde can bid for playing time right away and can be the power/short yardage back the team could have used this year. The other commitment in the class is Rod Smith, who has grade issues of his own. There is no doubt about Smith's ability on the field as he brings a combination of size and speed, much like Beanie Wells did a few years back. There have been questions about his ability in the classroom as to whether he can qualify, but as of now it seems his status is safe. There are two in-state backs the Buckeyes have been looking at and they are Braylon Heard and Erick Howard. Heard is committed to West Virginia, but he made that commitment before receiving a Buckeye offer. After a solid performance in the state playoffs, it has not been reported that OSU has offered just yet, but they did ask Heard to make an official visit, something he says he will do. Howard won Mr. Ohio Football for the second straight year and is the only person other than former Buckeye Robert Smith to achieve that feat. Howard has also had grade issues and they may be so great that the Buckeyes have not offered yet-or he is just not a good enough college prospect to warrant the Bucks dishing out an additional offer. Either way it looks like there may only be room for Heard, if any of the two Ohio backs.
Wide Receiver Corey Brown (versatility), James Louis (speed), and Tyrone Williams (size) have all committed to the Buckeyes and all bring a different dimension to the receiving game. With the possible departures of Taurian Washington and Flash Thomas, bringing in these three super athletes is essential, and even if those players don't depart the program, the trio is certainly a good catch (no pun intended). There is a chance Reed could move to wide out at Ohio State if he commits, but other than that there are no other receiving prospects as the unit is pretty stacked for next year with Posey, Sanzenbacher, Carter, Jackson, and Fields all returning even if Flash and Washington transfer.
Offensive Line Offensive line is one position I always feel the Bucks can do better on, and the last few years have proven that it's something they need to do better on. This year's group developed pretty nicely and returning next season are four starters in Brewster, Boren, Browning, and Shugarts, along with probably starter Mike Adams, Andy Miller, Marcus Hall, Jack Mewhort, and Corey Linsley. The Bucks seem to be in good shape for the future up front, but you can always use more lineman and the staff would like to add at least two in 2010. Andrew Norwell, despite a season-ending injury, is one of the nation's best, and is a Buckeye already, but there are three pospects the team is still hoping will join Norwell in Columbus.
The best and biggest out of the group is Seantrel Henderson, who stands at 6-8/300. Henderson is looking at OSU, Florida, USC, Notre Dame, Oklahoma, Miami, Minnesota, and Iowa, but many think it's down to a three of OSU, USC, and UF. From what I've heard and seen from Seantrel, I like the Buckeyes' chances, especially now that Charlie Weis is out at Notre Dame. Staying close to home should never be overestimated in recruiting and I think that could play a big factor in Henderson's recruitment. Another tackle the Buckeyes are looking at is Matt James of Cincinnati St. Xavier. James has things narrowed down to OSU, Cincinnati, Notre Dame, and Florida. James is definitely tough to get a read on, but for some reason I have a feeling he won't end up at OSU. Brian Kelly has been recruiting him at Cincinnati and if he goes to Notre Dame, I think that's where James will end up.
Finally, a darkhorse is Brandon Linder out of St. Thomas Aquinas in Ft. Lauderdale, Florida. I got the opportunity to see Linder in person in the Horseshoe in August and he is the real deal. His finalists are Notre Dame, OSU, Florida, and Miami, and I think the ND coaching situation plays into OSU's favor. Just from talking to him in August it seems he definitely was not opposed to going out of state and I think he liked what he saw in Columbus.
Defensive Line With Thaddeus Gibson and Cameron Heyward possibly leaving early for the NFL, along with the graduations of Doug Worthington, Todd Denlinger, Rob Rose, and Lawrence Wilson, defensive line is a big need for this class. JT Moore (DT or DE) and Darryl Baldwin (DE) have already verbaled to JT in this class, while Jamel Turner and David Durham could play either end or linebacker in Columbus. With those four locked up, the staff would definitely like to add one or two more players and they come in the form of defensive tackles Shariff Floyd and Jonathan Hankins. Floyd, 6-3/310, is believed to be a Buckeye lean at this point, but it will be a fight to beat out Florida, USC, South Carolina, UNC, and others for his services. I have a good feeling about him and if the Bucks can land him, it will be the third straight year they get the #1 player from Pennsylvania (Pryor, Dorian Bell). Hankins is from the state up north and has narrowed things down to basically Florida, Michigan, and Ohio State. He claims Florida leads after visiting Gainesville and Ann Arbor, but he visits Columbus officially this weekend and I wouldn't be surprised if he committed to Jim Tressel on the spot.
Linebacker The aforementioned Turner and Durham could end up at linebacker, but the only true verbal commit at the position is St. Ignatius's Scott McVey. The Buckeyes are pretty loaded at linebacker and don't need any more players here, but will certainly take Lakota West's Jordan Hicks. Hicks is a top five player nationally and is down to OSU, Florida, USC, Texas, and Alabama, with OSU, Florida, and USC leading the way. Location could play a factor with Hicks and some seem to think he's a Buckeye lean, but will be visiting Florida this weekend and the dust could clear on this situation after the visit.
Defensive Back Safety Chad Hagan is the onyl defensive back that has committed to OSU, but there are some high quality players on their radar. Glenville stars Christian Bryant and Latwan Anderson visit Columbus this weekend and both could be Buckeyes by next week. Bryant has been considered a lock for a while (although there are no locks in recruiting), while Anderson has had some grade issues. Both are fantastic players and are two that OSU would love to have. Once again, Reed could end up playing DB at Ohio State if he accepts the offer and if he doesn't play quarterback, safety is the best bet for where he will end up. UPDATE: We originally had Lamarcus Joyner in here as well, but word on the street is that he committed to FSU last night. Apparently he wanted to tell JT in person last night when they made their in-home visit. Best of luck to Lamarcus and now the offer to Reed and potential offer to Braylon Heard (who could play CB) make a little more sense.
Specialists This group is the easiest of the bunch as the Bucks only tracked two players in Drew Basil and Will Hagerup. Basil, of course, chose the Buckeyes and will most likely kick at OSU, while Hagerup chose to waste four years of his life and go to Michigan. I guess Hagerup saw that Michigan's punter was treated like the star quarterback of every other school and thought committing to Rich Rodriguez would get him some chicks.
Predictions It could be a numbers game when things come down to the nitty gritty, but with 14 players (including Hyde) already committed it seems there will be space for 4-5 others, and possibly 6-7 others if there are transfers or early deaprtures to the NFL. I think Reed and Bryant are the strongest candidates to fill two of those spots and I think Henderson, Hicks, Floyd, and Anderson will join the 2010 class. I believe Heard has to listen to what OSU offers being an Ohio kid, but I think numbers play out of his favor. I believe Brian Kelly takes the ND gig and gets Matt James to follow him to South Bend and I feel that Hankins will either not make the cut grade-wise at OSU or will decide the warm weather suits him just fine at Florida. I know this outlook may seem a bit optimistic, but as long as Anderson makes the grades and nothing changes with Floyd, I like the location factor with Hicks and Henderson. If the Bucks can finish with these 6 players, their class of 20 (21 with Hyde) will be top 5 in the country and maybe even push #1 or #2.