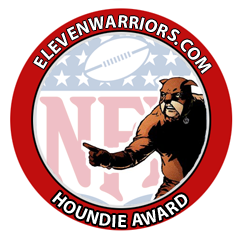 The Houndie is an award formerly known as the Buckeye NFLer of the Week. After 2 years of existence, we searched for a catchier name, so with the help of a well placed typo and the ensuing 11W comments, the current title was created.
What a great weekend to be a Buckeye. The win over Iowa, mixed with unseansonably warm November weather, made gameday festivities much more enjoyable and the day much longer. My mind has finally recovered, but my liver is still day to day.
With the majority of bye weeks completed and some injuries starting to heal, most of the former Buckeyes were on the field Sunday and the race for Houndie heated up.
After winning the Houndie a couple of weeks ago, Ted Ginn was up to his old self again, catching no passes and getting credit for 1 carry and zero yards. He did get a chance to return 5 kicks, but averaged just 18 yards and never got the Dolphins to the 30. His teammate, Brian Hartline was able to snag 1 catch for 17 yards, as Miami held on to beat Tampa Bay, 25-23.
Sticking with the wide receivers, Michael Jenkins caught 4 passes for 15 yards in Atlanta's 28-19 loss to Carolina. Jenkins's role is clearly reduced this year, averaging just 3 catches for 34 yards per game and he has failed to find the end zone. Santonio Holmes had a nice game for the Steelers, snagging 7 for 88 in the Steeler's 18-12 loss to the Bengals. Holmes ranks 9th in receiving yards and has only 1 TD, but 90.7% of his catches have given the Steelers a first down, which is tops in the NFL amongst players with at least 20 catches. If you're wondering, Anthony Gonzalez had surgery recently to clean out some loose particles in his knee and no date on his return is set. The way his replacements are playing, he may have a tough time cracking the lineup anyhow.
Moving over to defense, Ryan Pickett only recorded 1 tackle in the Packer's 17-7 win over the Cowboys, but he helped that D-Line dominate Dallas in the trenches. The Packers held Dallas to 68 yards rushing and 3/12 on 3rd downs. AJ Hawk chipped in with 4 tackles and Bobby Carpenter for the Cowboys had 3 tackles and a sack in the losing effort.
In another game that featured Buckeyes on both teams, James Laurinaitis (4 tackles) and the Rams gave NO a scare, but Will Smith and the Saints defense stepped up when it mattered and held on for a 28-23 win on the road. Smith has a sack in 3 straight and a FF in the last 2, after adding one of each to his 2 tackles Sunday. The winner of last week's award moved up to 8th in the league with 7.5 sacks on the season. Also in that game, Malcolm Jenkins got 2 tackles for the second straight week.
Chris Gamble gave a run at this week's award, recording 8 tackles, all of them solo in leading the Panthers to that big win over Atlanta. The 8 tackles were a season high for Gamble and his has recorded 14 of his 32 tackles in the last 2 weeks.
However, for the second time in 4 weeks, Beanie Wells takes home the Houndie for his career best performance in Arizona's 31-20 win over Seattle. Wells wore down the Seattle defense in the second half, scoring twice (10,15) and gaining 85 yards on 16 carries for the game, after toting it just 5 times for 7 yards in the first.
Beanie now leads all rookie RB's with 3 TD's and is creeping up on Knowshon Moreno for the lead in rushing yards. Moreno benefited from early season carries and has compiled 520 on 132 attempts, while Beanie has 395 yards on 86 attempts, with 157 of those yards coming in the last 2 games.