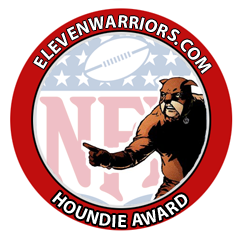 The Houndie is an award formerly known as the Buckeye NFLer of the Week. After 2 years of existence, we searched for a catchier name, so with the help of a well placed typo and the ensuing 11W comments, the current title was created.
For the most part, the former Buckeyes were simply contributors for their respective teams this past weekend. The worst part, the top performances came in losing efforts, which forced us to go against our usual rules in awarding this week's honor.
In Arizona, Beanie Wells lead the Cardinals in rushing, albeit 7 carries for 21 yards, in their 28-21 win over Texas. Wells is inching towards more carriers, but Tim Hightower is more versatile in the passing game and Kurt Warner doesn't like handing it off, so it may be a few weeks before we see Beanie get more than 10 carries. Michael Jenkins caught just 2 balls for 35 yards, as his teammate Roddy White stole the show with 8 for 210 and 2 scores in Atlanta's 45-10 thrashing of San Fran.
After his blistering first week, Santonio Holmes has slowed to a crawl, as he is seeing more double teams and rookie Mike Wallace has emerged as another big play threat. Holmes had 4 catches for 50 yards Sunday in the Steelers 28-20 win over Detroit, giving him 9 grabs for 120 yards in the last 3 games, numbers equivalent to his opening game.
Fresh off his Houndie last week, Shawn Springs was 2nd on New England with 8 tackles, including 7 solos in the Patriots stunning 20-17 OT loss at Denver. The 34-year old Springs leads NE in solo tackles with 24 and ranks 4th on the team with 27 total stops. Former Patriot, Mike Vrabel was up to his old tricks, catching a 1-yard TD in the Chiefs 26-20 OT loss to Dallas. Vrabel also registered 2 total tackles, as Kansas City is still winless.
We mentioned Roddy White had a career day Sunday and most of that came at the expense of Nate Clements, who was torched on this 90-yarder in the 2nd quarter to push the Falcons lead to 21-10. Clements lead the 49ers with 8 solo tackles and ended up with 9 on the day, which now gives him 29 on the year, 1 tackle behind Antoine Winfield for tops amongst NFC corners. Winfield's Vikings remained undefeated after their 38-10 win at St. Louis, a game in which the Rams stayed away from Winfield's side, as he recorded 2 tackles.
The Monday night game was littered with former Buckeyes and Ted Ginn finally stepped up for the Dolphins in their 31-27 win over the NY Jets. For the Jets, Nick Mangold continues to be one of the top centers in the NFL. Last year he had one of the all-time greats in Brett Farve and now he gets a rookie in Mark Sanchez, but the Jets O-Line has given Sanchez time to throw and their running game has been by committee, which should give even more credit to Mangold and his fellow linemates.
Teddy Ginn has been taking some serious heat in Miami for his lackluster stats recently and until his 53 yard bomb in the 4th quarter, he had caught 1 pass for 4 yards. The TD alone gave him serious consideration for this week's honor, but that still only gives him 3 catches over the last 3 weeks and that simply won't win you the Houndie. Brian Hartline also caught a pass for 10 yards in that game.
We usually like to pick someone from a winning team, but this week's award goes to a player who is on a really bad squad and as expected has lead this team in tackles. James Laurinatis might not get the chance to be on the winning side of things this year, especially when your team is averaging 6.8 points a contest. But Little Animal is leading the Rams with 40 total tackles, which is good for 7th in the NFC amongst all LB's. In Sunday's loss, JL recorded 6 solo stops and his first career pick, off of Brett Farve no less. I know "his tackles are 6 yards beyond the line of scrimmage" argument is coming, but you have to give credit to Laurinatis coming in his rookie season and starting for this squad, especially after he slipped to the 2nd round of the draft.
We here at 11W congratulate JL on his honor and we have a feeling, this won't be the last time over his career we call him to the podium to accept this weekly award.