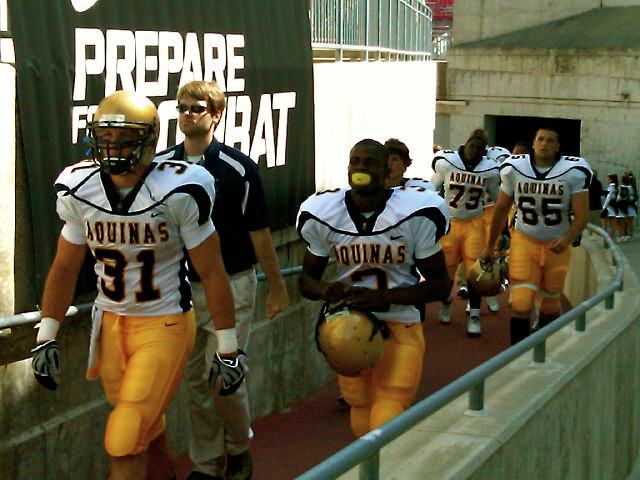 In the fifth edition of the Kirk Herbstreit Varsity Football Series, Herbie went for all the marbles and brought the #1 team in the country to the Horseshoe, as St. Thomas Aquinas (Ft. Lauderdale, FL) took on Upper Arlington in Ohio Stadium today.
Upper Arlington was 10-2 overall and 7-0 in their division last year, but the Golden Bears were no match for the Raiders, as Aquinas's star-studded line-up took care of UA by a score of 52-7. The Raiders have about 15 players expected to play Division I football, including a handful of players the Buckeyes are looking at for their 2010 class.
St. Thomas Aquinas was 15-0 last season, en route to a Florida State Championship and brings back 10 starters from last year's team. Cris Carter is the team's wide receiver coach and current Buckeye Duron Carter was a big part of last year's championship team. Carter, Terrelle Pryor, Etienne Sabino, DeVier Posey, Travis Howard, and Orhian Johnson were among a group of OSU players that were in attendance to witness the nation's best team dominate the school located just down Lane Ave. from campus. The players were interacting with fans all day and signing autographs throughout the game, seeming to enjoy their celebrity status.
Aquinas's list of stars includes players such as OL Brandon Linder, DB Lamarcus Joyner, DB Keion Payne, DB Cody Riggs, RB James White, DB Brian Robinson, LB Vincent Mauro, DB Reynaldo Kirton, RB Gio Bernard, and K Michael Palardy. Linder, Joyner, and Payne are all top Buckeye targets, while Riggs is on the radar but does not have an offer yet. Bernard is drawing interest from Arkansas, Florida, Florida State, Miami, Nebraska, Tennessee, and Notre Dame amongst others, while Palardy has already committed to Tennessee. White is entertaining Clemson, Iowa, USF, Wisconsin, MSU, and Purdue, Robinson has offers from Alabama, Florida, Georgia, and West Virginia, Mauro is interested in Navy, Vanderbilt, Rutgers, and Wisconsin, and Kirton is coming off an injury and drawing some Division I interest as well.
Lamarcus Joyner, rated as the #1 CB in the nation by ESPN, was impressive on both offense and defense, and caught a touchdown in the third quarter to put an exclamation point on the game. One guy who really caught my eye was Brandon Linder. Playing a little nicked up, Linder effortlessly moved Upper Arlington defenders all day and showed tremendous strength to go along with his 6-5, 270 frame. Linder can play all of the offensive line positions, but excels at center where he plays for STA and could eventually replace Michael Brewster there if he chooses to come to Ohio State. Payne looked good as well, intercepting a pass in the first half to halt the Golden Bears' hope of scoring a late half touchdown.
The event was certainly a good event for both schools as Upper Arlington got a chance to test themselves against the nation's best and St. Thomas Aquinas got to bring some of their top prospects to one of the nation's most storied football venues. It was good for the Ohio State staff to get players like Linder, Joyner, and Payne up here for an unofficial visit and they got a chance to take a closer look at some players who could be lining up for good in Ohio Stadium come next fall.