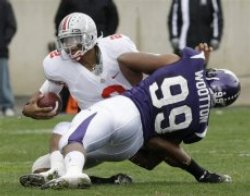 We're counting down the weeks until kickoff by profiling a different Big Ten team each week. We decided to switch up the order to reflect 11W's predicted finish for the upcoming season, which can be found here and we'll also reach out to fellow bloggers for their inside opinion on important matters.
This week we take a look at a team that is off OSU's schedule, the Purple Mafia of Northwestern. Today we invited the fine blog Lake the Posts to help us preview the Wildcat team that is looking to improve upon their 9-4 season of a year ago.
After the tragic loss of Randy Walker, NU has improved in each of Pat Fitzgerald's three season and the way their schedule is set up, there is reason to believe for Wildcat fans that they will continue that trend in 2009.
COACHING: Fitzgerald has it going on in Evanston and the momentum is just starting to build. I asked LTP the importance of having Fitzgerald's stability at the top, after he signed his recent contract extension.
Hmmm...that's somewhat akin to asking what Coach K means to Duke or what JoePa means to Penn State. He is, in a word,everything to the program. Don't get me wrong, he's got a decade of bowl wins to go before being mentioned in the same sentence as the aforementioned legends, but he has quickly become the face of the program. There have been quite a few comparisons to the POTENTIAL of a lengthy tenure of Joe Paterno simply because he's the rare breed who was such a heart and soul of a program as a player and now, having the unfortunate circumstances(Randy's passing), yet fortunate experience (learning on the job at an extremely early age with little pressure), simply puts him in a position to put a hell of a run together.

The stability is already paying dividends as his infectious personality and refusal to make excuses for athletics, academics and character not being a top priority for every player is creating waves in places we're not used to - SEC country. Our first four 2010 commits were from Florida and Louisiana - and when I interviewed the head coach of Olympia HS (Orlando, FL) - home to two separate commits (Trevor Siemian - QB and Rashard Lawrence -WR) it was clear the 6A coaches (highest level) are all aware of Fitz and the positive vibe coming out of Evanston. It is truly impressive what he's doing to up the talent level at NU and win now thanks in large part to team chemistry.
OFFENSE: The Wildcats bring back 5 starters, 4 of them up front, off a team that averaged just over 24 points a game. Second year OC Mick McCall has to replace his top passer (CJ Bacher), rusher (Tyrell Sutton) and 3-best statistical receivers from last year and the returning talent hasn't proved too much in the college ranks.
Senior QB, Mike Kafta has the edge entering fall camp after appearing in 7 games last year, including starts against Minnesota and Ohio State. Kafta set a B10 quarterback record by galloping for 217 yards on the ground against Minny, while also connecting on 12 of 16 for 143 through the air. Kafta gives the Wildcats an experienced running option and showed improvement with his 69.6% completion rate last year, but he has yet to play a full season and you have to wonder if his passing can take this team to another 8+ win season.
Stephen Simmons is the lead returning RB with 178 yards on the ground, a far cry from the production Sutton has given them over the last 4 years. Simmons' size, 5'8" and 175 pounds, may play a role in his 2.9 YPC and the Wildcats will have to develop some backup talent if they expect to lean on any type of run game beyond Kafta.
The Wildcats could be even more green at the receiver position, lead by Hilliard native Jeremy Ebert, who registered 15 catches for 161 yards last year. He is joined by fellow sophomore Charles Brown and junior Sidney Stewart, who combined for 33 catches in 2008. The wild card though is senior Andrew Brewer, who LTP thinks could be the player we all know about by season's end.
On offense I'll go with WR Andrew Brewer. The former QB (he was Kafka's replacement as a freshman when Kafka got hurt) has been the Sidd Finch of NU WRs. The hype heading in to both of the past two seasons has been high, but he's been plagued with a series of injuries. He presents some tough match-up issues as he's a big bodied receiver with speed.
Thankfully for the Wildcat faithful, they do return 4 starters from the OL and get back the services of Kurt Mattes, who played in 12 games during the '07 season, but sat out last year due to an injury. They are a young group, with 3 sophomores in the projected starting lineup and only Mattes as the lone senior. This group must be allow the offensive unit some time to gel in their early season OOC game and must stay healthy, if NU is going to appear in another bowl
DEFENSE: The defensive side of the ball will with out a doubt be the strong point of this football team. They bring back 8 starters from a group that allowed just over 20 points a game, the fewest in Evanston over the last 7 seasons.
The Wildcat D-Line led the conference in sacks last year and are lead by DE Corey Wooten, who should push for All-Conference honors again, after earning a first team selection a year ago. The 6'7" 265 pound senior recorded 10 sacks and 6 TFL's last year, but tore his ACL in the Alamo Bowl and decided to return for his 5th season. They will have to replace 2 starters on the line, including DT John Gill, but the Wildcats gave up just 3.6 YPC last year, the lowest ever in Evanston and LTP thinks sophomore Vince Browne can help fill the void.
On "D" I'm going to go with Ohio native Vince Browne. Corey Wootton gets the deserved pub, but those in the know, know Browne is an absolute beast. He got dinged up a tad last year, but when he's going full throttle (simply watch the tape of him against Ohio U last year) he's got the potential to be a great one.
The linebacking corps returns MLB Nate Williams and Quentin Davie, both juniors who saw significant time last year. Williams got his chance late in the season and averaged 9.2 tackles when he started. Davie had 3.5 sacks and 6 TFL's from his outside spot and might have a chance for post season honors. The other outside sopt will come down between sophomore Ben Johnson and ND transfer Aaron Nagel.
The secondary returns in tact and could battle for top honors in the B10. Senior safties, Brad Phillips and Brendan Smith are the leading returning tacklers, with Phillips having the fifth highest Big Ten total last year with 109 stops. They will be joined by Sherrick McMannis and Jordan Mabin at corner. Mabin was a freshman All-American last season, while McMannis lead the team in balls defended. Fitzgerald brought in former Wisconsin DC Mike Hankwitz last year and it paid instant dividends. With all the retuning talent, this unit will be one to watch in the 2009 season.
KEY GAME: October 17, at Michigan State. Northwestern could open up 5-1 or 6-0, if they can take care win road games at Syracuse and Purdue, while taking home games against Towson, Eastern Michigan, Minnesota and Miami, OH. They miss OSU and Michigan, so a victory in East Lansing could put them in the top tier of the conference.
BEST-CASE: Once again we go back to the local expert:
BEST case is 10-2 although everything would have to fall into place. Realistic best case is 9-3 and anything less than 8-4 - with our schedule - would be a disappointment. Less than 7-5 would be disaster-ville. Our non-conference schedule is Towson, Miami (OH), @Syracuse and Eastern Michigan. We thankfully don't play "you" and unfortunately lose Michigan this year. We get Penn State and Wisconsin at home. Couldn't ask for a better schedule.
WORST-CASE: For me, this is one of those teams that could go 8-4, but just as easily could go 6-6 or 5-7. After the MSU game, they are home against Indiana, Penn State and Whisky, followed by road tilts at Iowa and Illinois. The schedule sets up pretty well for a successful season, but if the offense doesn't click right away, they could struggle starting in week 3. If the offense never clicks and the defense sustains a few injuries, NU will hoover around the .500 mark.