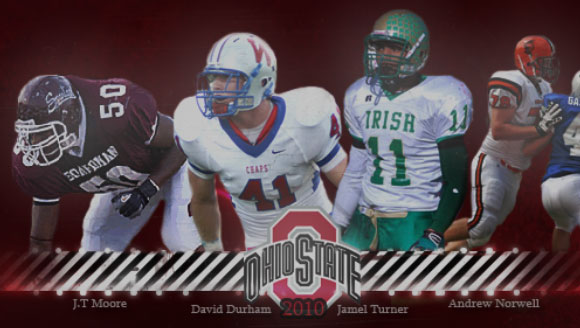 Just as Buckeye Nation started to get excited about what the Class of 2009 will do on the field next year, the buzz around the recruiting class of 2010 has started to pick up. With four players already giving their verbal commitment and only 17 or 18 spots available in the class, space is tight and the pressure is on to see which prospects will sign on to become the future stars of Ohio State Football. This segment takes a look at the need at each position, what players are currently on the staff's radar, and some predictions on what will happen when the Class of 2010 is all said and done.
Quarterback: 0-1
With TP, Bauserman, and Guiton on scholarship, the Bucks will be looking for the quarterback of the future, but don't need one in this class necessarily. Nick Montana is the guy they have targeted and if they don't get him they could go after Moeller QB Andrew Hendrix or Bucyrus Winford QB Tyler Brause. Hendrix is just starting to pick up steam on the recruiting trail and Brause has drawn comparisons to Hesiman Trophy Winner Tim Tebow. In the end, I don't see the staff pulling another Guiton situation and reaching on a player if Montana declines Tressel's offer. If the Bucks do lose out on Montana, look for attention to turn to 2011 prospect Braxton Miller, who many expect to end up in Columbus regardless of whether a quarterback is signed in 2010 or not.
Running Back: 1-2
The staff took three backs this year, but if they can find a couple of players that are "can't miss" prospects they will go hard for them. Corey Brown of Springfield (PA) Cardinal O'Hara is one of those players worth taking and already has an offer. Another Brown, in Lithonia (GA) M.L. King's Mack Brown, may receive an offer soon and could be the home-run type back out of the south that JT has seemed to be recruiting the last couple years. If neither Brown comes to Columbus, look for Mr. Ohio, Erick Howard, or Ft. Wayne (IN) Paul Harding's Roderick Smith to land an offer. Cincinnati Princeton's Spencer Ware, is another possibility to come to Columbus as a running back and currently holds an offer as an athlete. Coconut Grove (FL) Ransom Everglades RB/LB Gideon Ajagbe claims a Buckeye offer as well, but highly favors Florida and it is a long shot he ends up a Buckeye.
Wide Receiver: 1-2
Tai-Ier Jones is the only target with an offer right now, but he will be a tough get, especially coming from the south. The advantage the Bucks have for Jones is that he goes to the same high school (Gainsville, GA) that produced current Buckeye DE Keith Wells. After Jones, look for Hubbard (OH) WR Kurtis Drummond, Dublin Scioto WR Stacey Blunt, East Cleveland Shaw WR Tyrone Williams, Wadsworth (OH) WR Anthony Schrock, and Cincinnati Elder WR Tim O'Connor to be next on the Buckeyes' radar. This year's class was strong with Duron Carter, James Jackson, and Chris Fields, and in the end I think the Bucks will definitely end up with one receiver in this class and possibly two if there is room.
Tight End: 1-2
Reid Fragel and Nic DiLillo will be the only two tight ends left on scholarship, after Jake Ballard graduates this year. Tight End is a big need for the staff, as they tried to bring in two this year, but could only get Fragel. Look for the staff to target one big time tight end and another under-the-radar player who can be developed in the system. Possible candidates as it looks right now are Trotwood (OH) Madison TE Justin Favors, Cleveland St. Ignatius TE Brendan Carozzoni, Johnsburg (IL) TE C.J. Fiedorowicz, and Miami Palmetto (FL) TE Delvin Jones, but look for more players to get on the recruiting board as the spring and summer camps roll around. One player that has been picking up steam of late is Cincinnati Elder's Alex Welch, so don't be surprised if he gets an offer either.
Offensive Line: 2-4
Andrew Norwell is on board already with St. Xavier's Matt James as target number two. Tampa (FL) Catholic's Chaz Green, who is one of the best in the nation, has received an OSU offer and will visit sometime this spring or summer. St. Paul (MN) Cretin-Derham's Seantrel Henderson is another nationally recruited tackle that holds an offer. Henderson could play on either side of the ball at the next level and has already shown interest in the Bucks. If the staff could pull in James and either Green or Henderson this unit would be tops in the country for 2010. Glen Allen (VA) Deep Run's Conner Davis, Wadsworth's Ben Buzzelli, Whitehouse (OH) Anthony Wayne's Andrew Donnal, and St. Thomas Aquinas (FL) offensive lineman Brandon Linter all do not currently hold an offer from Ohio State, but could become part of a Plan B if James, Henderson or Green decide to go elsewhere.
Defensive Line: 4-5
J.T. Moore and Jamel Turner were targeted early and have already signed, showing that The Vest has made the d-line a priority in this class. The Bucks are pursuing Solon DE Daryl Baldwin, Columbus Brookhaven DE Derrick Bryant, Detroit (MI) Southeastern DE/LB William Gholston (yes, Vernon's cousin), and hybrid DE/LB Kenny Wilkins out of Washington (PA) Trinity, among others. Defensive tackle is not a big concern for OSU and the position is thin in this year's class. With the youth OSU has at the position, this is not an area to reach for, but Plain City (OH) Jonathan Alder's Josh Davis is on the radar.
Linebacker: 2-3
Although the 2009 class delivered Dorian Bell, Storm Klein, and Jordan Whiting, the coaches will continue to try and stock up talent at the new Linebacker U. In a surprise move, David Durham out of Austin (TX) Westlake gave his verbal commitment to JT and the staff is currently pursuing Lakota West's Jordan Hicks, St. Ignatius's Scott McVey, and Stamford's (CT) Khairi Fortt to join Durham in Luke Fickell's unit. Hicks grew up a Texas fan, but distance may be a factor and it seems the Bucks are second behind the Horns. Many expect McVey to end up in Scarlet and Gray, but he has said he wants to visit Boston College before he makes a decision. Fortt will be the hardest to get out of the group, as he is an out-of-stater and has many offers including Penn State, Miami, Virginia, California, Boston College, and Notre Dame, among others. Baltimore (MD) Gilman LB Jim Poggi also claims to have an offer from the Bucks, but may be better suited on the offensive side of the ball as a tight end. Look for Youngstown Liberty's Antonio Kinard, Canton McKinley's Jewone Snow, and Lima Shawnee's Zac Rosenbauer and Nick Truesdale to be back up options, but if the Bucks can land McVey or Hicks in addition to Durham, I think they will be done at linebacker.
Defensive Back: 2-4
The Bucks have targeted one of the country's top talents in Florida's LaMarcus Joyner, who will transfer to St. Thomas Aquinas for his senior season. St. Thomas Aquinas is the place where future Buckeye Duron Carter currently hits the books and where his father, Cris Carter, coaches wide receivers. This can only help the Buckeyes in their pursuit of this super athlete out of the Sunshine State. The staff is also looking at prospects Courtney Avery (Lexington, OH), Dior Mathis (Detroit Cass Tech), DeAndre Harris (Youngstown Ursuline) and possibly even Xavier Palacios (Glenville) to fill up the depth at corner. At safety, the main targets include Glenville's Christian Bryant, Eagle Lake (FL) Lake Region's Marvin Robinson, Canonsburg's (PA) Chad Hagan, and Klein (TX) Oak's Luke Muncie. I feel that Bryant is a must-get and could continue the pipeline from Glenville to Ohio State. Robinson has the Bucks in his top four, but has said to be a Michigan lean for a long time and it will be tough to pull him in. Muncie is more of a possibility than Hagan, but there may not be room for the Lone Star State product when it's all said and done. The Bucks will certainly land one corner back, if not two in this class and will try do the same at safety. Defensive back is a position with thin depth on the current roster and will be an area of need for 2010, but room in the class could hinder the position's recruitment.
Athlete: 1-2
Tampa Catholic's Christian Green and Cincinnati Princeton's Spencer Ware have offers and are the top two candidates to become Buckeyes out of the so-called "athletes". Green is a teammate of offensive line prospect Chaz Green and if Tress can get both Greens to come to Columbus he would be enshrined in the recruiting Hall of Fame on the spot. Ware is a quarterback at Princeton, who is projected to play running back at the next level and could also be a nice fit at receiver. If both players want to come to OSU, I feel the staff should take them both. Cameron Ontko of Stow (OH) Walsh Jesuit has made no secret of his desire to don the Scarlet and Gray and would take an offer immediately if one came his way. Ontko is kind of a 'tweener' and projects as a safety, linebacker, or H-back type in college. It is unlikely Ontko would be the recipient of an offer unless there is room very late in the process.