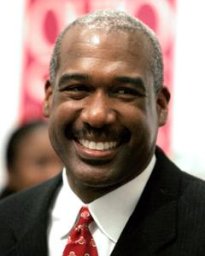 Opponent: Cleveland St. hosts the Buckeyes tonight in the inaugural McLendon Scholarship Classic, a recognition and fund raising event in honor of CSU's former coach John McLendon. Ohio St.'s own Gene Smith will be part of the ceremony, being inducted into the Legends Class of Minority's Athletics Administrators.
Cleveland St. has a roster similar to Ohio State's, returning five players from last year's 10-21 team and adding 10 newcomers. The Vikings are playing their first game in 10 days, having won 6 of their last 7 contests prior to their break. This team is averaging 73 points a game, shooting 46 percent from the floor and 30 percent from beyond the arc.
CSU is still learning to play with each other and will run 8 significant players at Ohio State, with the potential debut of sharp shooting Eric Schiele added to the mix. All eight are playing over 18 minutes a game, so I expect another trapping defense thrown at Thad's boys tonight. Beating Ohio State would be sweet for CSU's 9 native Ohioians and could propel this team into conference play.
Key Players: Cedric Jackson (#11 6'3" Jr.) is a transfer from St. John's and leads this team in scoring (17.9) and assists (5.4). He is also the Vikings leading three point threat, making 17 of 38 attempts thus far. Jackson is joined in double digits by J'Nathan Bullock (#35 6'5" Jr.) and Joe Davis (#23 6'0" So.), scoring 14.5 and 10.3 respectively.
Bullock is presumably the love child of his famous father Jim J. and this woman. Bullock also leads the team in rebounding, snagging close to six a game, while Davis seems to only score and shouldn't be a threat from downtown.
Chris Moore (#42 6'9" Jr.) and George Tandy (#21 6'8" Jr.) will challenge Ohio State's bigs in the paint. Moore is another transfer from UC Santa Barbara and chips in with 7.3 points and 5.2 boards per game. He has hit 16 of his last 22 shots and will be a shot blocking threat to the Buckeye's inside chances. Tandy transfers in from Eastern Illinois, recently cracking the starting lineup with 5.6 points and 5.3 rebounds a game.
Breyhon Watson
(#13 6'3" Sr.),
Kevin Francis
(#5 6'8" Sr.) and
D'Aundray Brown
(#32 6'4" Fr.) all score around 5 points a tilt and will combine for over 10 boards and 5 assists per. As mentioned,
Eric Shielle
(#2 5'10 So.) will make his anticipated debut tonight after sitting out the first 10 games with academic problems. He lead the nation in scoring as a high school senior ('05-'06) at 40 points per and had 3 games with at least 12 threeballs.
Notes: Cleveland St. has over 16,000 students and was founded in 1964... CSU is coached bu Gary Waters... Some experts gave Cleveland St. the second best rated recruiting class in Ohio this year, trailing only Ohio St.
Buckeye Breakdown: Ohio State put their shooting woes behind them last game against the mighty Blue Hose and will hopefully continue that trend in yet another venue tonight. The Buckeyes set a Value City Arena record by hitting 35 of their 49 shots, good for 71.4 percent and the second best shooting night in Buckeye history.
Ohio State's overall field goal shooting has been raised to 45 percent on the year, but we'll see if a different arena will cause any problems and if this game will have the feeling of a home or away game. Ohio State has looked timid getting out of traps and their scoring slumps are well documented, any type of trapping D or a cold shooting streak could make this into a nerve wrecker.
I have been anxiously awaiting an unveiling of this team's man to man defense, but I don't know if that is going to happen. This zone defense is starting to grow on me, I like the pressure on the wings and Ohio State has held opponents to 37 percent shooting, including 28 percent from 3land. However the flaws are quite visible.
Any team that overloads one side of the zone can score. While the wings are extended, the corners are left wide open and teams can get open threes from that spot all night. Also Coppin St. worked the baseline and free throw entry passes to keep the game close. Ohio State's rebounding has been effected by the zone as well, giving up numerous second chance opportunities per game and barely out rebounding their opponents. It makes me nervous if this team can not man up at any point.
Key Players: Kosta showed signs of reemerging against an under sized Blue Hose team, scoring 21 points in 21 minutes. He lead a 16-0 run with 9 points in the first half and closed the game missing only 1 of his 9 shots. His dwindling rebounding numbers are starting to concern me though, knowing how physical play is going to get after the New Year's.
Jamar Butler played with great energy and needs to bottle some of that for every game. His penetration in the second half fueled Ohio State and Jamar finished with 8 assists and 16 points. He connected on another 3 threes and is shooting a torrid 45 percent from the arc.
There was a David Lighty and Othello Hunter sighting last game and Buckeye fans are hoping the don't miss another game tonight. These two are critical for this team, their combined 21 point, 10 rebound effort last game has to become the norm for these two if Ohio State is to have any success this year. I believe the rest of the freshman are getting closer to contributing significantly to Thad's squad. Evan "Turner-over" has done just that the last three games, but has injected some scoring and defensive help. Diebler is going to break out soon, I can feel it and Eric Wallace got some confidence with 6 points and 4 boards.
Notes: Sportstime Ohio will televise tonight's game... Jamar Butler is now 6th on Ohio State's all time assists list, with 405, 14 behind 5th place Ronnie Stokes... Thad Matta is 3-0 all-time against Cleveland St...