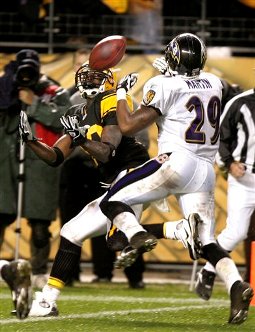 Week 9's Buckeye NFLer is Santonio Holmes of the Pittsburgh Steelers. Holmes had 4 catches for 110 yards including TD catches of 15 and 35 yards as the Steelers whooped the Baltimore Ravens 38-7.
It was a night where the Steelers were celebrating their 75th season in the NFL. Steelers Hall of Famers were in the MNF booth, on the sidelines, and in the seats.
Lynn Swann and John Stallworth had to have been proud of the new class of Steelers receivers, Holmes and his mentor Hines Ward.
In 7 games played so far in the 2007 season, Santonio has totaled 536 yards on 29 catches with 6 TDs.
In only his second season as a pro, Holmes is on pace for his first 1,000 yard and double-digit TD season.