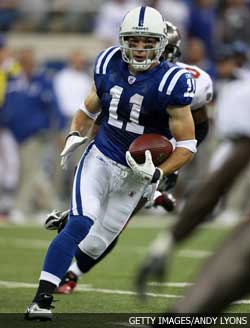 Anthony Gonzalez of the Indianapolis Colts is being rewarded with 11W's Buckeye NFLer of the Week Award for Week 12. Gonzo caught 6 of Peyton Manning's passes for 105 yards. Gonzo's effort helped the Colts as they went on the road on Thanksgiving Day to beat the Atlanta Falcons 31-13. This marks Gonzo's 2nd Buckeye NFLer of the Week Award in 2007. He was Week 5's recipient as well.
The Colts entered week 12 in desperate need of healthy bodies at WR. Reggie Wayne has been outstanding this year as he leads the team in catches, receiving yards, and receiving TDs. But future Hall-of-Famer Marvin Harrison is still nursing a knee injury and has missed 6 weeks of action. So when 5th year WR Aaron Moorehead injured his back in Week 11, the Colts were delighted with the Week 12 return of the rookie Gonzo from a broken thumb injury that has held him out of the line-up for the past few weeks. Gonzo responded by leading the team in catches and receiving yards against the Falcons.
Various injuries has limited Gonzo to only 7 games so far in 2007. Gonzo is 4th on the team in catches for the Colts with 21 total. Gonzo also places 3rd on the team in receiving yards with 312.
Does anyone else have the feeling Gonzo's career is only beginning to blossom? Before you answer that, let me remind you, Peyton Manning is only 31 years old.