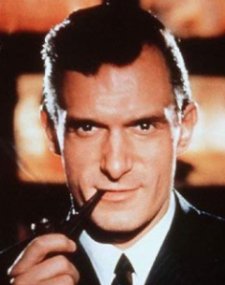 Damn, that was fast! I spent weeks getting myself back above .500 (18-17) only to have last weekend's 1-3 effort serve as a subtle reminder that I really shouldn't bet on games (simulation or otherwise) until some sportsbook invents the 1 Team / 10 Point Teaser.
Of course, I should've anticipated BC showing their true colors. Losing a home night game against a team lead by fossils like Bowden, Mickey Andrews and the Czar of Fashion, Chuck Amato? Pathetic.
As usual, Jason had the weekend edge going 2-2 moving his season mark to 23-16. Seems like maybe somebody's been inviting Brandon Lang over for slumber parties.
With Illinois in town for a rumble in the 'Shoe, we've invited Illini alum Hugh Hefner to the 11W Mansion to serve as this week's guest picker.
If there was ever anyone who specialized in "The Spread" it's Hef so let's see if he's got the skills to compete with our previous invitees.
Now on to the picks:
Louisville (+16) @ West Virginia (ESPN 7:30 Thurs.)
The upset minded Cardinals head to Morgantown hoping to salvage their season while the Mountaineers control their own destiny in the conference championship race. Sixteen points is a lot to give but keep in mind WVU has the 4th ranked Total Defense in the country to go along with Slaton and White on offense. Conversely, Louisville comes in with the 79th ranked defense and has lost 6 of 7 in DrunkenNeer Stadium.
Chris: WVU sports better D, better O and a wild home field advantage. Mountaineers 42-24.
Jason: I know Louisville sucks, but 16 seems way too high for this game. Mountaineers 34-24.
Hef: I like the way Slaton and White "hit the hole" with reckless abandon. WVU 38-20.
---
Auburn (+2) @ Georgia (CBS 3:30)
Georgia freshman sensation RB Knowshon Moreno will have to again carry the load as the Bulldogs face a strong road foe in the Auburn Tigers. Moreno is the 2nd frosh (Herschel) in UGA history to rush for 1,000 yards and averages 111 yards per game while leading the conference in the Most Ridiculous First Name category.
Chris: Auburn usually plays well in Georgia so I'll take the Tigers 20-17.
Jason: Click-clack. Click-clack. Georgia 24-17.
Hef: If you're like me, you love to be "Between the Hedges". Georgia 24-19.
---
Michigan (-2.5) @ Wisconsin (ESPN 12:00)
The Wolverines will have Mike Hart and Chad Henne as they take on the Badgers in Camp Randall although both are less than 100%. Wisconsin has their own injury woes as P.J. Hill is doubtful again while DT Jason Chapman and DB Allen Langford are both out for the season after suffering knee injuries chasing Beanie last week.
Chris: Lloyd's crew keeps rolling to set up the conference title showdown. Michigan 27-17.
Jason: Run, run, run the ball, gently down Bielema's throat.. Hart looks good in this one: Wolverines 28-10.
Hef: Impressed with my smoking jacket, I heard Tressel bought Lloyd a red velvet choking jacket. Badgers 21-20.
---
USC (-4) @ Cal (8:00)
A game that the experts drooled over in the preseason, USC-Cal has lost its luster due in large part to overhyped albeit injured quarterbacks. It's hard to fathom but the first team reach 20 points might win this Pac-10 tilt.
Chris: I'll give Cal the edge with the night game at home. Bears 21-17.
Jason: USC goes into the Hippiedrome and drubs the Bears 30-14.
Hef: I've got a Mr. Microphone for those Song Girls! USC 28-25.