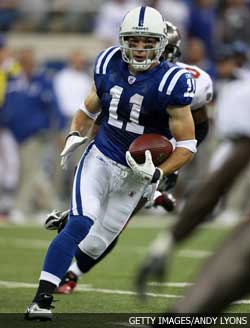 The latest Buckeye NFLer of the Week Award goes out to Anthony Gonzalez, wide receiver for the Indianapolis Colts.
With many ailing starters, including future Hall-of-Famer Marvin Harrison, Gonzo got the starting nod and delivered with 7 catches for 71 yards (leading the team) in the Colts' 33-14 victory over the Tampa Bay Bucaneers.
Through 4 weeks of the season, Gonzalez had only 6 total catches and although his week 5 statistics weren't overly impressive, no former Buckeye put up good numbers for a winning cause.
It was such an off week for former Buckeyes in the NFL that one rising star even injured his hammy during pregame warmups.
So the decision was made to give this week's award to Gonzo for stepping it up and becoming a reliable target for Peyton Manning. If he can offer Manning the same dependability he offered the Bucks, Gonzo's NFL career will only prosper.