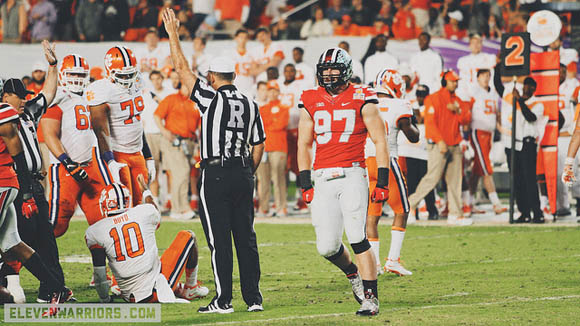 Preseason polls in August are judgments made before seeing any action on the field. Preseason polls in January, which are everywhere when the the bowl season ends, are judgments made before seeing any action on or off the field. They are the dumbest decisions, based 80% on the previous year, 10% gut instinct, 5% who stays or goes pro, and 5% predictive data. Whichever teams overachieved and finished strongest is a shoo-in for top ten the following year, never mind the chance of a huge drop-off; hello, 2010 Ole Miss and 2013 Florida!
Besides that, preseason polls are groupthink. Everyone does the same thing, and everyone sees each others' polls, and everyone starts copying everyone else before the season. Then, when news comes over the summer that forces voters to re-evaluate teams, everyone makes the same bland adjustments. Preseason polls commit the cardinal sin of online content: they're boring.
Nevertheless, these snap judgments do provide insight to how the media forms a consensus, and the expectations for individual teams and conferences. They might be useless themselves, but it does let us know which narratives and relative strength of conference they're predisposed to write about. Herein lies an aggregation of the early "Way-Too-Early-Polls".
Of the twelve way-too-early polls being averaged, eight of them acknowledged that the polls were too early in their titles. ESPN is already on the second edition of its poll, and two others were written before Christmas.
The "Way-Too-Early-Poll" Top 25 Poll

| Place | School | Points |
| --- | --- | --- |
| 1 | Florida State | 300 (12) |
| 2 | Alabama | 276 |
| 3 | Oregon | 268 |
| 4 | Auburn | 264 |
| 5 | Stanford | 240 |
| 6 | Ohio State | 235 |
| 7 | Oklahoma | 216 |
| 8 | Michigan State | 201 |
| 9 | Baylor | 193 |
| T-10 | UCLA | 191 |
| T-10 | LSU | 191 |
| 12 | Georgia | 153 |
| 13 | South Carolina | 149 |
| 14 | USC | 121 |
| 15 | Wisconsin | 112 |
| 16 | Missouri | 105 |
| 17 | Arizona State | 87 |
| 18 | Clemson | 85 |
| 19 | Notre Dame | 84 |
| 20 | Oklahoma State | 79 |
| 21 | Texas A&M | 70 |
| 22 | Ole Miss | 56 |
| 23 | Washington | 42 |
| T-24 | Texas | 33 |
| T-24 | UCF | 33 |
Strengths and Weaknesses
The Buckeyes range anywhere from third to 13th – thanks a lot, ESPN, for ranking Ohio State lowest by four spots – with the reports ranging from glowing to mixed. Believe it or not, Braxton Miller returning for his senior season helps Ohio State. Miller has been the focus of the positives, since many of the voters think he has Heisman potential.
Another striking thing about the analysis is the faith voters have in the coaching staff. In a couple of cases, the analysts flat out stated that Urban Meyer's force of will would keep the offense from backsliding. Having a killer recruiting class and potential superstars like Joey Bosa doesn't hurt either.
On the negative side, the reports emphasized the loss of Carlos Hyde, Ryan Shazier, Bradley Roby, and much of the offensive line. Worse, the "Ohio State can't beat elite teams" meme wasn't buried deep enough; some voters docked Ohio State for being 0-2 against top 15 teams under Meyer.
The best concern, however, came from Sports Illustrated's Martin Rickman, who worried that, "the Buckeyes' two-game losing streak to end the 2013 campaign could affect Meyer so deeply that he falls victim to a crippling Papa John's addiction he can't shake." You gotta lay off the garlic sauce, man.
Triumvirate of Pain
Ohio State is expected to be the Big Ten's top-ranked team. The Buckeyes enter the aggregate poll at sixth, sandwiched between Stanford and Oklahoma. Ohio State and Stanford are near doppelgangers in the combined poll, appearing on every ballot, having the same median and range, and being separated by only five votes.
Michigan State is next up for the Big Ten at No. 8. That sweet Rose Bowl win combined with the return of diabolical mastermind Pat "Dr. Frankenstein" Narduzzi leaves the Spartans in good position, but they may be overrated. They bring in a middling recruiting class and lose several All-Americans on defense; can the defense really reach last year's standard? And yet they're a top ten team with a sophomore quarterback who will be under pressure with two new offensive tackles. Michigan State's road game at Oregon will reveal how good they are, but they could easily bust. The uncertainty is why Michigan State has the widest range of any ranked team, from 5th to 22nd.
The third and final Big Ten team in the amalgamated top 25 is Wisconsin. The Badgers check in at No. 15, on the strength of Gary Andersen's 9-4 opening season, Melvin Gordon's legs and Joel Stave's arm. Wisconsin probably isn't the fourteenth best team in the country after losing much of its defensive front seven, but some Big Ten team has to be in the mix. A number of people are putting Wisconsin here because of their easy schedule; that defeats the purpose of a preseason poll, especially since the Badgers play LSU in the opener.
After that comes the remainder of the Big Ten's likely bowl teams receiving votes. Nebraska checks in with ten points, solely from USA Today's Paul Myerberg, who has real confidence in the returning Ameer Abdullah. Then comes Iowa, Michigan, and finally Minnesota with five, four, and two points respectively.
I have a sneaking suspicion that nobody really wanted to rank the Big Ten's middle tier, but four or five Big Ten teams have to be ranked at some point. Michigan was seemingly everyone's next team out of the poll; if they get off to a strong start and the offense is good under Doug Nussmeier, they'll be in the top 15 soon. ESPN thinks Iowa will be a top 20 team even after replacing its linebacker corps thanks to a weak schedule. You're weird, Worldwide Leader.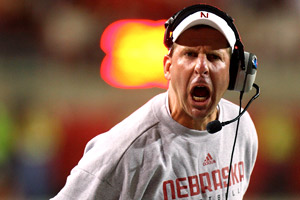 Florida State and the Gang
As for the rest of the teams: Florida State is the unanimous first place choice, to the surprise of Neptunians who haven't received ESPN's radio waves yet. Once again the Alabama death machine is in position for a championship run, and Oregon is right there if the Crimson Tide falter. Auburn rides its championship team of destiny fortune to the No. 4 spot, then comes Stanford.
Once again, the SEC will get the bulk of the preseason hype with eight ranked and three top ten teams. The ACC isn't getting much respect from the BCS wins over Auburn and [MEMORY DELETED]; Clemson is the only other ranked team. (You don't count, Notre Dame. You'll never belong anywhere.) The Big 12 has four teams represented, the Pac-12 has six with three top ten, and Central Florida rounds out the list as the sole AAC representative. Too bad, so sad for midmajors; the Big Six blanked the Poor Four.
All in all, the way-too-early poll is the shining example for recency bias, failure to account for regression to the mean, and voting inertia. And yet, it's better than nothing. Now let's get all worked up about #narrative for the next seven months like Missouri fans.
---
Polls from the following media outlets were used: Athlon Sports, CBS Sports, ESPN.com, Fox Sports, Lost Lettermen, National Football Post, NationalChamps.net, Sports Illustrated, Sports on Earth, The Big Lead, USA Today, and U-T San Diego.