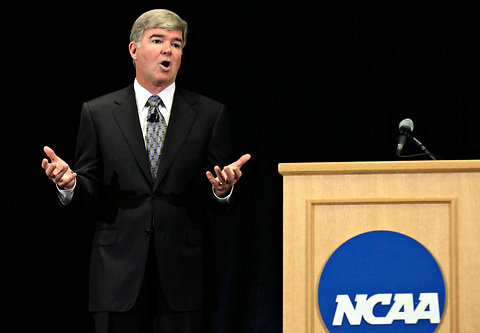 From ESPN:
NEW YORK -- The five power conferences of college sports want more flexibility in providing financial support to athletes.

A major reason they lack that freedom in the first place is other NCAA members have feared widening the wealthiest programs' competitive advantage.

Now NCAA president Mark Emmert and the leaders of those behemoth leagues must convince schools with fewer resources that giving the power conferences greater autonomy is in the best interest of college athletics.

"What's really hard in these kinds of things is for people to vote themselves less political authority," Big Ten commissioner Jim Delany said Wednesday. "They don't do that. That's not a natural thing to do."
Hmmm. Sounds like it would be in the best interest of the NCAA to give power conferences more autonomy, because otherwise the power conferences could walk away from the NCAA banner all together, and where would that leave the NCAA? (Maybe that's why they'd vote for less political authority, Jim.)
Competing against financial giants isn't in the best interest of the Directional States of the world when they're sending their football lambs off to the slaughter for massive paydays, and it won't be any more in their interest when the SEC's underground player market gets legalized.