Good morning, puckheads. Do not adjust your set. This is indeed a Thursday hockey preview. The Big Ten tournament begins today. Three days of intense conference action get underway with quarterfinal match ups between Penn State-Michigan (3pm ET) and Michigan State-Ohio State (8pm ET). Here's what you need to know. 
Spartans vs. Buckeyes

These two teams met four times this season and each game was a battle. Three contests were extended to a shootout. The other was a tight 5-3 game, won in regulation time by Ohio State. 
Michigan State's strength throughout the season has been their defense and the stellar play of sophomore goalie Jake Hildebrand (2.46 GAA, .923 Sv%). At the other end of the ice, the Spartans have struggled to score goals.
At least this was the case up until recently. However, Michigan State's offense is as hot as it's been all season. They've posted 12 total goals in their last three games. As the offense has heated up, the defense has cooled down. The Spartans have allowed four or more goals in five out of their last seven games.
That could be good news for the Buckeyes, whose strength this season has been their high scoring offense. Except they've been going through a dry spell lately. Ah heck, I don't have a clue anymore. 
Matt Berry and Greg Wolfe for Michigan State and Ryan Dzingel for Ohio State are all hot offensively. They've also each posted a bunch of points in the teams' regular season series. I expect they'll be key in tonight's match up as well. 
I also expect we'll see Christian Frey in net for the Buckeyes. Goaltending is always important in a single elimination tournament and he's been the more consistent of Ohio State's netminders.
I have a sneaky suspicion the winner of this one is going to be the team that stays out of the penalty box. Streaks and trends aside, the teams are pretty evenly matched. Both are playing for their postseason lives since neither is in a position for an at large bid to the NCAA tourney. 
Should be a good one. Game time is tonight at 8pm ET. All the tournament games are on BTN, BTN2Go and 1460 AM. Here's a look at the bracket. Do you think Penn State can knock off Michigan one more time?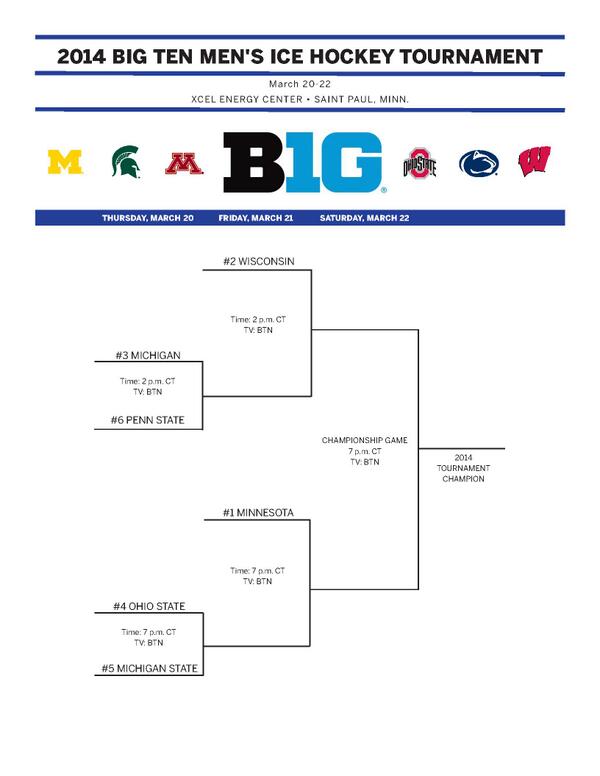 Where to Watch

The Scarlet Liners are hosting a watch party tonight at Roosters at 2454 E Dublin Granville Road in Columbus. They've secured the entire back room and have been promised full control of the televisions. No one will need to wrestle a remote away from the March Madness fans. (Although, if it came down to that my money's on the hockey fans.) Whether you can make it out tonight or not, ensure you're in the know about future events by following The Scarlet Liners on Facebook and Twitter.
Further Reading