Urban Meyer is 61–6 in five seasons at Ohio State.
That's 61 wins against just six losses. Only Alabama has more victories since 2012; no team has fewer losses.
Under Meyer, the Buckeyes have one perfect season, a national title, a Big Ten championship and two College Football Playoff appearances. It truly is a golden era of Ohio State football.
And today, we're going to try and do the impossible: rank Meyer's teams in Columbus. It's surely going to cause some heated debates, but truth be told, it was very difficult to separate these five teams. That's what happens when all five teams combine for six losses total.
So, without any further delay, here's our list: from "worst" to best.
No. 5 — 2012
Record: 12–0 (8–0)
Final ranking: No. 3 (AP), n/a (coaches)
Breakdown: On the surface, it probably seems crazy to have the lone undefeated team in the Meyer era at No. 5. However, few would probably argue with where the 2012 team is slated on this list. Yes, it won every game it played, but when stacked up against the rest of the Ohio State teams under Meyer, the talent paled in comparison. 
It's one of the great all-time what-ifs in college football, though. Had the Buckeyes been eligible for postseason play that year, they likely play Notre Dame for the national championship. 
No. 4 — 2016
Record: 11–2 (8–1)
Final ranking: No. 6 (AP), No. 6 (coaches)
Breakdown: The 2016 team qualified for the College Football Playoff, but the way the season ended — a 31-0 drubbing at the hands of Clemson in the Fiesta Bowl — was a bitter conclusion.
Ohio State was a flawed offensive team this season that led to staff changes at the end of the season. But the victory against Michigan will go down in history as one of the rivalry's greatest and breakout stars like Malik Hooker and Marshon Lattimore will be remembered for a long time.
No. 3 — 2013
Record: 12–2 (8–0)
Final ranking: No. 12 (AP), No. 10 (coaches)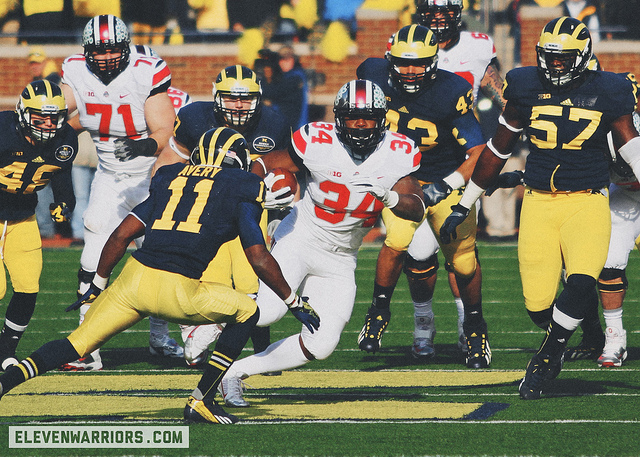 Breakdown: Like the 2016 team, Meyer's group in 2013 was flawed. It just so happened to be on the defensive side of the football. And ultimately, that's what undid Ohio State after a perfect 12–0 regular season.
The loss to Michigan State in the Big Ten title game was arguably the most painful in the Meyer era and that was followed up with an Orange Bowl loss to Clemson. It was a brutal end to what was a great team that featured the likes of Ryan Shazier, Bradley Roby, Carlos Hyde, Braxton Miller, a dominant offensive line and so much more.
Because Ohio State won the national title the following year, we're not quite sure how many people realize just how talented the Buckeyes were in 2013.  
No. 2 — 2015 
Record: 12–1 (7–1)
Final ranking: No. 4 (AP), No. 4 (coaches)
Breakdown: The 2015 team was the most talented in the Meyer era as the large core of talent that led Ohio State to a national title the year prior returned for another run. The Buckeyes entered this campaign as the unanimous preseason No. 1 team in the country and remained undefeated all the way until Nov. 21.
Michigan State came to Ohio Stadium, without its starting quarterback, and stunned Ohio State, 17–14, ending the Buckeyes' chances at a repeat championship. It was one of the most bizarre games in the Meyer era.
Still, this team was incredibly talented with the likes of Ezekiel Elliott, Joey Bosa, Darron Lee, Michael Thomas, Eli Apple and so many more.
No. 1 — 2014
Record: 14–1 (8–0)
Final ranking: No. 1 (AP), No. 1 (coaches)
Breakdown: Nobody thought entering the 2014 season Ohio State would end up as the best team in the country and it certainly didn't seem that way when Braxton Miller went down with a season-ending injury two weeks before the first game.
After a brutal Week 2 loss to Virginia Tech, though, the Buckeyes rolled all the way to a Big Ten championship and College Football Playoff berth. Elliott, Cardale Jones and Co. then rode that momentum to a Sugar Bowl win over Alabama and a dominant national title performance against Oregon.
The 2014 season was somewhat storybook in how it played out, but there was also a ton of talent on this team. The magical ride that ended in a national title puts 2014 at No. 1 on our list.