Urban Meyer's next Ohio State team carries plenty of intrigue after finishing one win shy of the Big Ten title game and beating Notre Dame by two touchdowns in the Fiesta Bowl.
The 2016 Buckeyes are set to have 44 players with freshman eligibility, either as a member of the program's latest recruiting class or after receiving a redshirt last season. That is an absurd number considering Meyer and his staff have 85 scholarships to work with, but happens when nine players leave eligibility on the table in favor of their NFL dreams and 18 seniors graduate.
Youth is everywhere, which should make for a compelling set of spring practices beginning March 8 and culminating April 16 in the annual spring game at Ohio Stadium. Sixteen of Ohio State's 22 starters from its 2015 team are gone, voids left to the crop of young players who have yet to be in the spotlight in Columbus. That includes the seven freshmen who enrolled early in January.
With all the fresh faces Meyer expects to show up and win starting positions next month, here are five young players to keep an eye on who could break out and be the talk of spring drills like Darron Lee, Noah Brown and others in the past.
---
Jerome Baker — Linebacker

Baker is one of four members of Ohio State's 2015 recruiting class to see playing time last season, joining Eric Glover-Williams, Isaiah Prince and Denzel Ward. He grew into a vital member of the kickoff team in the latter part of the season, and with the exits of Joshua Perry and Darron Lee has a shot to make noise and push for playing time.
As it sits after signing day, Baker is behind juniors Dante Booker and Chris Worley on the depth chart according to linebackers coach and co-defensive coordinator Luke Fickell. That makes sense considering they waited their turn, but must show they are worthy of starting jobs. Worley started the 2014 season opener, but then yielded to Lee at outside linebacker.
Baker's athleticism made him a key get with Justin Hilliard and Nick Conner at the position in 2015. He was able to stay healthy and get some playing time last year and should take another big step forward this spring.
K.J. Hill — Wide Receiver

Hill makes this list because Urban Meyer and Zach Smith spoke of their excitement in his abilities on the outside late in 2015. They didn't pull the trigger and use him, though, resulting in a redshirt year.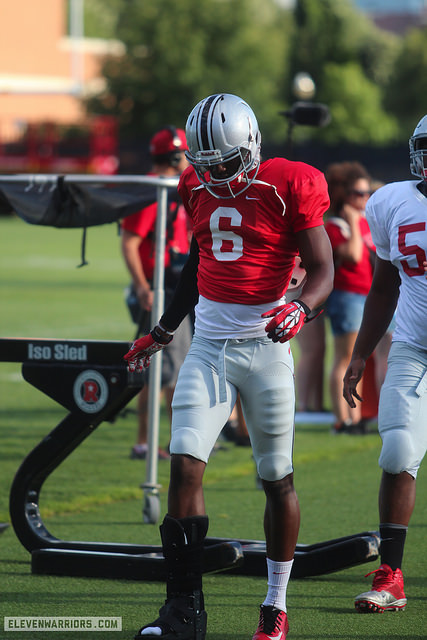 Austin Mack is already on campus and no doubt going to push for playing time early in 2016 at the position. Noah Brown and Corey Smith should return healthy from broken legs and be an integral parts to what Ohio State will do on offense. But Hill's natural ability and strong hands will put him firmly in the mix.
The wide receivers room is crowded with talent — Johnnie Dixon, Terry McLaurin, Parris Campbell and Torrance Gibson all return to go with Smith, Brown and Mack. Hill is another piece to the puzzle, but is a strong candidate to break out and make plays if he establishes a strong rapport with J.T. Barrett.
Torrance Gibson — Wide Receiver

It might look like a reach to include two young wideouts in this subset of analysis, but Gibson's inclusion alongside Hill is necessary because of how little Ohio State has returning at the position.
Michael Thomas, Jalin Marshall and Braxton Miller—Ohio State's three leading receivers from a year ago—are headed to the NFL. The team's leading receiver remaining on the roster is Curtis Samuel, who could play a different position in 2016. Gibson's rare combination of size and talent isn't like anything Meyer has had in Columbus in his tenure, plus the kid can throw.
J.T. Barrett has quarterback on lock for the immediate future, so Gibson must become a presence on the outside and start playing like the guy that earned him five recruiting stars in high school. He has the tools and supposedly the right mindset to set the train in motion, and should have a big spring if he stays healthy. Gibson battled an ankle injury last fall.
Mike Weber — Running Back

Weber started to establish himself as a potential backup to Ezekiel Elliott during fall camp last season, but a torn meniscus knocked him out for roughly a month and hindered his development to the point he redshirted.
Elliott is on to the NFL, leaving Weber to compete with fifth-year senior Bri'onte Dunn, junior Curtis Samuel and early enrollee Antonio Williams for touches. Weber is talented, but needs to prove to Meyer and running backs coach Tony Alford he is the best option by running hard in spring and staying healthy.
Eyes of coaches, fans and media will be in plenty of places this spring and summer at Ohio State because of how many open starting positions there are on both sides of the ball. But who Meyer picks to replace the Silver Football winner and start alongside Barrett in the backfield will play largely into what happens this spring. Look for Weber to do his best to take the opportunity extremely seriously.
Malik Hooker — Safety

Meyer said last month that Hooker was "dominant in the kicking game" during Ohio State's 2015 season. Hooker finished with 10 tackles last year, his second with the program after redshirting in 2014.

A high school basketball star, Hooker is one of many candidates vying to replace Vonn Bell and Tyvis Powell on the back end of Ohio State's defense. He is a great athlete and backed up Powell all season, but Hooker must fend off push from Jahsen Wint and others who will be eager to fill the vacancies.
Meyer likes what Hooker brought to special teams last season, the best way to get on the field at Ohio State. Expect new safeties coach Greg Schiano to make getting Hooker ready to play this fall a crucial part of the spring.
---
With so many open positions needing starters heading into spring practice, you could choose just about any freshman or sophomore as players ready to burst on the scene and make a name for themselves like Darron Lee or others have in the past.
The players listed above are five that made an impression last season either on the field or off, either in a positive or negative light. The needs they will fill—provided they win starting jobs—are also among the most obvious at Ohio State.
Of course, there are pressing needs everywhere — so it's smart to say you probably have a list much different than this.