Urban Meyer's said time and again he's never been a part of a battle like this before. He's thought about it, but struggled to put a finger on a time in his career where his best options at the most important position on the field are both more than competent.
"I'm trying to think if we've ever had to do that where it's 50/50. I don't think we've ever had. Comments on the Chris Leak/Tim Tebow dilemma that we had, those are two different skill sets at the time along with different offenses. This one? I think it's going to be 50/50 so I think it's going to be a work in progress," Meyer said Aug. 10, the first day of Ohio State fall camp. "Our objective is, first dozen practices, 50/50 right down the middle. Have we ever done that before? I can't think we have."
Ohio State Quarterbacks

| Player | No | Ht | WT | YR | Hometown |
| --- | --- | --- | --- | --- | --- |
| J.T. BARRETT | 16 | 6-2 | 225 | SO | Wichita Falls, TX (Rider) |
| JOE BURROW | 10 | 6-3 | 208 | FR | The Plains, OH (Athens) |
| STEPHEN COLLIER | 13 | 6-4 | 225 | FR | Leesburg, GA (Lee County) |
| JUSTIN COOK | 11 | 6-3 | 225 | SO | Philadelphia, PA (Western Reserve) |
| TORRANCE GIBSON | 6 | 6-4 | 205 | FR | Plantation, FL (American Heritage) |
| CARDALE JONES | 12 | 6-5 | 250 | JR | Cleveland, OH (Glenville) |
| BRAXTON MILLER | 1 | 6-2 | 215 | SR | Huber Heights, OH (Wayne) |
| LUKE MORGAN | 44 | 6-2 | 235 | JR | Lebanon, OH (Lebanon) |
Leak and Tebow feverishly led Meyer and the 2006 Florida Gators to a 13-1 campaign that ended with a 41-14 stomping of Jim Tressel's Ohio State Buckeyes in the BCS National Championship game. They did that by splitting time, a work of art put in place by Meyer and then-offensive coordinator Dan Mullen.
J.T. Barrett and Cardale Jones are the two individuals duking it out throughout the drudgery that is fall camp to earn the nod as the leading signal caller for the Buckeyes in 2015. That, of course, is after Braxton Miller decided to move to H-back with his surgically repaired shoulder not 100 percent.
Camp started with a coin flip by newly minted quarterbacks coach Tim Beck to determine who would take the initial first team reps, with Jones winning after selecting heads. That process didn't last long, though, with the duo instead just alternating days with the first group until one takes a lead in the battle.
Who (and when) that will be is still undetermined, but as Ohio State showed last season it doesn't much matter who plays quarterback: Wins keep coming.
Quarterbacks in 2014
Once Miller went down 12 days before his team's season opener at Navy, many in Columbus wrote off the entire 2014 season. A two-time Big Ten Player of the Year and the guy who more or less carried the Buckeyes to 24 consecutive victories in Meyer's first two seasons on the job would be hard to replace.
The man tabbed to replace him, though, was Barrett, who had only recently learned he'd been awarded backup duties over Jones in camp.
The then-redshirt freshman stumbled a bit out of the gate, getting his feet wet against the Midshipmen before looking flabbergasted against Virginia Tech, along with the rest of the Buckeye offense, in a 35-21 loss.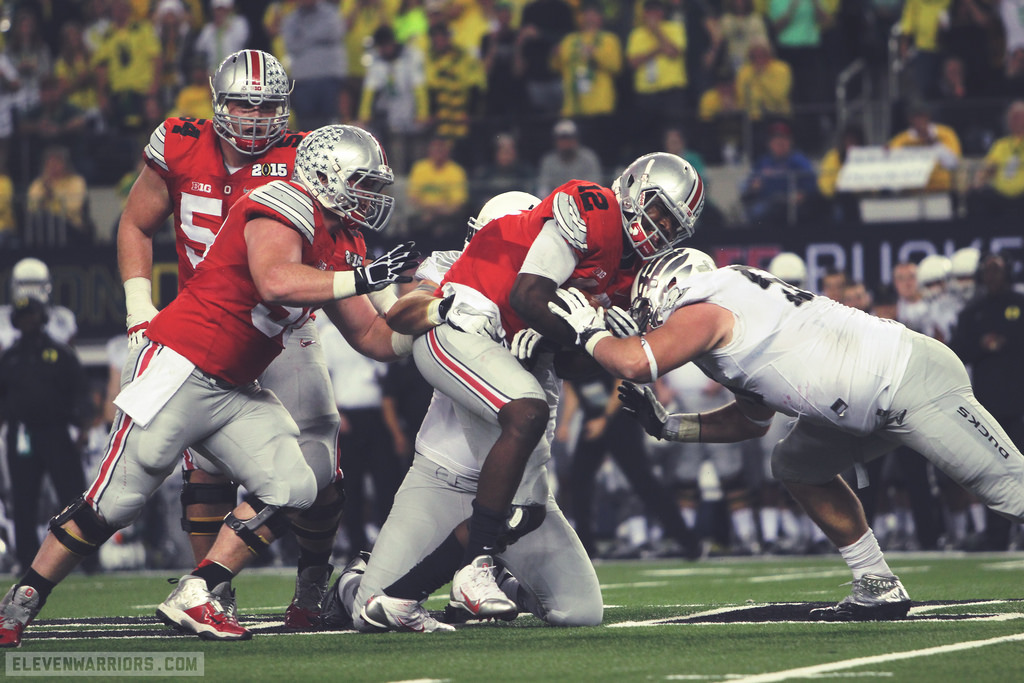 Then, the switch flipped.
Barrett exploded and took command of the offense in Ohio State's next 10 games, ripping apart defenses with stellar execution of the read option and pinpoint passing. He finished the year with 3,772 total yards (2,834 passing, 938 rushing) and 45 total touchdowns, a Big Ten record. In addition to finishing fifth in the Heisman Trophy voting, Barrett set 19 Ohio State or Big Ten records. Not bad for a kid who hadn't played competitively since the middle of his senior year of high school due to a knee injury.
But it all took another turn for the worse for the Buckeyes, this time in the regular season finale against Michigan. Barrett had the offense humming, but had his legs twisted underneath him by a bevy of defenders and his own offensive linemen, resulting in a fractured right ankle that would require surgery.
Enter Jones, the 6-foot-5, 250-pound mammoth of a human who went against the odds and led Ohio State to resounding triumphs over Wisconsin, Alabama and Oregon to win the first-ever College Football Playoff.
Jones finished with 860 yards passing with seven touchdowns against two interceptions, while adding 296 yards on the ground and a score in 2014. He battled through turnovers against both Alabama and Oregon to lead Ohio State to the promised land and prove to the outside world the Buckeyes weren't going to be stopped regardless who was orchestrating the offense.
Other players who threw passes in 2014: Evan Spencer, with his 13-yard touchdown on a double reverse to Michael Thomas against Alabama and Jalin Marshall, who went 0-for-2 during the regular season.
2015 Outlook
It's almost prudent at this moment in the spacetime continuum to put Joey Bosa's patented sack celebration down in this section of the 2015 preview. We flat out don't know who the starter is going to be.
Meyer said at Big Ten Media Days in late July he doesn't intend on revealing who his starter will be until Labor Day Night when the Buckeyes face off against Virginia Tech in their season opener. While that sucks for the rest of us, the head coach likely will know who his starter is in the next week or two.
"I think the middle of training camp," he said in the spring when asked to give a timeframe on making a decision. Meyer's since changed that, but not having a guy in place by then to start game planning for the Hokies would seem ill-advised.
Perhaps most interesting out of the entire process is the fact the decision is set to be solely on Meyer. Beck hardly sees that as odd, either.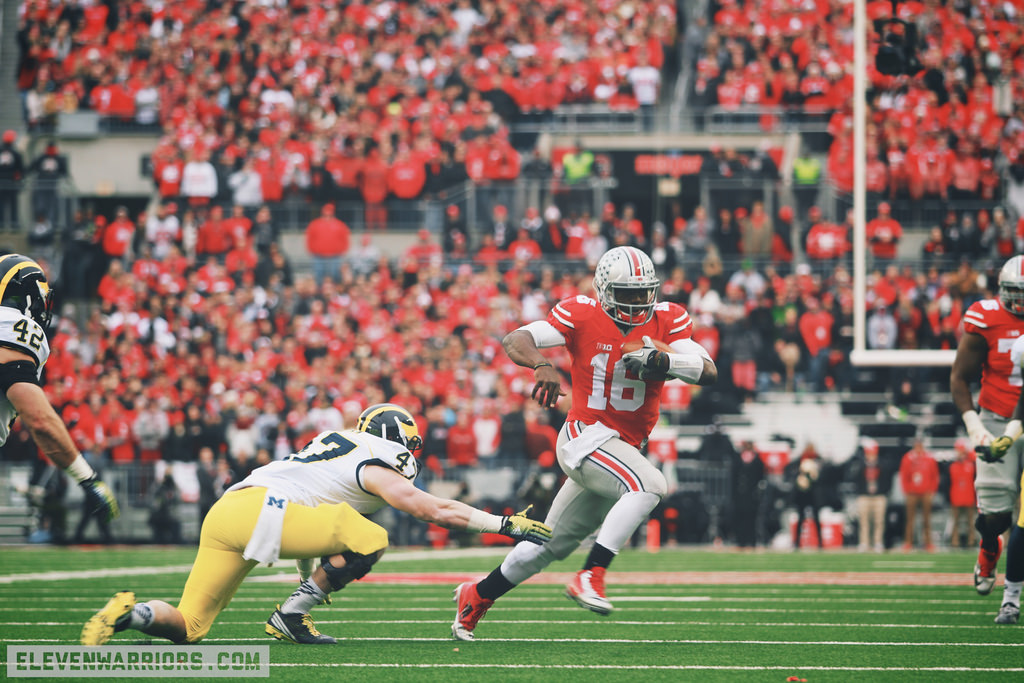 "He's been here, he knows the guys. Obviously it's coach's program and I think it'll be, Coach Warinner will be involved," Beck said Aug. 10. "I think everyone will have some input to some degree, but obviously Coach will make the final decision. He's great with that."
The pick will ultimately made by the head coach after in-depth analysis on everything Barrett and Jones do between how they're handling business off the field to who can lead the team past the line to gain on 3rd-and-7.
"We're just going to chart every possible thing, and it's already started. It started this summer," Meyer said at Big Ten Media Days. "We're evaluating leadership, just the general how they perform in tough situations in the offseason. They get graded each week and it's a 1-10 grade. We're going to do that in training camp, but then we're also going to do the touchdowns, interceptions, pass completions, all that."
That's a lot to handle, for anyone.
"Of course the pressure's on because you got a guy that wants it as bad as you do," Jones said.
"That fall, I was just like, 'Let me focus on the things I can control,'" Barrett added. "That's my concern is worrying about me right now and do the best I can to help our offense be successful."
The race is on.
The Rest
Behind the Barrett and Jones battery sits Miller, who Meyer's said moved to H-back as Plan B. Miller also told ESPN's Joey Galloway he intends to try and move back to his old position once his shoulder is 100 percent.
Beyond him sits Stephen Collier, a redshirt freshman followed by two true freshmen in Joe Burrow and Torrance Gibson. The latter elected to follow in Miller's footsteps and play wide receiver at least for 2015, with a greater desire to not redshirt and contribute than sit in the wings and wait. Miller and Gibson are listed as QB/HB and QB/WR on Ohio State's official roster. Walk-ons Justin Cook and Luke Morgan fill the room.
Final Word
Who knows? Barrett and Jones both had great success in 2014, mainly due to a stellar offensive line, strong running game with Ezekiel Elliott and a wide receiver depth chart full of playmakers.
All of those players are back and ready to rock again this fall — save for Darryl Baldwin, Evan Spencer and Devin Smith — so really, whoever Meyer chooses looks prime to have success.
Barrett's injury history is against him, but he's clearly the less boisterous of the two. Both he and Jones work their tails off according to their coaches and teammates and the image of the latter bulldozing nose tackles and safeties during the Playoff won't soon be forgotten.
A quote from former offensive coordinator and quarterbacks coach Tom Herman, now the head coach at the University of Houston, still resonates.
"The offense moves better when (Barrett's) in there," Herman said last fall. "You can throw all the completion percentages – he's probably completing more balls and making more of the right reads in the run game."
Barrett already beat out Jones once, but that was when Jones admittedly had lost his focus and was immature. Jones led the Buckeyes to their three biggest victories in the Meyer era. It's not going to be easy to pick between one or the other.
In the end, it's all up to the man in charge.