You read it in media articles and it is whispered in the ears of recruits – Ohio State does not throw the football to the tight end. In fact, it is so frequently mentioned that it is almost accepted as some unending truth.
But while it may be easy to include as a throw away line in an article, in Urban Meyer and Tom Herman's offense it has little basis in reality. Perhaps somewhat under the radar, the Buckeye tight ends were in an integral part of an uneven passing game in 2013. And this should become only more true in 2014.
So it may be time to forego the OhIo State does not throw to the tight end cliche once and for all.
Every Meme has a Basis in Fact

Although it is often forgotten that Ben Hartsock was the second leading receiver for Jim Tressel's national championship team, it is undeniable that the tight end became a sidelight as a receiver in Tressel's later years. Tressel's tight ends were often prized more for their blocking than receiving skills. As a result, they were overshadowed by more talented wide receivers.
But it is fairly obvious to all that Meyer is not Tressel and the two have very different offensive systems. So why does the meme live on?
Part of it is a reflection of practical decisions by Meyer and Herman regarding their team's strengths and weaknesses in 2012 and 2013. Like all good coaches, Meyer's primary concern is not x's and o's on a chalkboard but ensuring that he is putting any given group of players in the best position to win.
Meyer's mandate to himself every year is identify his best six playmakers and get them the ball. In 2012 – and to a lesser extent 2013 – Meyer's best playmakers were Braxton Miller and Carlos Hyde running behind a talented offensive line.
The Buckeye passing game was far shakier in comparison. But when the Buckeyes did throw the football their best options were Corey Brown for short to medium completions and the occasional downfield shot to Devin Smith. The Buckeyes' young tight ends, Heuerman and Nick Vannett simply did not threaten a defense as those four did. As a result the tight end remained a secondary option.
New Threats Emerging

Yet potentially lost in that overarching story was the emergence in the last half of 2013 of the Buckeye tight ends, particularly Heuerman, as legitimate receiving threats. Heuerman's 26 catches in 2013 were good for third on the team behind Brown and Smith, and the Ohio State tight ends contributed 19% of the Buckeyes' total receiving yards.
The Ohio State tight ends should continue their move to the main stage in 2014. With Brown's departure, Heuerman has the opportunity to become the Buckeyes' primary option in the middle of the field.
Waiting for the Right Part

Fortunately for Heuerman and his fellow tight ends, Meyer and Herman's offense seeks to utilize the tight ends as receiving threats – assuming they have the right personnel to do so. That is because Meyer's passing attack looks to exploit the middle of the field against linebackers and safeties overplaying the run. In fact, Meyer's tight ends have a critical role to play in both the possession and explosive passing game.
For instance, one of Meyer's base routes is H-Y Option. As the name describes, the slot H receiver and Y or tight end run option routes. This is a fancy way to say the two receivers are going to attack the underneath curl-flat defender to their side and get open between eight to ten yards. The receivers have the option to hook inside or outside or even work across the field on a shallow cross. The point is to spread the defense out and let the receivers quickly find open spaces.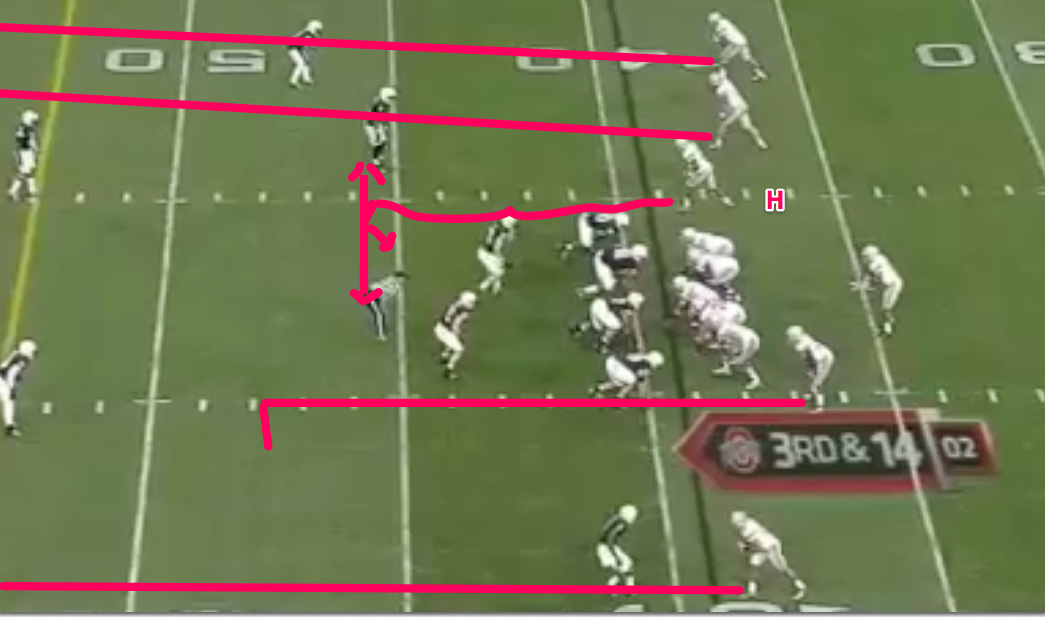 This play is an effective method to get the ball to the H receiver in space and let him use his athleticism. But it can also be used to string together high percentage completions and stay ahead of schedule. In those circumstances, the tight end becomes a critical target, particularly if that tight end is a reliable receiving threat.
Going over the Top

Meyer and Herman's tight ends are also frequent targets to create big plays off play action down the middle of the field against safeties overplaying the run. The primary method is with seam routes off variations of three and four verticals.
For instance, against Clemson, the Buckeyes had repeated success with a seam route combined with a wheel route out of the backfield off play action. Clemson's backside linebacker and safety actively flowed to the run fake, leaving Heuerman open down field.
So Buckeye tight ends have ample opportunities as receiving threats under Meyer. Glimpses of those opportunities should only become prevalent in 2014. As noted, with Brown's departure, Heuerman is perhaps Ohio State's most consistent returning receiver and should be a critical component of the 2014 passing offense. In so doing, Heuerman's legacy can perhaps be the Buckeye who finally put the Ohio State doesn't throw to the tight end notion to bed.