The Hurry Up is your nightly dose of updates from the Ohio State football recruiting trail, keeping tabs on the latest from commits and targets from around the country.
AN "AMAZING" VISIT
Portsmouth (Ohio) High School finished 7-4 this season and made a playoff appearance in Division V before a loss to Middletown Madison. Much of the reason for the Trojans' success was undoubtedly junior running back Talyn Parker.
Parker was a first-team All-Ohio selection after rushing for 2,530 yards and 29 touchdowns. He also made 60 tackles on the defensive side and set his school's single-game rushing record with 381 yards. Saturday, he made his second visit to Ohio State.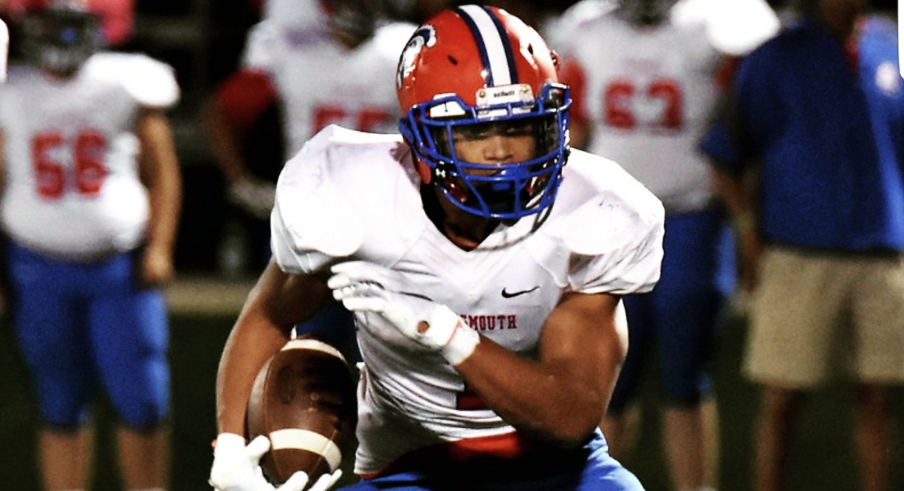 "The atmosphere was amazing. I loved it. It was so cool to be there in person," Parker said. "It was all-around amazing to be around such a great fan base. That's what I love about Ohio State. I definitely plan on going for a third visit."
Parker's speed is the main characteristic that led to him the season he had. But his vision, ability to break tackles and elusiveness in the open field also didn't hurt.
On Oct. 6, the 5-foot-11, 188-pound back made his first visit to Ohio Stadium for the Indiana game. After that visit, he told Eleven Warriors "I've grown up an Ohio State fan, ever since I was little. I love the campus also. It's beautiful and big. I've noticed the fans and how into the sports they are. I really love it."
Parker continues to stay in contact with the Buckeyes' coaching staff, specifically assistant athletic director Mark Pantoni and program assistant Ed Terwilliger.
INTRODUCING ARIZONA CORNER STEVEN ORTIZ JR.
It's still early in the process for Desert Edge (Goodyear, Az.) cornerback Steven Ortiz Jr. but you should probably get used to reading his name now.
Ortiz Jr. is a 5-foot-11 four-star corner in the class of 2021. According to 247Sports, he's already the class' seventh-ranked player at his position and Arizona's No. 2 ranked player overall. 
Currently, he has offers from Arizona and Syracuse but that list will be growing soon. This past season, Ortiz Jr. made 53 tackles and picked off five passes.
The Buckeyes have yet to look his way but when they do, he'll be ready. 
"I have been to the University of Arizona a couple of times on unofficial visits and I like it a lot. I definitely plan on making more visits in the future," Ortiz Jr. said. "I haven't talked at all to Ohio State but definitely would be interested. Sometimes before games, I watch Bradley Roby highlights from Ohio State to get hyped."
Desert Edge made a state semifinal run this past year. But next fall, Ortiz Jr. expects more.
"Hopefully next year we can get even further," he said. "My goal is to get bigger, faster, and stronger, and improve in all areas of my game. I want to also try and be even more of a leader going into my junior year. I feel like I bring hard work and a competitive attitude, and I'm someone who is around the ball trying to make plays both against the run and pass."
JAMESON WILLIAMS, STEELE CHAMBERS HEADING TO HAWAII
Next fall, Cardinal Ritter Prep (St. Louis, Mo.) receiver Jameson Williams will be in Columbus. But he'll take a trip to Aloha Stadium to Oahu, Hawaii first. 
Williams, who will also be playing in the Under Armour All-America Game on Jan. 3 in Orland, Fla., will play in the Polynesian Bowl on Jan. 19 during his trip to Oahu. Williams still has business to conduct at Cardinal Ritter, though. His Lions are slated to play Trinity Catholic in a Missouri Class 3 state championship game this weekend.
He now has a total of 62 catches for 1,486 yards and 22 touchdowns on the year.
This year's Polynesian Bowl roster also includes Ohio State commit Steele Chambers (Roswell, Ga.). At Blessed Trinity Catholic this fall, Chambers has rushed for 1,221 yards and 20 touchdowns on 160 carries. His Titans are 13-0 and still alive in the playoffs as they'll take on Troup County in a state semifinal.
The event annually features the top high school players from across the country. Last year, Ohio State tight end Jeremy Ruckert played in the game and racked up 57 receiving yards.