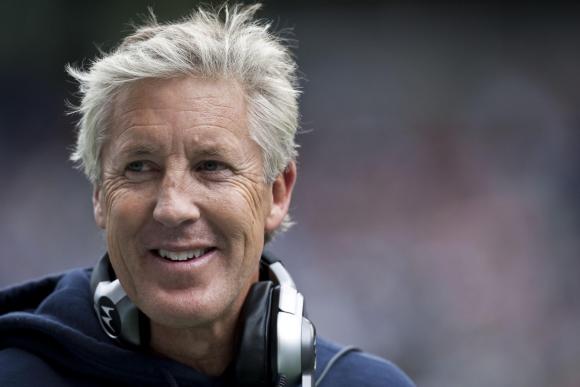 On Sunday, Pete Carroll's 40-year coaching career will reach its zenith when he leads the Seattle Seahawks in the Super Bowl. But life wasn't always spent at the top for Carroll.
In 1979, the Ohio State football program was going through what was then its most chaotic period. Woody Hayes was fired after punching a Clemson player and former player and trusted assistant Earle Bruce would take the Buckeyes through vast change.
At the same time, there was another football coach going through similar life-altering transitions. Peter Clay Carroll had been a graduate assistant at Pacific and Arkansas, but now he was in the beginning stages of carving out a path as a full-time assistant. Along with that, Carroll and his wife, Glena, were taking care of their newborn son, Brennan.
During the 1978 season, Carroll's first as a paid assistant, he coached the secondary for Bruce's Iowa State Cyclones. Uncertainty followed for Carroll when Bruce was hired by the Buckeyes until he tabbed Carroll as Ohio State's defensive backs coach.
What followed was a one-year Midwestern fairy tale for a California surfer dude.
"It was an extraordinary experience," Carroll recalled. "We had a great year."
Indeed. In Year 1 post-Woody, Ohio State went undefeated in the regular season, which included a dramatic 18-15 win over Michigan. One of the rivalry's signature moments came late in the fourth quarter when a group of Buckeyes blocked a punt and Todd Bell scooped it up and scored the game-winning touchdown.
The Rose Bowl pitted No. 1 Ohio State against No. 3 USC. A win for the Buckeyes meant a national championship. And with time winding down in the fourth quarter, it looked like Bruce's first season as head coach would finish with that unlikely title. But Heisman Trophy winner Charles White led the Trojans on an 83-yard game-winning drive in the final minutes, gaining 71 yards on his own.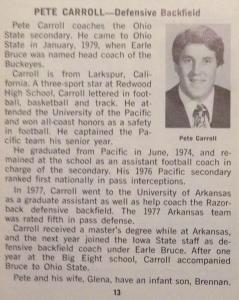 "My first memories getting ready for the Rose Bowl were we were really pumped up," Carroll said. "We had a really good team that year. We had a chance to win the national championship. But as a California kid coming back to the Rose Bowl for the first time, it was really big. As we got out there, it was magical being in Southern California."
But some of the optimism flushed out when Carroll gazed across the sun-drenched Rose Bowl and spied a group of Trojans that looked more like the Gods they were named after instead of college football players.
"They were loaded with players," Carroll said. "I'll never forget coming off the field and seeing those offensive linemen come charging out together. I thought, 'Oh, my gosh.' They just looked so right. They were big and strong. They had a fantastic team. It was a great matchup, a great game. "
The 1979 USC team had 11 future NFL players on its roster, including Pro Football Hall of Famers Marcus Allen, Ronnie Lott, Bruce Matthews and Anthony Munoz.
Ohio State only allowed 10.5 points per game, ranking seventh in the nation. The Silver Bullets intercepted 18 passes and returned one for a touchdown. Suddenly, Carroll became a sought-after young coach. Following the season, he became the defensive coordinator at North Carolina State under head coach Monte Kiffin.
It was a long and winding road for Carroll over the next 30 years. There were high-level NFL assistant jobs, stints as head coach of the Jets and Patriots and, of course, an unprecedented nine-year run at USC. It was in that final season – 2009 – when Carroll returned to Ohio Stadium for the first time in 30 years.
"Beautiful," he said, describing the famed venue. 
Carroll fondly reminisced that week about his time in Columbus.
"It was really an extraordinary year," he said.
But one moment stood out above all others. No, it wasn't the victory over Michigan or even the trip to Pasadena. It was Carroll's lone interaction with Hayes.
Sitting in his office inside St. John Arena, Carroll recalled looking out the window and seeing an older, shadowy figure walking in the parking lot. He knew exactly who it was.
"I just dropped everything and took off, ran across the parking lot and met him about halfway down," Carroll said. "He was walking home from teaching a class and I introduced myself. We walked for about 10 minutes, and he knew who I was. I was all thrilled. We talked football. That was my one chance I had to visit with him. To me, that was a really special moment with a guy that was a great impact to our game and to everything that stands for football.
"But there was a lot of memories that year and a lot of cool stuff that happened. A lot of great names and people we dealt with. That was really fun."
During his two years under Bruce's guidance, Carroll said he grew considerably as a coach. He wouldn't be the only one. Also on Bruce's coaching tree are Urban Meyer, Nick Saban, Jim Tressel, Mark Dantonio and Dom Capers, among others.
"He really conveyed to us that he had a sense for what it took to win at Ohio State. He was on it," Carroll said. "He just orchestrated it beautifully. The history of that program is obvious. The great heritage that they have that lives through those players and those famous names that we grew up watching."
The same characteristics and taglines can be applied to the Super Bowl, the apex of sports. On Sunday, Carroll, whose career contains humble beginnings in Columbus, will bask in the glow of reaching the ultimate level.