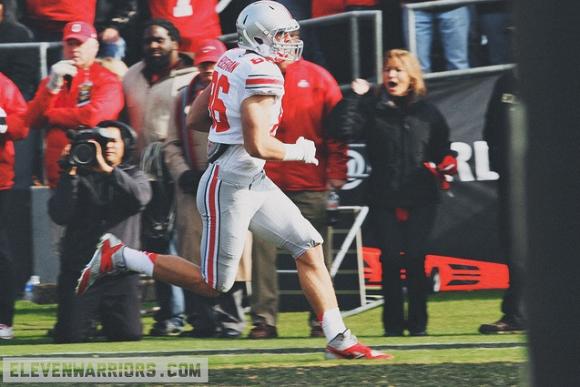 The final numbers may not elicit a "wow factor," but Jeff Heuerman's 2013 season may as well be Sammy Watkins-like stats when you consider the graveyard of Ohio State tight ends. The likes of Jake Ballard, Rory Nicol and Ryan Hamby could never become consistent pass-catchers in Jim Tressel's offense. So Heuerman's 26 receptions, 466 yards and four touchdowns are nothing to scoff at.
He was the team's third-leading receiver and recorded the best yards per catch average. In what could be described as the Buckeyes' three biggest games of the season – Michigan, Michigan State and Clemson – Heuerman caught four passes for 152 yards and two touchdowns.
The athletic 6-foot-6, 250-pound Heuerman has not only become a reliable target for Braxton Miller by stretching defenses, he's also developed into a valuable blocker for an offense that became run-centric behind Carlos Hyde's tree trunk thighs. But Hyde won't be part of the game plan next season, and combined with more cohesion with Miller and experience, Heuerman is expected to be an even bigger cog in one of the nation's highest scoring offenses.
"He's really, really, really good," tight ends coach Tim Hinton said. "I mean, really good at what he does."
That was never more evident than Nov. 2 in West Lafayette, Ind., a town he summarily disparaged earlier in the week, referring to the Northwest Indiana outpost as a "gray city" and deemed the locker rooms as "awful." Instead of seeking revenge on Heuerman, Purdue played good host, using an ole defense that resulted in Heuerman's record-setting day.
He finished with five catches for 116 yards and a touchdown. Heuerman juked, jumped and jived past defenders. All told, it was the best performance by an Ohio State tight end in nearly 20 years. It was a day dreamed about by Ballard and Jake Stoneburner, the two tight ends to precede Heuerman.
"I've been blessed to have been around a lot of great players," Heuerman said. "Having a running back like Carlos Hyde, having a quarterback like Braxton Miller and receivers like we've got. All those guys being so good really helps me do my job. It opens a lot of opportunities."
The last highlight for a tight end came in the Rose Bowl when a Terrelle Pryor pass somehow found the outstretched hands of Ballard, who soared into the starry Pasadena night.
Before last season, Hinton labeled Heuerman and Nick Vannett as "1 and 1A." That may still be true on the depth chart, but it's clear Heuerman is the Buckeyes' top tight end. The duo attracts attention from coaches because of their versatility. Size, speed, physicality – both have it. Offensive coordinator Tom Herman said Ohio State has the best tight end combo in college football.
Expect Heuerman to continue carrying the torch in 2014.
"This offense really gives the tight end the opportunity to do a lot of things," Heuerman said. "We're in the backfield motioning around, we're split out wide, lined up on the line at tight end, lined up at H-back. We're lined up all over the place. It's fun. It give us a lot of opportunities to do things traditional offenses, and other offenses don't let you do."
Creativity was abundant during Ohio State's 24-game win streak. Not only are Meyer and Herman two of the most progressive offensive minds in the sport, they also agree on the tight end being an integral part of efficient units. Aaron Hernandez was Florida's leading receiver in 2009, while Rice's James Casey tallied 111 catches, 1,329 yards and 13 touchdowns for the 10-win Owls in 2008, earning All-American honors.
Having an up-tempo offense allows the Buckeyes to utilize their tight ends even more frequently. A tight end that can fill multiple roles, and not just be a glorified tackle, puts stress on opposing defenses that are already gassed.
"The whole premise of being no-huddle is to keep the defense on the field and running around and getting tired," Herman said. "If you're subbing guys out that have specialty roles, then the defense is allowed to sub, too."
Miller's noticed a lack of respect aimed at Heuerman, which contributed to his productive season and historic day against the Boilermakers. What Miller would like one his favorite targets to end is his hurdling of defenders.
"A lot of guys have been coming after my legs," Heuerman said, "so I just gave it a little jump, trying to get a few extra yards."
The fearlessness displayed comes from a lifetime of playing hockey. Before football, Heuerman dreamed of hoisting the Stanley Cup in a Detroit Red Wings sweater. But after a year stint on one of the nation's top junior teams, Heuerman traded his skates for cleats. But the rugged attitude remained intact.
Heuerman's textbook blocking is reminiscent of checking someone into the boards. And he takes it just as serious as catching passes. That was apparent when he took out two players in one fell swoop against Penn State. It earned him buckeye leaves and praise from Hinton.
"I think a lot of it is mental," Heuerman said. "Obviously, I'm not the biggest tight end that's ever played the game. A lot of guys I block are bigger and weigh more than me."
Ironically, it's a missed block that Heuerman is (currently) most remembered for. On 4th and 2 with the Big Ten championship – and national championship – on the line, Heuerman couldn't corral Michigan State's Denicos Allen, who tackled Miller short of the first-down marker.
Prior to the Orange Bowl, Heuerman said he watched the replay "a million times" and revealed that he still struggles with the outcome of such an enormously important play.
"It's obviously one of those plays you wish you could have back," Heuerman said. "But it's part of the game of football. One play, yeah, I wish I could have it back, but you've got to move on from it."
And that's what Heuerman is eyeing – a 2014 with an alternate ending. This time, the confetti is scarlet and gray.