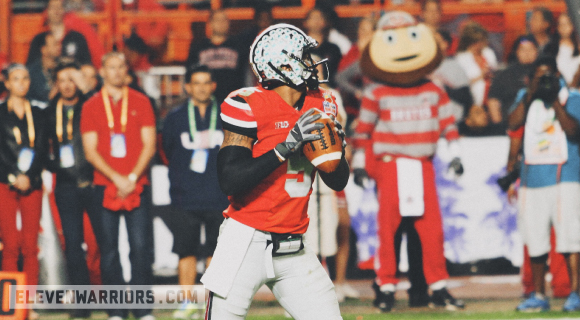 In an examination of far-too-early preseason predictions for the 2014 college football season, it appears most pundits believe Ohio State will find itself in the thick of the first College Football Playoff title hunt. CollegeFootballTalk went all in and has the Buckeyes No. 1, citing the return of Braxton Miller and head coach Urban Meyer's ability to mold a championship roster. 
ESPN's Mark Schlabach has defending national champion Florida State ranked first with Ohio State coming in at No. 9. The myriad losses on both sides of the ball contributed to his ranking of the Buckeyes. The same line of thinking was used by the Big Lead, which has Ohio State ranked seventh. 
USA Today, Sports on Earth and CBS are all high on the Buckeyes, ranking them fourth, fifth and sixth, respectively. The most popular No. 1 is the Seminoles, which comes as little surprise since they bring back several playmakers on both sides of the ball, including Heisman Trophy-winning quarterback Jameis Winston. 
Ohio State has the fourth-best odds at winning the first playoff, according to Bovada, which placed the Buckeyes at 10/1. Florida State, Alabama and Stanford are ahead of Ohio State.