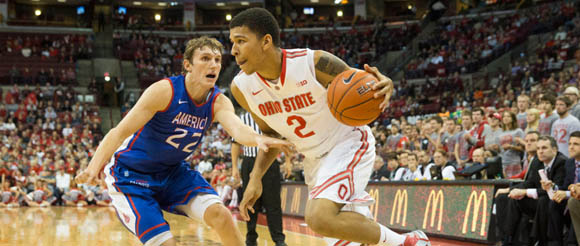 Thad Matta said Ohio State's shooting couldn't get any worse. He was wrong. In the first half of Wednesday night's game against American University, the Buckeyes shot 26 percent and made just seven field goals.
It was Amir Williams of all people who helped Ohio State break out of its offensive funk. He scored a career-high 16 points in leading the Buckeyes to a 63-52 win over the Eagles.
"I've seen him more energized and aggressive this season," Matta said. "He has also been dominating in practice. Tonight, I really loved seeing his patience."
On Saturday, Ohio State shot 27 percent in the first half against Marquette. One-upping itself wasn't expected or thought to even be possible. Even with the porous first half against American, the Buckeyes still managed to take a five-point lead into the locker room at halftime – 28-23 – thanks to a 9-0 run and scoring 11 of the final 14 points.
Eighth-ranked Ohio State improved its offensive output in the second half, making 13-of-29 field goal attempts. It ended the game shooting 35.7 percent from the field, only 3 of 16 from beyond the arc. Once again, the Buckeyes won with superb defense and stout free throw shooting.
"I think a lot had to do with us defending for so long," Matta said of the poor offensive numbers. "We were just slow to balls, lacked spacing, were running on top of each other and didn't have it at the level we needed to."
American turned the ball over 27 times and only had 21 made baskets for the game, while Ohio State made 20 of its 29 free throw attempts. The Eagles shot better than 85 percent from the charity stripe but only attempted seven free throws. 
Shannon Scott recorded 13 points and a career-high tying nine rebounds for the Buckeyes, Aaron Craft missed his first five shots but ended the night with nine points and seven steals, and freshman Marc Loving scored nine points in 15 minutes off the bench. Williams also had seven rebounds, two steals and a blocked shot.
"I have been working really hard on my moves in the post and it is finally starting to pay off," Williams said. "I am building up my confidence and hope to continue improving and making those baskets. The work we did in the off-season is the reason my game has improved. I am taking shots I wouldn't normally take. I am better prepared mentally as well."
LaQuinton Ross, the player many thought would take over Deshaun Thomas' scoring role, had another questionable outing. He finished 1 of 7 from the field with four points and played just 17 minutes. Ross was benched in the second half against Marquette after missing all six shot attempts.
The game marked the final appearance in Value City Arena for longtime official Ed Hightower, who's retiring Dec. 31.