With roughly six spots left in Ohio State's 2014 recruiting class, we here at Eleven Warriors have decided to turn our attention to the future, specifically the Buckeyes 2015 class and how it could shake out. We realize that we're forecasting something that is virtually impossible to forecast, but it's fun to think what could be coming Ohio State's way next February, ain't it?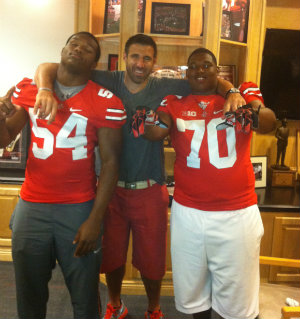 In the last two weeks, we've done our best to provide a quick glance at the offensive talent Ohio State is pursuing (Part I, Part II) and today we'll flip the field and start looking at the defense. Today we'll start at the defensive line and linebackers, two positions with a lot of depth nationally in 2015. The Buckeyes could look to bring in as many as 8 players between the two positions in 2015, so ignoring the importance of the two spots is hard to do.
In 2014, the Buckeyes have landed (so far) only two defensive lineman in Illinois product Dylan Thompson, and Virginia star defensive end Jalyn Holmes, but remain heavily in the hunt for Coppell (Texas) defensive end Solomon Thomas, but with no seniors along the line as it is currently constituted, the chase for Thomas is more about a want than a need. Interestingly, last week Ohio State offered Terrell Clinkscale, the nation's second-ranked JUCO defensive tackle, in what appears to be an attempt at defensive tackle insurance in the event that Michael Bennett were to test NFL waters. Clinkscale is more prepared to play right away at Ohio State than the defensive tackle prospects they've offered from the high school ranks (Matt Elam, Thomas Holley,) and his recruitment is worth watching if Bennett decides to move on to the NFL.
As for linebackers, the Buckeyes have pledges from St. Ignatius' Kyle Berger, Cincinnati Moeller's Sam Hubbard and Akron St. Vincent-St.Mary's Dante Booker; but are hoping to finish out an important haul at linebacker with the country's top-ranked inside linebacker, Raekwon McMillan, who could be announcing his college choice within the next few weeks. The Buckeyes are expecting the loss of Ryan Shazier to the NFL, but he should be the only departure from the position, but the general thinness at linebacker is an issue that requires attention in 2014 and in 2015.
Let's move on to 2015.
DEFENSIVE LINE (6)
It's impossible to get a really great read on a lot of high school juniors right now, and as Ohio State showed with their recruitment of Jalyn Holmes, what you hear/read isn't necessarily a true indicator of what a recruit is thinking or feeling. Holmes was a surefire Florida State lean until he made a visit to Ohio State and left Columbus committed to the Buckeyes. 
What we can do, is look at the players offered by the Buckeyes at each position and work towards a realistic and logical conclusion. However, what makes it even more difficult is to project a player's position down the road when they're a big defensive end as a junior in high school. Some guys are naturally going to end up moving inside, so we'll lump them all together here for brevity's sake and my personal mental health. I think the Buckeyes will hope for as many as six defensive lineman in 2015.
Recently, the Buckeyes offered Freedom (Tampa, Fla.) High School standout Scott Patchan, a 6-foot-5, 230 pound end who has been offered since by Notre Dame and Ole Miss. If the name sounds familiar - and it should - it's because Patchan is the younger brother of former Florida Gator Matt Patchan, who played for Urban Meyer. Patchan's recruitment is going to really start picking up soon, so might the family's knowledge of Meyer and the way he runs his program might give the Buckeyes an early advantage? We'll see.
The Buckeyes were one of the teams mentioned early and often for Minnesota (Cretin-Durham High School) stud Jashon Cornell, but Cornell — despite a number of planned visits to Columbus — has not been able to see the Buckeyes in person, yet. Michigan and Notre Dame and Iowa, yes Iowa, each have a bit of an advantage over the Buckeyes right now, and unless Cornell gets to Columbus before the spring/summer, I'd move him to the "very unlikely" pile. I would also include Florida's CeCe Jefferson in this group, which I shall forever dub the "Myles Autry Club," or the MAC, of Ohio State recruiting.
While Cornell and Jefferson haven't visited Ohio State, North Carolina star Darian Roseboro has.  At 6-foot-4 and 265 pounds, Roseboro is a physical presence the Buckeyes would love to land early in the process, but they'll be fighting a handful of the country's premiere programs that also already offered the Lincolnton native. Another 2015 name to watch is Potomac (Md.) The Bullis School defensive end Jonathan Holland, who is starting to see his recruitment really take off. Jonathan has been been in regular contact with Buckeye coach Zach Smith since early October and will be making a visit to Columbus this weekend. Holland told 11W​ that he's got the Buckeyes at the top of his list and that an offer from them would be very tough to turn down.
Ohio State has already had visits from three of the nation's top defensive tackles, Tim Settle, Shy Tuttle and Josh Alabi and with a desire to take a handful of guys, getting them on campus and gaining face time with the players this early in the process is invaluable. Alabi, the high school teammate of future Buckeye cornerback Damon Webb, has liked Ohio State for a while, but it will be a tough pull for the Buckeyes as the homestate Wolverines and Spartans are both on the hunt and have already offered. 
Inside of Ohio, there's a few talents that are worth keeping an eye on, Cincinnati Moeller defensive tackle Elijah Taylor and Lorain's defensive end, Rashod Berry. Taylor is a 6-foot-3, 275 pounder in the middle who is fortunate to find himself in 2015 as opposed to 2014, where Winton Woods' Daniel Cage still sits waiting for a Buckeye offer. Sometimes life is about timing, isn't it?
Way Too Early Prediction: Tim Settle - DT  (Virginia), Elijah Taylor - DT  (Ohio), Christian Wilkins - DT (Connecticut), Rashod Berry - DE  (Ohio), Scott Patchan - DE (Florida),  Josh Sweat (Virginia) - DE
LINEBACKER (4)
The state of Ohio has a bit of a down year in 2015, but the top of the class is incredibly strong, with two linebackers leading the way, so we'll start inside of the state rather than nationally, because the Buckeyes have extended two offers in-state, something they're not doing much of yet at other positions. I think you could see a situation very similar to the 2014, where Ohio State nabs three from the Buckeye State and takes dead aim at one or two major out of state players, hoping to land one to round out the group.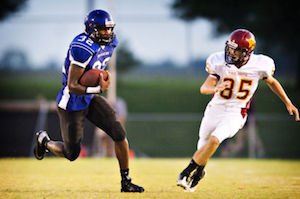 Justin Hilliard and Jerome Baker are — two of the state's top three players (Eric Glover-Williams) — and while Baker could also play running back if necessary, I still believe his future is at linebacker. He's currently just under 210 pounds and with another year in high school and then college, it's hard to not picture him at 6-foot-2, 240 pounds down the road. Ohio State is in great shape with Baker, who is set to make a visit to Columbus this weekend as the Buckeyes take on Indiana.
Hilliard is a linebacker all the way and a player that the Buckeyes have had to play a bit of catch up with. His brother C.J. is a 2014 running back headed to Iowa, and while Justin is considering the Hawkeyes, Ohio State's primary competition comes from Notre Dame, Michigan and eventually, the entire SEC. 
Also at linebacker in the state is a trio of players who could be considered for Buckeye offers down the road, provided they attend camp sessions and give the Buckeyes a chance to evaluate them up-close-and-personal; Jackson's Reagan Williams, Dublin Scioto's Nick Conner and Walnut Ridge's Anthony McKee. Toledo Central Catholic's Chris Green, 247Sports.com's 6th-rated inside linebacker for 2015 according to their composite rankings, has yet to receive much Buckeye attention.
Outside of Ohio's borders, there are a number of big-time national talents already claiming Buckeye offers. Some of the bigger names are players thta have yet to visit Ohio State including Texas stars Malik Jefferson and Anthony Wheeler and Richmond, Virginia ((St. Christopher's) standout Ricky DeBerry. DeBerry has a cornerback teammate, Garrett Taylor, who the Buckeyes have also offered as they look to expand their reach into the talent-laden Virginia high school ranks. Perhaps the two biggest names at linebacker from out of state are Jeffrey Holland and Eli Brown, each of whom have visited Ohio State in the past. Holland has surprised many by repeatedly listing the Buckeyes in his group of schools, but the consensus still seems to be that he'll stay home and choose Florida. Brown, who committed to Vanderbilt over the summer, recently reopened his recruitment just days after taking a visit to Ohio State. Similar to Jerome Baker, Brown could play running back in college but most projections see him at linebacker.
Obviously there's a number of other players that will come into the discussion at some point, but for now, this is where a lot of the scuttlebutt is settling.
Way Too Early Prediction: Jerome Baker (Ohio), Justin Hilliard (Ohio), Eli Brown (Kentucky) and Nick Conner (Ohio)
Next week we'll look at defensive backs for Ohio State's 2015 class.