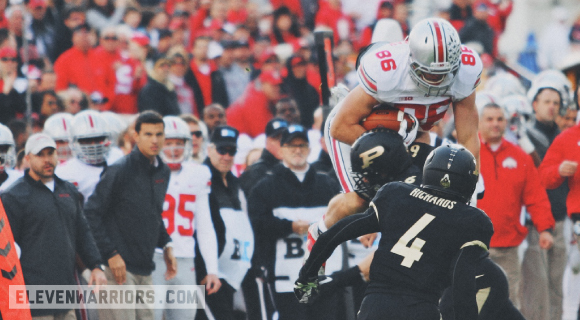 WEST LAFAYETTE, Ind. – On Monday, Jeff Heuerman made his viewpoint clear: West Lafayette is his least favorite Big Ten city. He called the Northwest Indiana hamlet a "gray city" and chided Purdue for its "awful" visitors' locker rooms.
For the first time in six years, that small, cramped space in the southwest corner of Ross-Ade Stadium was a happy place after Ohio State's emphatic 56-0 victory. And Heuerman was the star of the show. Ironically, there was sunshine and blue skies overhead for a majority of the festivities.
The last time a Buckeye tight end fashioned 100 yards in a single game, Heuerman wasn't even aware of who or what Ohio State was. Rickey Dudley is the answer to that trivia question, with the act occurring in the 1996 Citrus Bowl. One must go back to 1983 in Ann Arbor to find a tight end's receiving day that was noteworthy as Heuerman's against the Boilermakers.
He caught five passes for 116 yards and a touchdown, the most yards since John Frank did so thirty years ago at Michigan. And Heuerman did it in one half of play.
"We just go out in practice every day and work hard. My job is easy," Heuerman said. "It trickles down with good play-calling, the good protection of the offensive line and the good throw from the quarterback. All I have to do is catch the ball."
Ohio State's tight ends have gone the way of the dodo, or at least that's what everyone thought until Heuerman's eruption. Frank, Dudley, Cedric Saunders, Darnell Sanders and Ben Hartsock all enjoyed productive seasons in Scarlet and Gray. But the catches, yards and touchdowns disappeared after Hartsock graduated in 2003.
Every August since has brought promise for tight ends only for it to be unfulfilled when the calendar flipped to January. Ryan Hamby, Rory Nicol and Jakes Ballard and Stoneburner each struggled through seasons spent as glorified offensive linemen after hearing they'd be utilized as pass catchers.
The biggest highlight of the past decade was Ballard's game-saving catch in the Rose Bowl, when he did his best Kareem Abdul-Jabbar to go sky-high over an Oregon defender. Heuerman delivered a similar remarkable play against the Boilermakers, hurdling two defenders before tumbling to the turf. 
"A lot of guys have been coming after my legs, so I just gave it a little jump trying to get a few extra yards," Heuerman said.
His quarterback was leery of the maneuver. 
"I'm going to tell him to cut that out. He's too big for that," said Braxton Miller.
Heuerman shot back, saying strength coach Mickey Marotti deemed it an athletic move. Heuerman's athleticism is no secret; his physique screams playmaker. Heuerman had 15 receptions entering the Purdue game and just as important to Meyer, he was blocking with authority. Heuerman sprung touchdown runs by Miller and Carlos Hyde last weekend against Penn State.
"Here is the deal: he's really, really, really good," tight ends coach Tim Hinton said about Heuerman. "I mean, really good at what he does. He has a knack for it. He understands leverage, and you know like every great football player you're around, they're very football intelligent. And he's a very football intelligent guy."
Said Heuerman: "The ball gets dispersed around however it does. I'm happy doing my job, whether it's blocking, whether it's catching. Whatever it is, I'm happy. I enjoy doing it."
Saturday was a catching day, and Heuerman enjoyed it.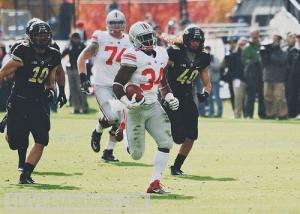 Run Away
As the Ohio State defense shuts down all rushing comers, the offense continues to bowl over people, namely Carlos Hyde. He's taken on the moniker of El Guapo, but unlike Roberto Duran, Hyde is forcing opponents to say, "No mas," not himself.
"It's pretty easy to tell when guys want no more," he said. "They don't want to attack you any more, and the offensive line is blowing guys off the line."
Purdue wanted no more, oh, about midway through the second quarter after Hyde rumbled for a season-long rush of 42 yards. He finished with 111 yards on eight carries, his fourth straight 100-yard game.
"I feel like at any minute something explosive is going to happen," Hyde said. "You just have to wait your turn. Coach is going to call your number and when he does, you have to make a play."
The production Jack Mewhort, Andrew Norwell, Corey Linsley, Marcus Hall and Taylor Decker have created this season is verging on ridiculous. To lend credence to that view, all one needs to know is the lowest team rushing output is 248 yards.
One-hundred yards rushers have become the norm, second-half bursts occur at a moment's notice, but the highlight of the season came last week, when Ohio State tallied 408 rushing yards, its first time over the 400-yard mark since 1995 most rushing yards dating to 1989. Hyde has been the facilitator in a majority of the downhill running.
Despite missing three games, he's rushed for 701 yards – more than seven per carry – and seven touchdowns. Hyde is positioned to become Meyer's first 1,000-yard running back. More impressive, though, is the fact that Hyde still hasn't been stopped behind the line of scrimmage in 96 carries.
But Meyer, an ardent supporter of Hyde's ability, lobbed all the praise to what he refers to as the team's best unit, the offensive line.
"With all due respect to Carlos, I could have run through those holes," Meyer said.
The Buckeyes rank second in the Big Ten and ninth nationally in rushing. 
Hyde's running mate, Jordan Hall, also deserves acclaim. He topped 150 yards in two games when Hyde was out and was the Big Ten's leading scorer until Hyde returned. Hall has amassed 519 yards and eight touchdowns on the season. Combined, the duo has accounted for 1,149 yards and 15 touchdowns.
Hyde has become a household name in only 16 career starts. At first thought, a powerful running back who resembles a Volkswagen Beetle or PT Cruiser isn't what one envisions when imagining an offense headed by Meyer. No one told that to Hyde, who's became option number one for the Buckeyes and a bona fide star nationally.
"I'm watching the safeties and linebackers, so when I hit the hole, I know where they're at," he said.
In the past four games, Hyde has rushed for 575 yards and seven touchdowns. For the Florida native, it's déjà vu all over again.
"In my senior year [of high school], I just came out on another level," Hyde said. "I kind of feel it's all happening again."
He tallied more than 1,600 yards that season for Naples High School. It would take an otherworldly final five games to reach that number. But Hyde is doing his best to leave a valued legacy. He credits his suspension as the turning point of his unforgettable senior season. To reach the top, he first had to view the depths.
Hyde returned to his teammates a changed person, more modest and carrying a gritty work ethic. For three weeks, he was the best scout team running back in the country. Now, he's taken that flair on to the real playing field.
"In my opinion, he's the best back in the country," wide receiver Philly Brown said. "I know everybody around here feels strongly about that. He can throw us over his shoulder and carry us to victory."
Teammates and even opposing players have referenced the zone Hyde gets into as "beast mode." When the unique combination of fullback size and wide receiver speed goes into overdrive, Hyde becomes virtually unstoppable in the open field.
"It's very daunting because he hits it so fast," Purdue head coach Darrell Hazell. "The linemen are doing a great job of getting up on people and just creating small seams for him, and he's doing a good job of finding those small seams."
Said Norwell: "Having Carlos Hyde back there really makes a difference. We're just mauling people."
Defense Stands Tall
Football is a game defined by eras. Decades of running-back heavy offenses, low-scoring games due to hard-hitting, physical defenses and now the influx of dual-threat quarterbacks in both college and the NFL. It's given way to points galore and a de-emphasis on quality defense. The offensive invasion has even hit SEC country, where defenses were thought to be shatterproof.
In the north, and most specifically Columbus, Ohio State's offense is humming along at a school record pace. The Buckeyes are averaging more than 47 points per game and their yardage output is something fans have yearned for. But don't sell the defense short. Nine games into the season, the Silver Bullets have yet to allow a run of 20-plus yards or a 100-yard rusher.
"I think we're coming together," said defensive end Noah Spence, who finished with two sacks and forced fumble against Purdue. "Coaches are telling us to just play football. We've stopped thinking and it's worked out or us."
Ohio State allowed more than one "explosive" run – at least 20 yards – per game a year ago. The biggest culprit was missed tackles, something head coach Urban Meyer and defensive coordinator Luke Fickell said is a non-issue in 2013.
"Hopefully we learned from last year," Fickell. Said. "I think that's probably the biggest key to what we do – keeping the ball in front of us and making sure we're running ourselves inside out and being aggressive. Everybody talks missed tackles. We can't worry about missed tackles. You miss a tackle with good leverage."
Saturday afternoon presented another opportunity for the defense to solidify itself – and it did. The Silver Bullets limited Purdue to 116 yards of offense, 10 first downs and forced two turnovers, including a pick-six less than a minute into the game.
"I'm going to give the credit to Coach Coombs," said Doran Grant, the recipient of the interception. "We watched film on Thursday and said it was going to be the backdoor slider. I missed it during the Iowa game and got it this game."
The pass defense, called "alarming" by head coach Urban Meyer three weeks ago, has suddenly found its footing. Penn State All-Big Ten wide receiver Allen Robinson couldn't get 50 yards against the first-teamers last week, while Purdue freshman quarterback Danny Etling more than struggled Saturday afternoon. He completed 13 of 29 passes for a miniscule 89 yards, zero touchdowns and one interception. The Boilermakers' leading receiver was Gary Bush: 18 yards.
"Any time we play pass defense like that we have a chance to become a really good team," Meyer said. "The way we kick-started the game with Doran Grant with the interception return, that's a good sign that we're playing much better. There were a lot of positives, but the most important positive that I can think of is that we've taken a weakness, which was pass defense, and I don't think it's a strength yet, but it's much improved – very much improved."
Long before Meyer arrived at Ohio State – in 1986 – the program's defense was predicated on stopping the run. Nothing has changed in the almost three decades since. Ohio State was surrendering less than 96 yards rushing per game this season, with Saturday's performance – 27 yards – lowering that already impressive number.
"When you're playing hard and playing fast and playing with great leverage, you can still give up runs and yards but the reality is you're not going to give up the big ones," Fickell said. "And when we don't give up the big ones, you've got a chance to be successful."