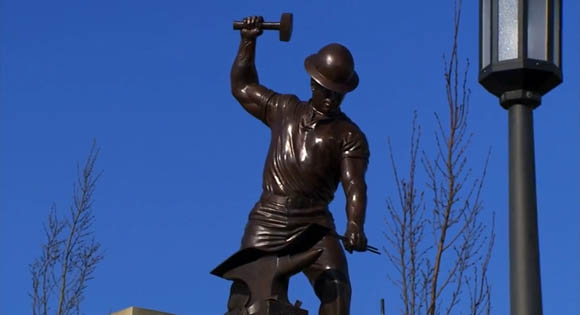 There will be familiar faces on the Purdue sideline Saturday. Head coach Darrell Hazell is a former Ohio State assistant under Jim Tressel, linebackers coach Marcus Freeman played linebacker for the Buckeyes and defensive backs coach Jon Heacock was an assistant on Tressel's national championship staffs at Youngstown State.
The results haven't come yet, but Hazell is forming an Ohio State West so to speak. A majority of assistants are from the Big Ten and know what it takes to get it done in the physical, smash mouth league. To get his players acclimated to the new regime's ways, Hazell conducted 6 a.m. winter workouts. 
Previous head coach Danny Hope made a big push for speedy players from the south. It resulted in several Floridians flocking to far off West Lafayette. But it also made the Boilermakers a smaller, weaker team. It showed last season when they were literally pushed around.
"We have a great group of young men, men who are committed to the cause and the cause is to make Purdue football special on the field in 2013," Hazell said. "I told them it's going to take a lot of work, but we're going to climb out of the middle and we're going to put this program on national prominence for a long point in time."
That hasn't happened in the win-loss column. But Hazell has laid the foundation for a future filled with promise. Not since the halcyon days of Joe Tiller has the Purdue faithful been so confident in the future. Some might scoff at that line of thinking. Remember, though, Hazell rebuilt Kent State, one of the worst programs in the country, and had them on the doorstep of the BCS after just two years. He started 1-6 in the Northeast Ohio hamlet, then rattled off wins in 15 of the next 19 games.
In comparing Ohio State and Purdue's history, about the only similarity is the two schools are in the Big Ten and have played in the Rose Bowl. The Buckeyes are one of the titans of the sport. However, building a program is building a program. So when Hazell arrived at Purdue, he called up someone who knew a thing or two about winning in the Big Ten – Tressel.
"He helped me through this process as the whole process was unfolding," Hazell said. "He actually came up and spent some time with me."
And in true Tressel fashion, Hazell has heaped praise and importance on his special teams. A Big Ten teleconference doesn't go by without mention of a punter or kicker.
"Our special teams is the most important component," he said.
Opponent
The issues in 2013 for the Purdue Boilermakers are many. Since spring practice began, Hazell has done his best at turning around a program that's languished since Joe Tiller retired.
On the field, talent is lacking and it shows up in the box score. Turnovers, lots of yards given up, a lack of first downs on offense and on and on. Both sides of the ball have elements of inconsistency and poor execution. Purdue ranks last in 11 of the 33 statistical categories the Big Ten tracks and 11th in six others. Of note, the Boilermakers are third in turnovers (15), last in third-down conversions (29.5 percent), red-zone offense (62.5) and red-zone defense (92.6).
Midway through the season, Hazell opted to play freshman quarterback Danny Etling. He's one of a handful of underclassmen playing significant minutes. In fact, Purdue is one of the youngest teams in the country. Nine true freshmen have played and nearly half the travel roster – 34 of 70 – is comprised of true and redshirt freshmen.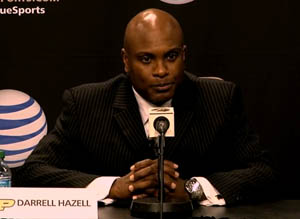 "Some of those younger players are getting better each week and that's what you're hoping for," Hazell said. "Right now, we are playing a blend of older guys and younger guys, and I think we are making significant strides. It's sometimes hard to see that from the outside, but you can see some little successes from within the program. I assure you, we are trying to win games this year."
Winning Saturday will be a chore. Purdue is more than a four-touchdown underdog at home. It's the largest spread for the favored Buckeyes away from Ohio Stadium since 1998. A loss will fall right in line with the season, though. Purdue's six defeats have come to schools with a combined 36-9 record. The Boilermakers enter the contest losers of five straight and yet to win against an FBS opponent. The offense hasn't even reached the red zone in its past two games.
Miami (Ohio), Florida International and Southern Miss are the only teams in the country scoring fewer points per game than Purdue's 13.1. But Hazell remains confident in himself, his assistants, his players and the system he's set forth to turn Purdue into a consistent bowl team once again.
"It's going to take off," Hazell said. "At some point in time, there will be that breakthrough moment."
When it happens, chances are Etling is the guy who engineers the revolution. His predecessor, Rob Henry, completed barely more than 50 percent of his pass attempts for a paltry 119 yards per game. He has since moved to safety, giving way to Etling.
The improvement has been noticeable for the kid who grew up in Indiana dreaming of being the next Drew Brees. Etling is completing less than 50 percent of his passes, but he's throwing for almost 200 yards a game and he's tossed three touchdowns (four interceptions) in three games.
Growing pains are to be expected. The light at the end of Etling's tunnel, however, is bursting with brightness. He couldn't produce any points against Michigan State's vaunted defense. Now come the Buckeyes off their best defensive effort of the season. 
"I think we really need to go out there and show what we can do and take another step forward," Etling said. "I think this game can really be a meter to see where we stand against the best."
The run game will have an uphill battle, equivalent of trying to run with a bus strapped to your back. Akeem Hunt is the Boilermakers' leading rusher and he's only averaging 42 yards per game. The team is getting less than 80 rushing yards each game. Meanwhile, Ohio State hasn't allowed a 100-yard rusher or a single rush of 20 yards all season.
It's not much better on defense. But since changing from a 4-3 to a 3-4 in early October, Purdue has surrendered fewer points, including just seven on defense against Michigan State. The Spartans didn't crack the 300-yard mark and only made one trip into the red zone. Part of that success can be attributed to a rebuilt defensive line.
Ohio State thought it had a rough time replacing its entire line. Well, the Boilermakers are starting three true freshmen – Evan Panfil, Ra'Zahn Howard and Jake Replogle.
In the Buckeyes' past two trips to West Lafayette, a Purdue defensive lineman decided the outcome of the game. First it was Ryan Kerrigan, then Kawann Short. If that guy appears in 2013, it will be Bruce Gaston. He's the senior leader on defense, tallying team highs with 6.5 tackles for loss and three sacks.
"You can't be sidetracked on what you're trying to accomplish," Hazell said. "The bottom line is, we all want to win."
Buckeye Breakdown
It's a happy time in Columbus, Ohio. Fall brings along football and this season is shaping up to be a special one for Buckeye fans. There might be a hint of anxiety due to the team's BCS ranking, but fear is absent on game day.
Ohio State's next three games represent what should be easy wins. The fourth is a trip to Ann Arbor, and even then the Buckeyes are likely to be heavy favorites. Most goals the team set forth in the spring remain not just realistic but probable.
The Chase is about playing to potential, playing for teammates and doing things the Ohio State way. But there are also objectives such as beating Michigan, winning the division and winning the conference. The last carrot dangling at the very far reaches of the Buckeye Tree is a national championship.
"It's always the same: to get to November and then let's go try to find a way to win a championship," Meyer said.
"We don't go into the season saying we want to win this one, or this one. If you look around there's not a bunch of goals. Our goal is to win the national championship, but we don't put that down. There are too many variables involved."
The only variable Ohio State is concerned with is winning. That hasn't been a problem as of late. Twenty wins and counting and armed with a rapid-fire offense, the Buckeyes are riding a wave of almost unprecedented success. Only two other Ohio State teams have won as many games in a row.
Now comes Purdue, a team that's completely overmatched and not equipped to slow the Buckeyes down. But as soon as chatter like that begins, those in Columbus grow wary. Losses in 2009 and 2011 are still fresh in the minds of Buckeye Nation.
Earlier in the week, senior captain Jack Mewhort took it upon himself to alert Meyer to the past troubles in West Lafayette. A letdown is not on the itinerary.
"You see it happen all the time, and it's our job to prevent it," Meyer said about upsets. "Talking is not how you do it. Addressing it and making sure a senior gets up there and addresses it, because we do play a lot of younger players who have never been there. You have to prevent it on Tuesday and Wednesday, not on Saturday."
Said linebacker Curtis Grant: "Each week we respect our opponent. If you're not ready to play, you'll take a loss."
How it Plays Out
Ross-Ade Stadium and the Purdue Boilermakers have spelled doom for Ohio State. It's been an oddity in the Big Ten dating to 2000. The Buckeyes have made six trips to West Lafayette since the turn of the century, returning to Columbus as victors just twice.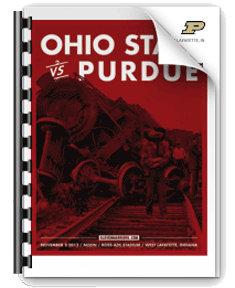 Add 2013 to the win column for Ohio State.
Purdue is in a major rebuilding phase. The Boilermakers are playing youth everywhere on the field. It spells major trouble in the secondary. Purdue has been scored on and scored on since Cincinnati shellacked them 42-7 in the opener.
This should provide the Buckeyes with a big margin of victory, not that the opponent will leave anyone impressed. Miller and Hyde could have career days and Dontre Wilson might finally have that breakout performance everyone's been waiting for.
Ohio State's secondary should breathe easy going against an inexperienced quarterback and wide receivers. Criticism has been mounting, but last Saturday marked a turning point. Pencil in a pick-six this week and added confidence.
---
ELEVEN WARRIORS STAFF PREDICTION: Ohio State 49, Purdue 10