While the Ohio State basketball program grinds away in fall practice, a pair of high profile visitors will stop by and get a glimpse of one of the nation's most consistent programs.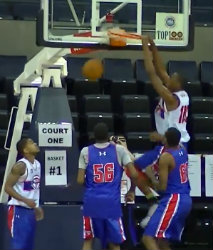 One five-star 2014 big man and a four-star recruit will be in Columbus, this weekend.  Over the summer, the Buckeyes handed out offers to both prospects and have made up significant ground.
Another five-star target ended his recruitment and made a seemingly surprising choice.
Plus, Big Ten schools have been steadily adding commitments over the past month. An Ohio State player thinks the success of the conference will continue to trend upwards.
Turner and Dastrup Visiting
Ohio State was unable to secure a commitment from either Goodluck Okonoboh (UNLV) or Elbert Robinson (LSU). The only apparent target left to fill out Thad Matta's 2014 class is the best of the bunch – Myles Turner.
Arguably the hottest prospect over the summer, Turner rose to a consensus top-ten player. He vaulted to second overall in both ESPN and Scout's rankings
Over a month ago, he was invited to visit for the Iowa game weekend. After debating whether to check out Duke, Kentucky or Oklahoma State, Turner's father told SNY.tv his son will be in Columbus, this weekend. Myles also confirmed those plans. 
The Texas center insists he'll wait until spring to sign, where he'll choose between Arizona, Duke, Kansas, Kentucky, Louisville, Oklahoma State – possibly SMU – and Texas, in addition to the Buckeyes.
Matta and his staff will have a chance to make a great impression, as Columbus will be Turner's first official visit. He originally planned to visit Kansas earlier this month, but participated in the USA Basketball Men's Developmental National Team mini-camp, instead.
NBADraft.net ranked the 6-foot-10-inch, 225-pound Turner as the top prospect in their 2015 draft projections. His wide range of enticing skills were on display at the Adidas Nations camp:
Not to be completely overshadowed, 2014 recruit Payton Dastrup will also be visiting this weekend.
The four-star Mesa, Ariz. prospect is planning on taking a two-year Mormon mission. That would make him a scholarship athlete for the 2016-17 season.

Essentially, with Dastrup, Ohio State is getting a jump on the 2016 recruiting class, rather than rounding out the 2014 class – unless Dastrup changes his mind about when he'll enroll.
Regardless of when he takes the floor, the 6-foot-9-inch, 218-pound forward would be an asset, due to his high motor and rebounding instincts.
Simmons Commits to LSU
Ben Simmons is among the top international prospects with NBA potential.
Ohio State has experience landing Australians, but that won't help them with Simmons. The five-star 2015 recruit verbally committed to LSU after an unofficial visit.
He recently joined Buckeye commit D'Angelo Russell at Montverde Academy in Florida. Simmons' ties to LSU, which include his godfather and Tigers assistant David Patrick, were too strong to lure him away.
"I was blessed to have schools like Duke, Kentucky, Ohio State, UNC and all of those schools recruiting me," Simmons wrote, in his USA Today blog. They're great programs with great coaches, players and fans."
So, for the second week in a row, LSU beats out Ohio State in basketball recruiting. Kind of surprising, but head coach Johnny Jones is building a program that has the potential to consistently finish in the upper half of the SEC.
Around the B1G
​In the past month, the Big Ten has added nine new commitments from the class of 2014:
Over his four years at Ohio State, point guard Aaron Craft has noticed a change in the perception of the conference. That plays a large role in recruiting.
"I wouldn't say it's stronger, it's more recognized throughout the country," Craft said, at OSU media day.
Craft hasn't noticed a major difference on the court because of the veterans who were around when he first experienced Big Ten play.
"In my freshman year there were guys that were staples in this conference – Demetri McCamey, Taylor Battle, Jon Leuer," Craft said. "Not everyone talked about them, but they were great players. They did a good job keeping their programs where they needed to be."
[Turner screenshot via Scarberry Media]