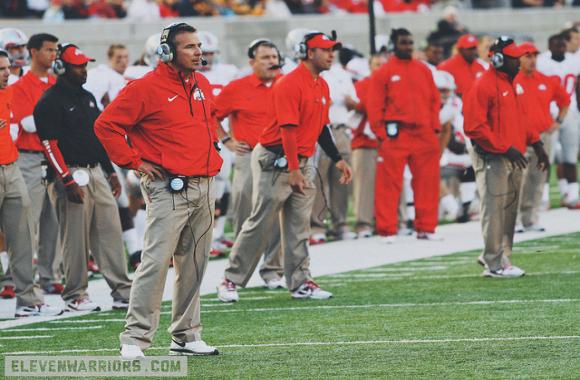 Urban Meyer grew up in an era of the Big Two, Little Eight. Ohio State and Michigan were dominating the Big Ten Conference, while Wisconsin was a yearly bottom feeder.
That isn't the case anymore. The Badgers have won the past three conference titles and six dating to 1993. Since 1981, Wisconsin has defeated the Buckeyes 11 times. That's why head coach Urban Meyer says, "this is a chance to take a major step as a team."
Just glance at the TV Guide. Saturday's game is in primetime on ABC. It will give Ohio State an opportunity to bring in the recruits it covets most for the 2014 class and beyond.
On the Big Ten Teleconference, Meyer said night games not only get recruits to Columbus in a timely manner, it allows the Buckeyes to showcase everything that sparkles.
Recruits are able to take part in a full day of activities on campus. They're on the field during pre-game warmups, they see quick cals and the band. It all has a big impact. Meyer knows it, which is why he's pushed for more night games at Ohio Stadium.
Ohio State has another one in October versus Penn State.
"The most important thing is to play well," Meyer said.
An exciting brand of football, a hallmark of Meyer's coaching career, has a big affect on prospective players. For Meyer, Saturday night is all right for lighting up the scoreboard.
Urban Meyer:
Meyer shot down the idea of Kenny Guiton and Braxton Miller being on field together. "As of now, we don't have that package."
If Miller has a good week of practice, he will start. Meyer said that decision will come later in the week.
"It's a blessing to have two quarterbacks you have confidence in."
"This is without question one of the defining moments of his career." -Meyer on Curtis Grant. Meyer added that the coaches are confident in Grant and believe he's up for the challenge of facing Wisconsin.
"Where do these guys come from. I can't imagine two better backs on the same team." -Meyer on Wisconsin's running back. What do Carlos Hyde and Jordan Hall think? Later on, Meyer said he's happy with the Buckeyes' running backs, too.
Meyer doesn't have a pecking order for Ohio State's backfield. He said Wednesday is a big day in deciding that. Special teams play is also a factor.
Gary Andersen:
Andersen called Ohio State a tremendous football team. "They're very well-coached."
Andersen was stunned at how well the Buckeyes have played in the first quarter (102-14). Said they haven't been challenged in the second half all season.
"Melvin is right up there with the best I've ever been around." Andersen said what makes Gordon so good is his unique blend of speed, power and patience. 
"It's amazing that they have two quarterbacks of the quality that they have." Andersen said Ohio State has two "not good, but great" quarterbacks.
Andersen said the Buckeyes' QB situation doesn't change how the Badgers prepare this week.
Brady Hoke:
"We are very pleased to win the football game. I thought we played hard for 60 minutes. I don't know if we played well."
Hoke said Michigan has plenty of areas to shore up on both sides of the ball. Said it starts with the coaches and their message, though.
Turnovers are things that will results in losses now that Big Ten play has started, Hoke said. Devin Gardner has been a turnover machine since a great first half against Notre Dame.
Michigan has a bye this Saturday. Wolverines take on Minnesota in two weeks.
Hoke said he doesn't think Gardner is lacking confidence. "He's way to intelligent to not work his way out of whatever funk he might be in."
Bo Pelini:
Nebraska has a bye week before opening up Big Ten schedule against Illinois.
Taylor Martinez will not practice until he's 100 percent, according to Pelini.
Pelini very upset with the Cornhuskers' defense. The unit has played poorly for the better part of two seasons. He said last week's performance – missed assignment and lack of execution – was unacceptable.
Pelini said building a great defense starts with stopping the run.
Mark Dantonio:
Players on teams throughout the country wore wristband with the initials "APU" on Saturday. It stands for All Players United. Dantonio said the movement hasn't surfaced at Michigan State. Said he'd be fine with players taking part. "It's a free country."
Dantonio said Connor Cook is the quarterback going forward. But he added that the staff will evaluate each QB going forward. Always subject to change based on performance.
Coaches always talk about how important staff continuity is. Dantonio said it's a big reason why the Spartans' defense is so good every year. The staff has been together for 10 seasons. "And we have good players, and they tackle well in space."
Kirk Ferentz:
Iowa opens its Big Ten slate against undefeated Minnesota this weekend. Ferentz said the Gophers are a more mature team.
Ferentz on Iowa's offensive line: "We're further along than we were last year at this time, but we need to be. We have work to do."
Ferentz is a Pittsburgh native and let it be known he's excited about the Pirates playoff push. Said new ownership is committed. Very happy with Andrew McCutcheon and Clint Hurdle.
"I think that whole thing's a bad deal." Ferentz thinks Penn State's original sanctions were unfair.
Jerry Kill:
"Iowa physically whipped our butts a year ago. They don't beat themselves. They play physical. Hopefully we're stronger."
"The game of football is won up front. It always is and always will be. I think both football coaches are saying the same things right now."
Kill said defensive coordinators jobs have become among the toughest in football due to how up-tempo and sophisticated offenses have become.
Kill said Minnesota's offense doesn't change much regardless of which quarterback is in the game.
Tim Beckman:
"The game of football is about student-athletes." Beckman said coaches coach for the student-athletes and every aspect of the program is about them. He's in favor of Penn State's sanctions being reduced. Called it a good thing for college football.
Beckman said linebacker Mason Monheim improved his body and is more in line with the physique of a Big Ten linebacker.
Some coaches like the bye week, others hate it. Beckman said it served Illinois well because they have such a young team. They were able get rested with one non-conference game remaining and the Big Ten schedule looming. 
Beckman said the Illini's offense has made great strides this year. He said they still aren't there, but the players are buying in and the results are proving that.
Darrell Hazell:
Hazell lamented Purdue's inability to block on offense.
"If you hang your head, you have no chance to getting out of it." Hazell said the Boilermakers have to go back to the drawing board and search for solutions.
Hazell said Wisconsin's coaching staff does a good job at going back to the same plays because they know one of the running backs will break a long one.
On the Penn State sanctions, Hazell said he's glad they're being lessened. Said coaches are in this business to help others and this gives the PSU staff that opportunity.
Hazell doesn't believe it's fair to punish players who weren't involved in reason for sanctions.
Purdue has played 16 freshmen. "At some point, these guys are going to be good players. It will pat dividends down the road."
Bill O'Brien:
O'Brien found out this morning an announcement was going to be made regarding Penn State's sanctions. He's happy for the players, but said there's still a long way to go.
"They're a resilient bunch."
O'Brien said it takes a while to adjust recruiting strategy. Said he'll take a look at the decision and adjust accordingly.
The numbers were more difficult than what happened in the past, according to O'Brien. He said once guys get on campus they like Penn State. There hasn't been a stigma. But when the scholarships are so limited, he's run into problems taking multiple players at certain positions.
"Recruiting the individual athlete, that was never difficult here. The difficulty was in the numbers part."
O'Brien admits Penn State made mistakes in the past. Since he took over, it's been about doing the right thing.
"Today is definitely about the future."
Pat Fitzgerald:
"Areas we need to improve are multiple." Fitzgerald believes there are a lot of positives, but said both sides of the ball have been very inconsistent.
Northwestern has a bye week before the Ohio State game. Fitzgerald said there's no correlation between success and bye weeks.
Running back Venric Mack has been involved every day in practice. The Wildcats already practiced Tuesday and Fitzgerald said Mack looked good.
Fitzgerald didn't sound pleased that Kain Colter took part in the APU movement. He called it a teachable moment. Said the team concept is something he wants guys focusing on.
Like other Big Ten coaches, Fitzgerald was in favor of Penn State's sanctions being reduced. He said he's not in favor of schools losing scholarships in any situation. Said it negatively impacts opportunities for student-athletes too much.
Kevin Wilson:
On Indiana's 2-2 record: "We need some urgency." Wilson said he didn't plan on being .500 after four games. "It's not ideal."