Now that's more like it.
The Big Ten fared much better in Week 2 than Week 1, and the 11-1 record isn't the only indicator of that. Unlike last week, the Big Ten's victories had some oomph, some credibility, some teeth.
With few exceptions, the foes that should have been blown out were. In the big games, nobody looked feckless (hey there, Florida and USC). And unlike most seasons, it appears that the Big Ten will escape 2013 without losing to any FCS schools.
With that said, here's how the Big Ten did in Week 2.
#17 MICHIGAN 41, #14 NOTRE DAME 30

In the game of the week, Michigan held off Notre Dame in front of an NCAA-record crowd of 115,109.
Notre Dame decided to find out what tackling with no arms would look like as Jeremy Gallon took a pass 61 yards for a 10-0 Wolverines lead. The Fighting Irish responded with their own lucky touchdown and tying field goal before Devin Gardner started to take control of the game. In spite of Gardner throwing a horrendous interception in his own end zone and Notre Dame narrowing the lead to 34-30, Michigan would hang on to secure the Big Ten's first victory over a ranked opponent in 2013. 
Gardner, who wore #98 to honor Michigan legend Tom Harmon, dominated for the Wolverines with 294 passing yards, four touchdown throws, and a rushing touchdown against the aforementioned horrifying interception. Notre Dame fans will complain about the shaky pass interference calls on Michigan's final touchdown drive, but that's what you can expect from referees in one of the biggest games in Michigan Stadium history.
Michigan plays Akron next week, and if the first two weeks of the season are any indication it'll be a slaughter.
#19 NORTHWESTERN 48, SYRACUSE 27

Thanks to Kain Colter's rushing, Trevor Siemian's passing, and a ball-hawking defense, Northwestern took care of business against Syracuse.
The Wildcats raced out to a 34-7 lead, with Siemian capping the action on a five yard touchdown pass to Christian Jones. Colter led Northwestern in rushing with 87 yards and a touchdown, while the Northwestern defense's four turnovers kept Syracuse out of the game.
Northwestern plays Western Michigan next week in another late contest. There's always one ranked team nobody bothers to watch, and Northwestern may be that team this season.
#22 NEBRASKA 56, SOUTHERN MISSISSIPPI 13

After giving up heaps of yardage to Wyoming last week, Nebraska's highest priority was fixing the defense. The Blackshirts addressed those concerns when they stymied Southern Mississippi.
Nebraska picked off four passes on the day, returning two for touchdowns. Behind the ever-efficient Taylor Martinez and Ameer Abdullah's 114 rushing yards and two touchdowns, Nebraska cruised to a 35-6 halftime lead. Southern Mississippi gained less than half the yardage Wyoming managed in Week 1.
Nebraska plays UCLA next week in what should be the conference's highest profile game.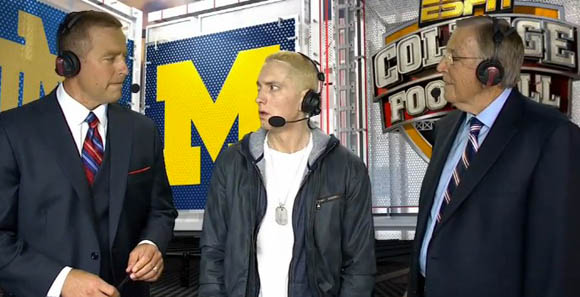 ILLINOIS 45, CINCINNATI 17

After Illinois's scare against Southern Illinois and Cincinnati's demolition of Purdue, the Bearcats looked like an overwhelming favorite against the hapless Illini. That's why they play the games.
Illinois jumped out to a stunning 21-0 lead thanks to Bill Cubit's spry offensive playcalling and Nathan Scheelhaase's passing. Scheelhaase finished with 312 yards passing and four touchdowns, and Illinois's 522 yards of offense were its most since the Mezozoic Era.
The turning point occurred in the third quarter: facing fourth and goal, Cincinnati quarterback Munchie Legaux fumbled into the end zone. Cincinnati recovered it, but since offenses can't advance the ball from the spot of a fumble on 4th down, Illinois took possession on its 1-yard line. 99 yards later, Illinois had a comfortable 28-10 lead that would last the rest of the game. Well wishes to Legaux, who suffered a brutal knee injury late in the game and was taken off on a cart.
At 2-0, Illinois has matched its win total from last season. They host Washington next week.
MICHIGAN STATE 21, SOUTH FLORIDA 6

Dantonio, we talked about this. Never expose Jim Bollman to bright light, never get him wet, and never, ever feed him after midnight. Otherwise, you get spirit-crushing Walrusball performances on the reg.
Once again, Pat Narduzzi's defense bailed out the craptastic offense with two defensive touchdowns, both by Shilique Calhoun. Combined with a lightning delay and heavy rain, it couldn't have been a pleasant game for Spartans fans.
The offense needs two more touchdowns to catch up to its defense in scoring, and Michigan State will try to make that happen against Youngstown State. Settling on a quarterback would help.
NAVY 41, INDIANA 35

Navy provided the one blemish on the conference's record this week in a tight win over Indiana in Bloomington.
Much like last year's game, Indiana could not handle Navy's option running attack, giving up 444 yards on the ground. Indiana closed the deficit to six with 3:53 left in the game, but the Hoosiers could not get a stop on Navy's final drive.
Nate Sudfield had a good day for Indiana, accounting for 396 all-purpose yards, four touchdowns and one interception. Nevertheless, as has often been the case in the Kevin Wilson era, Indiana's inability to play defense submarined its hopes. The Hoosiers will look for a more complete performance next week against Bowling Green.
PENN STATE 45, EASTERN MICHIGAN 7

After a slow start, Penn State put the boots to Eastern Michigan.
Eastern Michigan took an early lead on a fumble return and managed bupkis after that as Penn State more than tripled their yardage, 574-183. Bill Belton and Akeel Lynch each ran for 108 yards, and kicker Sam Ficken set a Penn State school record by making his 14th straight field goal.
Christian Hackenberg had another mixed day, but he's playing well for a true freshman, throwing for 589 passing yards through two games. Penn State plays Central Florida next week, which has looked pretty good so far this season.
PURDUE 20, INDIANA STATE 14

At least one school has to be the dregs of the conference, and it looks like the Big Ten's dregs are Purdue. Though Purdue avoided an embarrassing loss to FCS school Indiana State, this game did nothing to inspire confidence in the Boilermakers.
After starting the game with a 99-yard Akeem Hunt kickoff return touchdown, Purdue managing only a field goal for the rest of the half. Indiana State scored to make it 20-14 and had two chances to take the lead, but Purdue forced a late punt and intercepted the Sycamores with seconds remaining to preserve the win.
Aside from Hunt, who also had 82 rushing yards, nobody stood out for Purdue. The Boilermakers' next game is against Notre Dame, which looks to rebound from the loss to Michigan.
IOWA 28, MISSOURI STATE 14

Although Iowa snapped a seven game losing streak with a win over FCS school Missouri State, the Hawkeyes did not get the statement win many in the program hoped for. Iowa dominated Missouri State in yardage, but 11 penalties for 100 yards and several other miscues made the game far closer than it should have been.
In spite of sluggish offense and maddening conservatism, Iowa took a 21-0 lead on the strength of Mark Weisman's 180 rushing yards and two touchdowns. After Missouri State scored two touchdowns in ten seconds, Jake Rudock's 2-yard touchdown put the game away for the Hawkeyes.
Jokes about offensive coordinator Greg Davis's horizontal passing attack aside, it's clear that Iowa can put together a solid offense if they make good decisions and don't shoot themselves in the foot. The Hawkeyes face Iowa State next week in the Cy-Hawk Series.
MINNESOTA 44, NEW MEXICO STATE 21

Unlike last week, when it won by four touchdowns despite being outgained, Minnesota deserved its convincing victory over New Mexico State.
Minnesota ran over the Aggies with 148 rushing yards from Rodrick Williams Jr. and 122 rushing yards from Philip Nelson. In addition, a 65-yard punt return by Marcus Jones pushed the Golden Gophers lead to 27-7 before halftime, and a 50-yard fumble return in the fourth quarter capped Minnesota's scoring.
Minnesota plays Western Illinois next week, which will hopefully allow Jerry Kill to tune up the glorious Minnesota variant of the Maryland-I.
#21 WISCONSIN 48, TENNESSEE TECH 0

Last week, Tennessee Tech played NAIA school Cumberland. Yes, that Cumberland. This week, Tennessee Tech played three-time defending Big Ten champion Wisconsin. The results were not pretty.
Wisconsin had its way with Tennessee Tech's defense all game long, racking up 606 yards of total offense and 387 rushing yards. Corey Clement, Melvin Gordon, and James White gave Wisconsin three 100-yard rushers for the second time this season.
Meanwhile, the Badgers defense held Tennessee Tech to 113 yards of total offense. Behind a solid defense, a powerful rushing attack and an efficient no-name quarterback – Joel Stave went 24/29 passing – this team reminds me of the 2010 team that ruined Ohio State's championship dreams. Wisconsin plays at Arizona State next week.
Even though Maryland and Rutgers aren't in the Big Ten yet, the neighborly thing to do is to make them feel welcome. As such, their games will be recapped for the rest of the season.
MARYLAND 47, OLD DOMINION 10

Old Dominion is a transitioning FCS/FBS school, which means it can expect teams like Maryland to cave its head in on a regular basis. Stefon Diggs had six catches for 179 yards and a touchdown, and for the umpteenth time I wish he were a Buckeye.
Maryland plays at Connecticut next week. A 3-0 start looks likely, as does a bowl bid.
RUTGERS 38, NORFOLK STATE 0

Rutgers recovered from a painful loss to Fresno State by crushing Norfolk State. Paul James had 119 rushing yards and three touchdowns, and the Scarlet Knights defense improved from allowing 52 points to shutting out the Spartans.
The only interesting thing from this game: pinned on its 1-yard line in the first quarter, Norfolk State elected to punt on a third down. And lo, Jim Tressel smiled. Rutgers hosts Eastern Michigan next week.
So after a Week 2 in which everything went better than expected, Week 3 features a number of Big Ten/Pac-12 and other BCS matchups. I'd recommend Nebraska/UCLA, Illinois/Washington, Iowa/Iowa State (unless Iowa is playing FerentzBall), and Penn State/UCF.