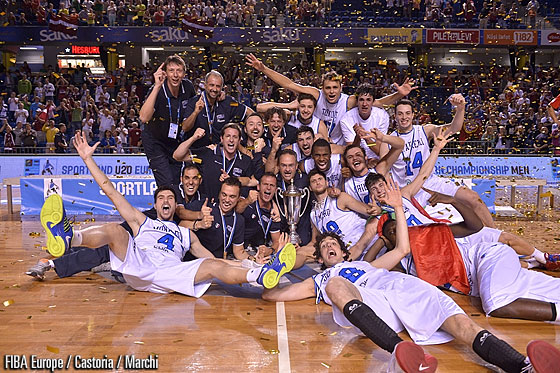 Della Valle's wild stay in Estonia concluded with a thrilling 67-60 win over Latvia in the FIBA U20 European Championship. Della Valle had a team-high 19 points, including 13 in the final five minutes of play. His leadership for the Azzurri even led to the Buckeye basketball player being named Most Valuable Player of the tournament.
Italy came back from their worse twenty minutes in the tournament and fought off Latvia and a raucous 6,800-strong crowd to conquer gold at the Sportland U20 European Championship with a 67-60 triumph.

TURNING POINT: Italy fell behind 52-50 in the fourth quarter when the smallest player on the court, Michele Ruzzier, sneaked into the Latvian paint, grabbed the rebound off a missed three-pointer and kicked out to Della Valle, who rose up almost oblivious of his poor shooting percentage up to that point and scored the first three of his 17 points in the clutch, with 4:54 left on the clock.

GAME HERO: Amedeo Della Valle was not there when Italy turned around the game in the third quarter, but came out as big as the tower of Pisa in the final five minutes, drilling 13 consecutive points on 3-for-3 three-pointers.