Urban Meyer has been fortunate in that he's inherited several talented quarterbacks during his stops at Bowling Green, Utah, Florida, and Ohio State. Josh Harris (BGSU), Alex Smith (Utah), Chris Leak (Florida), and Braxton Miller were all already on campus before Urban Meyer came to town. We know Meyer has been successful winning with these quarterbacks, but how have the guys that he's brought in done?
With the Buckeyes, Meyer was very fortunate to land at a school with a budding Heisman candidate at quarterback, Braxton Miller, that fits what he wants to do offensively like a glove. J.T. Barrett, a highly-rated dual-threat quarterback from Texas arrived in Meyer's first full class, 2013, and will compete with a recent 2014 commit, Stephen Collier, along with Cardale Jones, a Jim Tressel commit, to replace Miller when he leaves.
To get a better idea of how well Meyer commits have performed a quarterback, let's take a look at his previous stops.
Bowling Green
During his brief two seasons at Bowling Green,  Meyer inherited Josh Harris and used him to great effect. During his first season, Harris split time and ended up throwing for 1,000 yards and rushing for 600. In Meyer's second and final year at Bowling Green, Harris threw for 2,425 yards and ran for 747 more. Months later, Harris would go on to become a 6th-round NFL draft pick. 
During his two year stay, Urban Meyer signed two quarterbacks: Omar Jacobs and Van Johnson. Neither would play a snap under Meyer, but you must credit Meyer for his evaluation of Jacobs. 
The little known quarterback held offers from Buffalo and Florida Atlantic. That's it.  Two weeks before National Signing Day, the quarterback Meyer thought he had decommitted and left Meyer scrambling to find a replacement. Meyer made a quick trip to Florida and soon after, convinced Jacobs to become a Falcon. Jacobs would only spend three seasons at Bowling Green before going pro, but he is the shool's all-time leader in TDs with 71, and 3rd all-time in passing yards with nearly 7,000. Jacobs would go on to become a 5th-round selection in the NFL Draft.
Meyer's other quarterback signee at Bowling Green was Van Johnson from Georgia. He was a lowly-ranked, barely recruited kid from Georgia and as it turns out, he would never really get a chance to be a quarterback because Jacobs and  Harris was in front of him for his entire career. He threw only three career passes for Bowling Green, and spent time at cornerback and wide receiver. 
While neither quarterback ever started under Meyer because of Harris, Jacobs shows that Meyer was already adept at finding quarterback talent at his first head-coaching gig. He recruited a future 5th-round pick to a MAC school and he also turned an inherited quarterback into a 6th-round draft pick. Not bad. 
Utah
Urban Meyer would once again take a quarterback already in the program and turn him into an NFL draft pick while at Utah. All Alex Smith did was enter as a two-star prospect before leaving as the top overall pick in the NFL Draft. Urban Meyer did not recruit Smith to Utah, but Smith only had four career passes prior to Meyer's arrival. Smith would go on to throw for 5,200 yards and 47 TDs to just seven interceptions in Meyer's offense.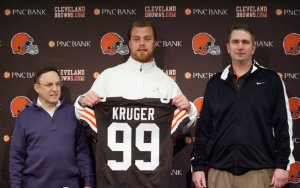 During his two year stay at Utah, Meyer recruited two more quarterbacks. Both turned out to be pretty good for Utah, although they really never played under Meyer because he left for Florida after just two seasons.
Brian Johnson selected Meyer and the Utes over Illinois and Louisiana Tech. Johnson would turn out to be a three-year starter under Meyer's replacement Kyle Wittingham throwing for nearly 7,800 yards and 57 TDs during his career. As a starter he had a 26-7 career record, including a 13-0 season capped off by an upset win over Alabama in the Sugar Bowl. 
The now 26-year-old Johnson is currently the offensive coordinator and quarterbacks coach at Utah. I think we can chalk this up as a recruiting win for Meyer. While he didn't play for Meyer, he turned out to be the winningest QB in Utah history and is off to a fine coaching career. 
The second quarterback signed by Urban Meyer at Utah may surprise you: Paul Kruger. Yep, the same guy that just inked a $40 million deal with the Cleveland Browns.
Kruger was a two-star quarterback prospect coming out of high school with Oregon State as his only other major suitor. The then 6-foot-4, 240-pound quarterback that boasted a 4.6-second forty would eventually get moved to the defensive side of the ball. Although, he was promised the opportunity to play quarterback Utah, it was quickly decided that defensive line would be his best position. It all worked out in the end. Kruger would go on to make millions in the NFL and Utah got an elite defensive lineman for a few years. 
We'd say Urban Meyer did a pretty good job recruiting quarterbacks at Utah. In just two recruiting classes he found a quarterback that would go on to lead Utah to a 13-0 season and a another guy that would move to the defensive line before earning millions in the NFL.
Florida
Meyer helped sign nine quarterbacks during his six seasons at Florida. Of the nine, two transferred, one was kicked off the team, two changed positions, and two are still with the Gators. Tim Tebow is a Patriot and John Brantley is job hunting. 
Meyer's first quarterback signee at Florida was Josh Portis. Portis was used as a running quarterback as a true freshman, but did not like his role and transferred to Maryland. He would transfer again to California (PA), landing in and out of trouble at each spot before ultimately earning an undrafted free agent opportunity with the Seahawks, but blew that chance as well.
The legendary Tim Tebow would sign with Urban Meyer in 2006. The five-star quarterback would end up throwing for 9,285 career yards and rushing for almost 3,000 yards to go with 145 touchdowns during his Gator career. Tebow rode his Heisman to a 1st-round NFL Draft selection, but saw his career quickly fizzle out before getting another chance with the Pats. Meyer, of course, took some criticism for not developing Tebow for the league, but it's hard to argue with what the kid accomplished in Gainesville. He was a critical part of two national championship teams and nearly won another.
The next class would feature three quarterbacks: Cam Newton, John Brantley, and Bryan Waggener. As many know,  Newton would be kicked off the team for an incident involving a stolen laptop. He disappeared to Blinn College for a season before signing with Auburn. During Newton's one year at Auburn, he won a Heisman, National Championship, and went on to become the 1st overall pick in the NFL Draft. It didn't work out for Newton at Florida, but Urban knew talent when he saw it.
Brantley was rated just below Newton in the rankings, but would go on to underwhelm during his career with the Gators. He was a two-year starter for Florida but led the Gators to a disappointing 8-5 record during his junior season and a 7-6 season as a senior under Will Muschamp. He threw for 4,750  yards and 30 TDs to 18 INTs during his career, but never lived up to the hype of such a highly-rated quarterback. 
Waggener, a JUCO guy, never really panned out. The four-star quarterback ultimately transfered to Northern Colorado where he started in his only season. He threw for 2,500 yards, but a rather unimpressive 14 TDs to 15 INTs at the Division II level. He never took a snap for the Gators before transferring.
Two of Meyer's signees at Florida changed positions. Jordan Reed saw some time at quarterback in 2010 before switching full-time to tight end in 2011. As a tight end, he was selected in the 3rd round by the Washington Redskins. Trey Burton was a three-star quarterback from the Sunshine State, but he was never really a quarterback at Florida. He spent time in the wildcat role and is now listed as a running back. Last season he had 190 yards rushing and 172 receiving.
In 2010, Meyer signed lowly-ranked quarterback Tyler Murphy from Connecticut.  Murphy's only other offers were from Syracuse, Fordham, and Temple. The mobile Murphy has spent most of his career on the scout team and has done quite well at it. 
Lastly, Urban Meyer secured a commitment from quarterback Jeff Driskel before stepping down. Driskel was the starter at Florida last season, throwing for 1,646 yards and rushing for 400 more. Driskel is expected to remain the starter this year for the Gators. 
Although Meyer inherited many good quarterbacks, Tebow, Newton, Jacobs and others have proven that he also has an eye for finding – and signing – quarterbacks of his own.