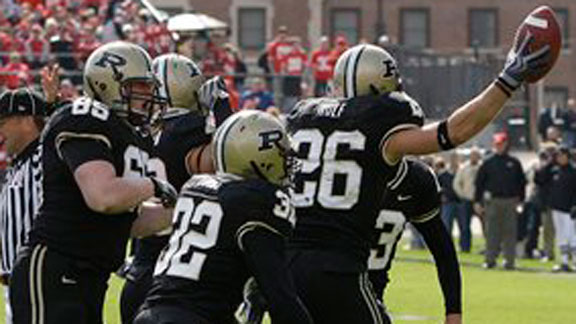 Upsets are a favorite of sports fans everywhere. Whether you live in Ohio or Russia, chances are you like seeing the better teams suffer an unexpected fate. Well, that is unless you are one of the better teams.
Ohio State fans have lived that life. Year in and year out, the Buckeyes sit high atop the college football polls. Since undefeated seasons are hard to come by, losses, and upsets in most cases, hit hard. The 2013 season gives Ohio State a golden opportunity at an undefeated record and possible national title. But there are several trap doors along the way.
CoachingSearch.com recently did a piece on what they think COULD be the monumental upsets of the 2013 season. Ohio State is featured twice. 
Cal over Ohio State - September 14 in Berkeley
Cal defensive coordinator Andy Buh was the linebackers coach at Wisconsin last season, so he is more familiar with the Buckeyes' offensive scheme than one may think.  Remember, Tony Franklin is the second fastest play-caller in all of college football over the last few years.  At LA Tech, Franklin dialed an average of 79 plays per game, something the Buckeyes don't see in the Big Ten.  A trip to the West Coast means the Buckeyes will be out of their usual element.  A year ago, the Buckeyes won 35-28, but this could be Sonny Dykes' early signature win as the new head coach at Cal.
Purdue over Ohio State - November 2 in West Lafayette
For some reason, the Boilermakers have had Ohio State's number a bit. Purdue has won the past two home games against the Buckeyes, and Ohio State needed a touchdown and two-point conversion with three seconds left to send last year's game in Columbus to overtime, where OSU won. A win over Ohio State would be a marquee victory for first-year coach Darrell Hazell, a former OSU assistant.