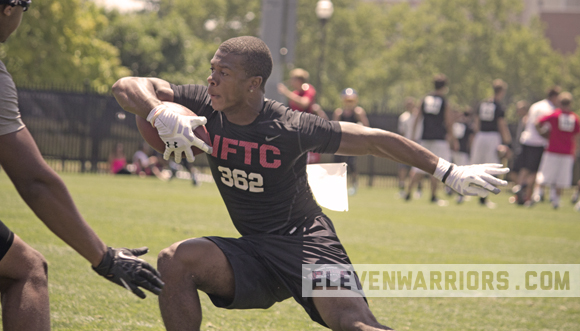 Among the 800-plus campers showcasing their skills at Ohio State yesterday was Derrell Scott, one of the country's top tailbacks in the class of 2014. Scott has had a Buckeye offer for some time, and this trip to Ohio State was an important one for the Buckeyes hoping to make an impression on the Havelock (N.C.) native. 
It appears that they did just that.
"It was great," Scott said of the visit to Columbus. "It was really great to get a feel for Coach (Stan) Drayton and how he coaches and things like that."
A player that one person close to the Buckeyes described as "a freak," Scott was impressive all morning at Ohio State, making himself almost impossible to stop in one-on-one drills with an uncanny ability to change directions and do it without losing his speed. Scott has been rumored to be a South Carolina and Florida State battle, but star tailback says that the Buckeyes are definitely still in the mix.
"People think that I am going to South Carolina or Florida State because my best friend is at South Carolina and because I have a good relationship with Coach Graham at Florida State," he said. "Sometimes it makes me frustrated when people assume they know what I am doing or thinking."
Another thing that makes recruiting frustrating for Scott is the way that coaching staffs seem to all be telling him the same thing.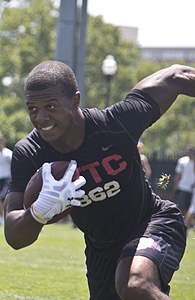 "Everyone is telling me that I am their number one choice at tailback," he said. "It's not always easy to know who is being sincere and who is not."
The Buckeyes are one of those schools and if you've spent any time watching Scott's highlight tape, it's easy to see why. What did the Buckeyes do to stand out to Scott?
"I really just loved the tradition there, it's all over," he said. "The campus was awesome too, by far the biggest I've seen."
With a key visit out of the way, Scott is starting to think about the future.
"I have definitely thought about going 'away' for school," he said of going north for school. "Ohio State exceeded my expectations. They are one of my top schools. I plan on taking an official visit to see them with my family. I hope to decide after the season. Where I choose has to have a great education first, and I need my family to see the school. I want to see how early I can get on the field, how comfortable I am and I want to win a national championship."
Though he doesn't know what game he'll make it back to Ohio State, Scott is a player to keep an eye on moving forward for Buckeye fans.