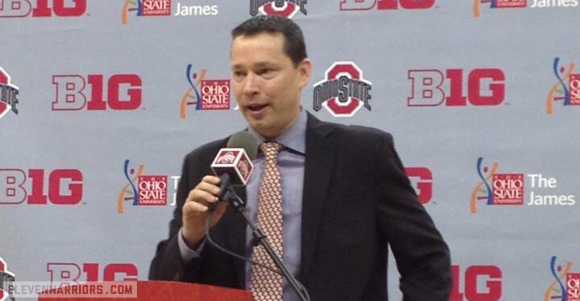 Kevin McGuff, who was hired in April to replace Jim Foster at the helm of Ohio State women's basketball team, has been active in drumming up support for the program. As the sport gains more exposure as ESPN and Big Ten Network broadcast more and more women's basketball games, McGuff has worked the past few months to articulate his vision of what a successful women's basketball program would be that would represent the university and its fans well.
Earlier this month, Ohio State's athletic department advertised this "town hall meeting" at the Fawcett Center to meet the new coach. The event would allow Ohio State's faithful women's basketball fans to meet the new coach and ask him questions about the future and direction of the program.
Fans attended the Fawcett Center en masse last night to see McGuff and hear his pitch. Therein, he gave his vision for the program.
"It's important to me that our fans understand what our program's going to be about," McGuff said. "I thought this was a great opportunity to kind of lay out the foundation of how we're going to build something really special."

One of those is the idea of a "player's program," which incorporates the past, present and future.

McGuff's previous coaching stops indicate that his system works. He was an assistant at Notre Dame when they won a national championship in 2001. He then spent nine seasons as coach at Xavier, going 214-73 with six NCAA Tournament appearances and one Atlantic 10 tournament title.
Ohio State women's basketball fans in attendance were left impressed with McGuff and his vision.
Now as coach of the Buckeyes, McGuff has the challenge of not only leading his team into national title contention but gaining the belief and the support of the fans.

"I love my Ohio State women's basketball team," said Pat Smith, a member of The Rebounders Club, which supports the program. "I wouldn't be anywhere else on a Friday night when there's a function about the women's basketball team."

[...]

"I think the program is really looking up," Smith said. "I'm very pleased that they hired Coach McGuff, and I'm looking forward to a great season."
Ohio State women's basketball last made the Final Four in 1993. Led by Ohio State living legend, Katie Smith, the Buckeyes fell to Sheryl Swoopes' Texas Tech Red Raiders in the championship game. The Buckeyes will look to build on a disappointing 18-13 season in 2012-13 that led to Jim Foster's dismissal.