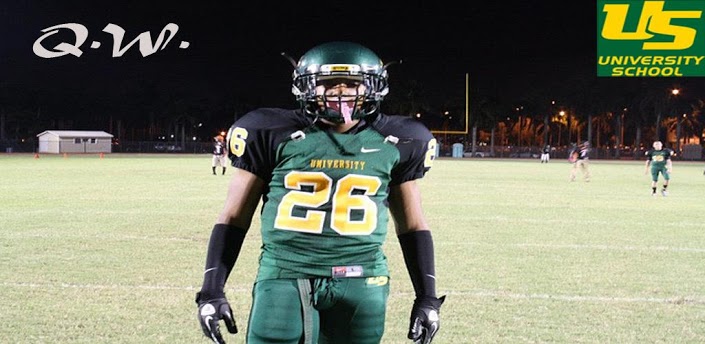 After taking three corners in last year's recruiting class and already having one in the 2014 class, the Ohio State staff is probably going to take one more pure cornerback in this class. The most likely recruit to become the second and last corner in this class is Orlando (FL) University School cornerback Quincy Wilson. Wilson was in Columbus last weekend for the second time and came away more impressed with the Ohio State football program than after his first visit.
"Last summer was my first time there and I did the camp, so I didn't really get to see anything," Wilson said. "This time around I got to see the campus, meet some of the guys, and hangout with Ryan Shazier. Coach Coombs and I went over some schemes and it was great"
A lot of people think Wilson will end up as a member of this class and this visit definitely helped the Buckeyes' cause in landing the standout defensive back.
"The visit helped. I really got a feel for the coaches and the academics are great." 
Some people think Wilson will end up playing safety at the college level, but the Ohio State coaching staff feels otherwise.
"They see me as a cornerback. I look just like the guys they have there and if I come into the program, I will develop."
If Wilson ultimately does decide to sign with the Buckeyes in February of 2014, Kerry Coombs will be his position coach. When asked if the "fiery" approach from Coombs' is something that would fit him, he had good things to say.
"Yeah it does. I want somebody that is going to get the best out of me."
Next up for Wilson are visits to USC and UCLA. While he hasn't sat down and decided where and when he'll be taking his official visits, he said it would be fair to say one of them will be to Ohio State.
Finally, Wilson said he could see himself playing for the Buckeyes, but had no thoughts of committing. He will likely make his college decision this fall after taking all five of his official visits.