Two weeks ago we took a closer look at the players most likely to become future Buckeyes on the offensive side of the ball. This week in your Wednesday afternoon Buckeye recruiting update, we'll move to the other side of things and peek at the best possibilities to sign with Ohio State in February on defense.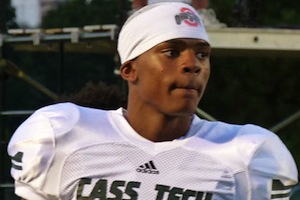 In Urban Meyer's first two years at Ohio State (OK, 1.2 or so) he managed to reel in two top five recruiting classes for the Buckeyes, and the strength of each was undoubtedly on the defensive side of the ball. In 2012 and 2013, the Buckeyes have inked 28 defensive players including 10 defensive lineman, a handful of which saw significant playing time as freshmen during Ohio State's 12-0 2012 season.
This year, Ohio State will likely finish with anywhere between 18-22 players in their recruiting haul, and while the needs on defense are almost exclusively at linebacker, the Buckeyes are actively pursuing top talent along the defensive line, linebacker and the secondary. A relentless staff, the Buckeyes are offering scholarships and "planting flags" all over the country.
As noted previously, these are estimations based on the information that we currently have handy, and should not be taken as gospel. As things change, so do the projections. 
That being said, it's the same rules as last time. Current players in red, players I believe will end up Buckeyes in green, and the outliers who are still in the picture in your standard font.
Take a look after the jump.
The Big Board: DEFENSE
First, a look at how things are lining up. Highlighted in yellow are commits, bold but not highlighted are strong leans.
2014 Recruiting Class - Offense

| Defensive line | linebacker | cornerback | safety | Specialist |
| --- | --- | --- | --- | --- |
| Dylan Thompson | Kyle Berger | Damon Webb | Erick Smith | Mike Knoll |
| Poona Ford | Raekwon McMillan | Quincy Wilson | Montae Nicholson | Corbin Daly |
| Thomas Holley | Dante Booker | Marshon Lattimore | Darius West | Aaron Medley |
| Dewayne Hendrix | Chase Winovich | Dravon Henry | D'Cota Dixon |   |
| Justus Reed | Petera Wilson | Tony Brown | Mattrell McGraw |   |
| Tymere Dubose |   | Kiy Hester |   |   |
| Lorenzo Carter |   | Vayante Copeland |   |   |
| Andrew Brown |   |   |   |   |
DEFENSIVE LINE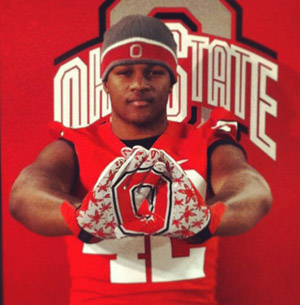 There have not been many teams who've done as much recruiting along the defensive line in the past two years as Ohio State has. Tommy Schutt, Noah Spence, Adolphus Washington, Jamal Marcus, Joey Bosa, Billy Price, Michael Hill, Donovan Munger, Tyquan Lewis and Tracy Sprinkle is an impressive haul over a four year period, let alone two. This year the Buckeyes can play it cool, but that hasn't stopped them from making themselves very active recruiting the position. Current Buckeye commitment Dylan Thompson is undervalued by most recruiting services, but he's a perfect fit along Ohio State's line and could play any position a la John Simon. The upcoming visit for South Carolina's Poona Ford is one that could land Ohio State their second defensive tackle from the Palmetto State in as many years. 
If a player like Lorenzo Carter or Andrew Brown, who plans to check out Ohio State in the upcoming weeks, makes their way to campus and subsequently decided that "Yes, Ohio State is for me," then you take them no questions asked.
LINEBACKER
Kyle Berger (and maybe Sam Hubbard) already have made their decision to become Buckeyes, giving Ohio State two of the state's top linebackers after the Buckeyes missed on St. Clairsville star Michael Ferns to Michigan. After the necessity along the offensive line, linebacker is without a doubt the second most important position for Ohio State in 2014 and they are aiming high.
Liberty County (Hinesville, Ga.) sensation Raekwon McMillan has expressed his affinity for Ohio State for well over a year and still lists Ohio State as the leader in his recruitment. His eventual decision, and its importance to Ohio State can not be understated. Linebackers like McMillan don't come around every year, and if he chose to leave the fertile NFL proving grounds of the SEC to come to Ohio State the impact of that decision would be felt throughout the entire recruiting world. Ohio State needs Raekwon McMillan in this class, as Clifton Garrett, a former Buckeye "lean" from Big Ten country is likely headed south to SEC, and I still think that they will get him.
After McMillan, the linebacker group is still strong, and Ohio's Dante Booker and Pennsylvania star Chase Winovich are currently the most likely prospects to choose Ohio State. Booker has long been considered a Buckeye lean, but his recruitment continues to be as quiet as any in recent history. He's been to Notre Dame a few times and there's some thought that the Irish have made things "interesting," but I still think he'll end up in Columbus. He visits next month and will be a major focus for the staff and current commitments. 
Winovich has seen his recruiting star take off lately, but it's not doing much to impact his decision according to the junior. He has a mid-week visit to Pittsburgh planned next week, and there's some scuttlebutt that another visit to Ohio State could be upcoming. If that visit happens, then I think the odds that he becomes a Buckeye move back up. 
DEFENSIVE BACK
With Eli Apple, Cameron Burrows, Gareon Conley, Darron Lee, Vonn Bell and Jayme Thompson in 2013, defensive back is not a huge position of need for the Buckeyes in 2014, but they are hoping to supplement that strong class with a couple big time players, and they're off to a good start.
The Buckeyes have Damon Webb from Detroit Cass Tech, a Michigan pipeline, already committed. When he chose Ohio State in January it sent shockwaves through the midwest. While Webb was a fan of Ohio State's for a while his commitment was unexpected, especially so early in the process.
What to expect from here? 
Glenville's dynamic duo, Marshon Lattimore and Erick Smith will both be Buckeyes if they're able. Currently Lattimore, the best player in Ohio for 2014, is playing the standard Glenville recruiting game, and does hold some legitimate interest in Alabama among others. Smith is likely not yet able to commit, but there's no reason to think that he won't say "yes" when that opportunity comes. 
After Glenville, the Buckeyes can afford to shoot for the moon with one more defensive back in the class. Texas star Tony Brown is a major target that Kerry Coombs is working hard to secure and Fort Lauderdale (Fla.) star Quincy Wilson has nearly 45 offers from all over the country. There's something about Wilson that has always screamed "Buckeye" to me, and I think that after a June visit to Ohio State, we could see that recruitment start to ramp up. If Brown wants in later, then he's in, period.
Montae Nicholson is an interesting prospect and has been very high on Ohio State for a long time. He's a very good player who reported a Buckeye offer very early in the process, but he's been a player that has been on the backburner it seems for a while. Aliquippa's Dravon Henry is another one to keep an eye on if primary options do not work out.
KICKER/PUNTER
After the Johnny Townsend signing day drama in February, the need for a specialist in the 2014 class suddenly became an issue for Ohio State. They've not spent too much time focusing on it yet, but that will change as they welcome many of the country's best in early June for their kicking camp. One of the key players they are hoping to see is Tennessee's Aaron Medley, who has recently been offered by Oklahoma. That offer has Medley, who had planned on making the trip to Columbus, reconsidering the need for such a stop. 
Walsh Jesuit (Cuyahoga Falls, OH) kicker Mike Knoll has seen an uptick in his recruitment, recently picking up an offer from Boston College. He's the guy who I think ends up in Columbus towards the end of the process.