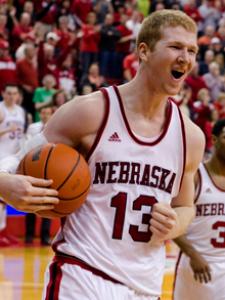 Playing on Friday night at the Big Ten Tournament was far from anyone's mind at Ohio State in mid-February. If that were to happen, many believed it would have been a low seed.
But some three weeks later, Ohio State has a first-round bye as the No. 2 seed. It's all due to a coach who never panicked and a team that always believed it belonged. The Buckeyes ended the season on a five-game win streak, including a final-week sweep of then-No. 2 Indiana in Bloomington and Illinois, a team that beat Ohio State by 19 earlier this season.
Under Matta, Ohio State has won 15 consecutive games during the final week of the season. The streak dates back to the Buckeyes' victory over No. 1 Illinois in 2005, Matta's first season on the bench in Columbus. It's part of his 47-12 record in the month of March.
Ohio State has been playing a one-and-done variety of basketball since Feb. 18, so nothing changes psychologically for the Buckeyes. A loss this week, though, depending on when it takes place, won't be a huge blow for Ohio State. More than anything, it is playing for a higher seed and first weekend close to home.
San Jose, Salt Lake City and Austin were looking like possibilities a week ago. Now the Buckeyes have vaulted up to the Dayton, Lexington and Auburn Hills line. A 2, 3 or 4 seed for 10th-ranked Ohio State is likely.
Not that Matta is aware. When asked about the importance of playing close to home, he looked bewildered and admitted it was news to him that Dayton was hosting.
Said Matta: "I haven't put any stock in it, to be honest with you."
Opponent
They never stood a chance. From the outset of the season, the Nebraska Cornhuskers have been doubted. All but one media member voted them last in the preseason voting process.
Head coach Tim Miles joked that it was everyone but his own mother. But on Thursday night, Nebraska broke through and proved many skeptics wrong by knocking off Purdue in the first round of the Big Ten Tournament.
"We were picked dead last by everyone but my mom," Miles said. "We outperformed that expectation. Purdue is playing great basketball, so to be able to beat the hottest team in the league probably, was a good accomplishment for this group.
"It was a good program win."
Still newcomers to the Big Ten, Nebraska had never made a trip to the United Center. That didn't matter, though, when they faced one of the Big Ten's blistering teams.
"This is more of a business trip than a tourist deal," forward Shavon Shields said. "We want to get a couple of wins.
"Almost everyone didn't expect us to win this game."
The Huskers are still two games under .500, so the only path to the NCAA Tournament or NIT is winning the championship. If they continue their winning streak, Shields will likely be instrumental. He's averaging nearly 10 points and six rebounds since he was inserted into the starting lineup.
A true freshman, Shields had difficulty adjusting to the rough and tumble world of Big Ten basketball.
"Every night is a dogfight," he said. "Every night is physical. Every night you're probably going to play an NBA player. It's fun to compete against the best people.
"I've got to play through it. I'm glad we got it out of the way at the start of the season instead of having it trouble me throughout the season and miss more games."
There's no rest for the weary, though. To make a successful run through the Big Ten's gauntlet, Nebraska will have to beat several highly ranked teams on little rest.
Ohio State has clobbered Nebraska in three of four meetings since the Huskers joined the Big Ten, with the closest margin being seven points when the Buckeyes travel to Lincoln in February. 
"Our guys will be ready to go," Miles said. "I think they will be locked in and their hearts are fresher than their legs, but I think that's going to be all right. We'll just play a low possession game and see what happens."
Buckeye Breakdown
One would think offense is the theme during a five-game win streak. But for Ohio State, it's been all about grittiness on the defensive end. Opponents are shooting less than 40 percent from the field and averaging 54 points per game during the Buckeyes' past five games.
Ohio State lost to Indiana and Illinois by a combined 32 points only to turn that around and win by nine and 13, respectively, last week. Indiana was limited to 58 points, while Illinois scored just 55.
Point guards Aaron Craft and Shannon Scott have been at the heart of the defensive surge. The Buckeyes have 40 steals in their past five games, which have led to 94 points of turnovers. For a season's worth of havoc-creating, Craft and Scott were named to the Big Ten's All-Defensive team.
Deshaun Thomas also was recognized as a first-team All-Big Ten performer by the coaches and the media. Craft earned first-team honors from the media. It's the eighth straight season Ohio State has landed at least one player on the first team, starting with conference player of the year Terence Dials in 2006. Greg Oden, Mike Conley, Jamar Butler, Evan Turner and Jared Sullinger have added to the list in recent years.
The "football school" has lapped the field when it comes to all-conference selections. Second to Ohio State's eight years of first-teamers is – wait for it – one year.
"It obviously speaks volumes about the program and the players we've coached," Matta said. "I don't ever put a whole lot of stock in those things. Winning takes precedent. But I'm happy for Deshaun and Aaron."
However, Matta was miffed that Craft lost out to Indiana's Victor Oladipo for the defensive player of the year award. 
"I think Victor Oladipo is a tremendous, outstanding, awesome defender, one of the best I've ever seen," Matta said. "But Aaron Craft is in another whole world when it comes to defense.
Get Smart
Ohio State is 2-0 against Nebraska this season with a 70-44 win in Columbus and a 63-56 win in Lincoln.
Gus Johnson, Shon Morris and Stephanie White have the call.
"This basketball team would not be anywhere near where it is without the impact he makes on the defensive end. I'm not taking anything away from Oladipo. I think the guy is awesome. But Aaron doesn't fly through the air and pin shots on the glass – he takes them from the guy's hands when he's on the floor. I don't even care about the Big Ten; Aaron should be the national defender of the year."
Philosophies on conference tournaments differ. Some coaches embrace them; others dismiss them for what they are – an entertaining slate of games for fans and an opportunity for the conference to make money. Count Matta among the latter group.
That doesn't mean Ohio State's success has been limited. Rather, the Buckeyes have appeared in the title game the last four years and six of the past seven. They've emerged victorious three times under Matta.
"These tournaments are for fans," he said. "There's no magic speech I'll give going to Chicago. Honestly, we've kind of been very laid-back going into this tournament in terms of saying, 'Hey, let's go have some fun and play some basketball.' That's sort of how we've always been."
In a results-based business, that idea has yielded overwhelmingly positive returns.
"It's going to be a great experience, and hopefully we can make a weekend of it," Craft said. "Obviously, you play to get yourself ready for March and what the NCAA Tournament represents. But I think the coaches and players, we want to focus on one thing at a time.
"We know if we prep ourselves to win a regular season Big Ten championship, that is going to prepare us to play well in the tournament for the Big Ten and that's going to prepare us well for the NCAA Tournament. We can't expect to flick it on and off like a light switch."
But the final three weeks of the regular season proved the Buckeyes could turn it on with their backs against the wall. That's the position they'll be in from here on out.
As the old adage goes, survive and advance.
| # | Name | YR | HT/WT | PTS | REB | ASST | P | # | Name | YR | HT/WT | PTS | REB | ASST |
| --- | --- | --- | --- | --- | --- | --- | --- | --- | --- | --- | --- | --- | --- | --- |
| 4 | A. Craft | JR | 6-2/190 | 9.7 | 3.6 | 4.5 | G | 24 | D. Talley | SR | 6-5/216 | 14.2 | 4.9 | 2.5 |
| 32 | L. Smith Jr. | JR | 6-4/205 | 10.1 | 5.0 | 1.6 | G | 15 | R. Gallegos | JR | 6-2/181 | 12.8 | 3.1 | 1.2 |
| 12 | S. Thompson | SO | 6-7/190 | 7.0 | 3.5 | 1.0 | F | 31 | S. Shields | FR | 6-6/214 | 8.0 | 5.1 | 0.9 |
| 1 | D. Thomas | JR | 6-7/225 | 19.7 | 6.1 | 1.3 | F | 2 | D. Rivers | SO | 6-7/191 | 5.9 | 3.4 | 0.7 |
| 23 | A. Williams | SO | 6-11/250 | 3.9 | 4.0 | 0.1 | C | 13 | B. Ubel | SR | 6-10/234 | 11.2 | 6.7 | 1.5 |