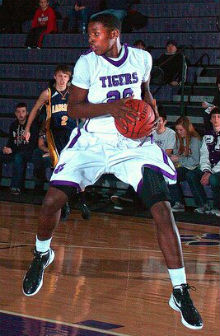 When Normal (IL) University SF/PF Keita Bates-Diop became the first member of the 2014 hoops class Sunday, many Buckeye fans were excited that the OSU staff had reeled in a big-time prospect to start off that class.
Thad Matta and the Buckeyes' coaches were not done adding to the class, however, and had more in store for Buckeye Nation.
Late Monday night, Pickerington (OH) Central SG/SF Jae'Sean Tate became the second member of the 2014 class, verbally committing to the Buckeyes. At 6-5/205, Tate will play a combination of shooting guard and small forward once he arrives on campus, giving Matta another slashing wing player to fit his system.
Tate's high school is the home of 2012 Michigan basketball signee Caris LeVert and 2013 Michigan football commit Taco Charlton. The Wolverines offered before the Buckeyes and were thought to be a serious threat to land the Columbus native, but OSU swooped in earlier this fall and stepped up their game to land the four-star prospect.
Tate is the son of former Buckeye and Cincinnati Bearcat, Jermaine Tate, and chose the Buckeyes not only over Michigan, but also over Iowa, Purdue, West Virginia, Dayton, Xavier, and many others. 
In securing verbals from both Tate and Diop, the Buckeyes have established a solid foundation for the 2014 group that could help in recruiting the likes of Tyus Jones, Jahlil Okafor, D'Angelo Russell, and many other players considered among the best in America.
We caught up with Jae'Sean to get the scoop on his commitment to Ohio State, why he chose the Buckeyes, how OSU plans to use him, and more.
Keep reading to learn more about the newest Buckeye hoops commit, Jae'Sean Tate.
Why did you choose Ohio State and why did you announce at this time?
My family and I always knew I was going to go to Ohio State, but we were trying to wait it out. We felt there was no reason to wait any longer, so I committed.
How did your commitment go down?
It was really freaky. My dad and I were sitting at the table talking about the recruiting process and Coach Matta texted my dad at that moment, asking if we could talk tomorrow. My dad said we needed to talk today and I texted coach telling him I was ready to decide. He went nuts when he heard the news.
Describe your relationship with Coach Matta.
Ever since he called me the first time and offered me a scholarship, it was just something about him that made me know I could trust everything he said. I have a lot of respect for him.
Did the commitment of Keita Bates-Diop have an impact on your decision?
It put on sort of a squeeze, but I think Keita and I will bring a lot to the table for the 2014 class.
What were the biggest factors in your decision?
I've been on campus many times and felt like I had a bond with the program. They told me they had a place for me and it was the place where I could improve my game the most.
Which other schools did you consider?
Michigan and Iowa were definitely up there, so was West Virginia.
How does OSU plan to use you?
They want me to be a hard nosed 2 or 3, sort of like Evan Turner.
Describe your relationship with Coach Boals.
Coach Boals is just a great guy. Every time I'm around him he makes me laugh. He's one of the coolest guys on the staff. When he's on the bench he wants it just as much as the next guy and isn't afraid to yell at guys when they aren't doing something right.
Are you ready for basketball season?
I'm excited for it to get started. We're going to get a preview of the season this weekend at the scrimmage.
What are the strongest parts of your game?
I feel like I'm a great rebounder for my size and I give 120% every time I step on the court.
What goals do you have for basketball season?
I definitely want to go back to the state championship and repeat. We have a young team this year and will come back really strong my senior year.
What would you like to say to Buckeye Nation?
I just want to say I'm looking forward to playing and competing for the Buckeyes. Go Bucks!
HIGHLIGHTS: