The transformation of the Ohio State offense from 2011 to 2012 cannot be overstated. Each mechanism has improved after a year in which the Buckeyes ranked 107th in total offense and lost the most games in program history.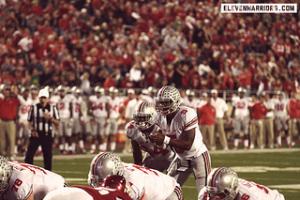 Seven games into the next season, Ohio State ranks 34th in total offense – not that anyone would notice, though, with the current defensive woes. The offensive line is protecting the quarterback better and opening up more holes for the running game, the wide receivers and tight ends are evading coverages, Braxton Miller is an entirely different player at quarterback and Carlos Hyde has continued his development into an elite running back.
But it's not just a bruising style that's benefitted Hyde; maturity has also led the once hot-headed running back to thrive in Urban Meyer's power-spread offense. Hyde has run for career highs the past two weeks – 140 yards and 156 – and scored five touchdowns.
"A complete 180," said Meyer, describing Hyde's turnaround off the field. "He was a guy that had issues. Every time you brought his name up it was not very positive. It was very alarming. I think Coach Drayton has done a wonderful job with him, and most importantly, Carlos has. He's taking this real serious right now. We all know we're one speed bump away from a bad situation (at running back). I'm really impressed with his attitude in the classroom and his professionalism on the football field."
Hyde had spurts of similar production a season ago, but as he says, "it was like a rollercoaster." In a bit of déjà vu, Hyde had 100-plus yard performances against Nebraska and Indiana last season. But in other games he inexplicably disappeared. Part of it was due to Boom Herron's presence, part dealt with a sputtering offense and overmatched offensive coordinator.
After Hyde had a then career-high 103 yards and two touchdowns at Nebraska, he only received a handful of carries the following week against Illinois. And he didn't take the high road following the Buckeyes' 17-7 win over the previously undefeated Illini. Ohio State's season was teetering at the time, entering the game off consecutive losses.
Later that night, Hyde fired off a tweet that alluded to a possible transfer, saying, "Guess I'm not good enough. Take myself elsewhere."
The brief controversy was aborted after Hyde issued an apology and pledged a declaration of loyalty to the Buckeyes. One year later, Hyde is a fan favorite. But the mere notion that he would excel in a Meyer-coached offense has caught some off guard – Hyde among them.
Born in Cincinnati, Hyde attended high school in Naples, Fla., so he was familiar with the program Meyer ran in Gainesville. Hyde was offered a scholarship from Florida, but never gave the Gators serious consideration. He was under the assumption – partially correct – that what he brought to the team would be of little value, a fool's gold.
His body type was nowhere near Percy Harvin or any other primary runner not named Tim Tebow. Instead, Hyde looked north to a program not far from his birthplace that churned out physical, downhill runners virtually every season. It started with Hop Cassady and through the decades, Ohio State became a proving ground for running backs. Hyde was sold.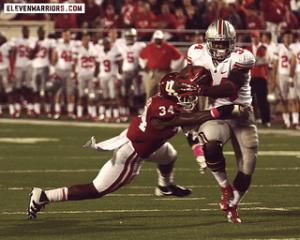 But as luck would have it, following Jim Tressel's ouster, Ohio State hired Meyer.
"This is something that's new for Urban because we never had that type of physicality," said running backs coach Stan Drayton, who was a part of Meyer's staff at Florida. "Now that we have it with these guys here, man, it's really fun to watch the offense develop.
"We've always been a power, inside-zone outfit, no matter where we've been. It's just that down in Florida, you were doing it with guys who weighed 185 or 190 pounds. Now you're doing it with a 235-pound back."
The first ingredient is the offensive line. Despite being the unit perceived as fit to bring another national championship to Columbus, the offensive line recruiting class of 2008 was largely disappointing. The Buckeyes won three Big Ten titles and the Rose and Sugar Bowls, but a national championship never came close. Mike Adams was suspended five games of his senior season for his role in the memorabilia-for-tattoos scandal and JB Shugarts was more known for false starts than helping running backs.
In one offseason, offensive line coach Ed Warinner has transformed the Ohio State line into one of the team's strengths. And he's done so with a group of misfits, one of which was playing tight end a year ago.
"The area that's most improved is our offensive line play," Meyer said. "By the end of the spring they were much improved. But at the beginning of the spring it was not good at all. If you want to get an offense going, you get your offensive line playing well, and right now they are.
"I am pleased with our run game. Braxton brings a dynamic to us. Carlos Hyde is breaking tackles, but we're getting him to the second level of the defense, which is the goal of the offensive line. So I'm very pleased with that so far."
Growing up in Ashtabula, Meyer idolized Archie Griffin and took a liking to Ohio State's ground-it-out style. What many people don't realize is the power run game is closely aligned to Meyer's version of the spread offense.
It has become more evident as the season has progressed, especially with back-to-back multiple 100-yard rushers. It's a feat Ohio State had not accomplished since Meyer was a boy watching Griffin and Pete Johnson on TV in the mid-70s.
"It's weird," tight end Jake Stoneburner said. "With Coach Meyer, everyone thought we'd be throwing the ball everywhere. But I would say we probably have one of the best rushing attacks in the country. With Carlos and Rod (Smith) coming along pretty well, and then with Braxton probably being the best runner in the country, I'd say people have a lot to worry about with our rushing attack."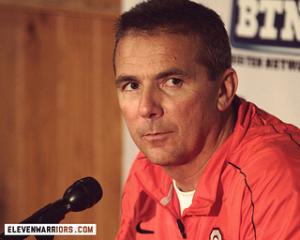 Ohio State fields the eighth-best run game in the nation, while the past two weeks is the best back-to-back games the Buckeyes have had running the ball since the last time they scored 50 in consecutive games – in 1996.
Facing a Purdue team that has allowed more than 300 rushing yards its past two games, including 467 yards to Wisconsin, Ohio State could be looking at three straight games of at least 300 yards on the ground. 
Before the season, Jordan Hall would've been thought of as the Robin to Miller's Batman. But a foot injury over the summer and slow-healing PCL tear during the season has halted the grand Jordan Hall experiment.
Ohio State knew it had a transcendent running threat in Miller. But to truly become a special team, one that can compete for a national championship, there needed to be more pieces. Meyer also wanted someone to step up and take carries away from Miller, despite his offensive output, because of the toll it's taken on his body.
Enter Hyde. 
Playing alongside a player defenses find confounding, his 326 total yards and six touchdowns the past two weeks have ignited an already effectual offense. Miller has averaged fewer than 20 carries over the past two games – still a hefty amount, but an area that is serviceable.
"You kind of go back to what's working well for you," Meyer said. "It's just been a little bit different the way we manage the game. Because at the end of the day we have to win it. If that means a little more imbalanced in the run, I'm fine with that."
The injuries to Hall could have been disastrous to Ohio State's offensive game plan, and many thought it would be. During the winter and spring, Hall was the one guy on offense Meyer could point to as being a playmaker. This was at a time when the remainder of the offense was at its low point.
After Hall's initial injury in June, Meyer spoke of how devastating the blow was to the Buckeyes. Meyer had already drawn up a specific set of plays used exclusively for Hall. But instead of moping about it, Meyer and the offensive coaches worked with the pieces dealt to them and formulated a system that plays to their strengths. It's been a Meyer philosophy since he became a head coach in 2001 at Bowling Green.
"The beauty of this offense is that it fits the skills of our players," Drayton said. "It can always be adjusted to the skill that we have with our personnel."