During a three-year career that contained numerous head-turning plays and Big Ten player of the week awards, former Ohio State quarterback Terrelle Pryor famously never graded out a winning performance. Jim Tressel's grading scale did not curve for mistakes, and Pryor made too many of them, despite his ability to bail the Buckeyes out with superior athleticism.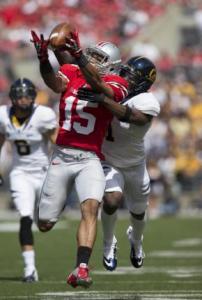 Braxton Miller might be joining the club.
In Saturday's 35-28 victory over California, Miller set career highs in passing yards (249) and touchdown passes (four). Miller also had 75 yards rushing, including a 55-yard run for a touchdown. But the highlight of the day was his 72-yard game-winning touchdown pass to Devin Smith with three minutes, 26 seconds left in the fourth quarter.
For that, Miller was named the Big Ten's player of the week. Those numbers didn't just awe the league brass in Chicago – Meyer was also impressed. But Miller's glaring fourth-quarter interception nearly cost Ohio State the game. And with that, he did not grade out a champion.
The recipient of the game-winner – Devin Smith – did, and he's the only Ohio state player to be a champion in each of the first three games. Smith was named offensive and special teams player of the game.
Smith had a career day catching the football, hauling in five passes for a career-high 145 yards and two touchdowns. The fourth-quarter score is what everyone remembers and talks about, but Smith also made another highlight-reel catch in the first quarter, twisting his body in midair to readjust.
"The two to Devin Smith were about as good of a throw as any quarterback in the country can make, and that is marked improvement," Meyer said.
"The best thing that's happened so far in the first few weeks is we've identified a go-get-it guy on the outside that we did not have a year ago. I was worried about it. I didn't see that develop until this first three games, and that's Devin Smith. Him and Philly (Corey Brown) have now proven to me that we can start to be a little more aggressive down the field. That's what I saw Saturday. A couple of those plays were dynamic."
Zach Boren, Jeff Heuerman and Jordan Hall were the other champions on offense.
In his first game of the 2012 season, after missing the first two games because of a torn tendon in his foot, Hall carried the ball 17 times and ran for 87 yards. He took every running back carry. After the game Meyer said Hall's experience was the deciding factor in Bri'onte Dunn and Rod Smith not stepping foot in the backfield.
"(He was) very rusty," Meyer said of Hall. "I think he was where he's supposed to be when he was supposed to be. I still think we can get much more out of him, 87 yards. We need more big hits than that out of a guy like that, but he did grade at champion."
On defense, Johnathan Hankins earned his second player of the week honor in as many weeks. He recorded a career-high 10 tackles, including one sack. Ryan Shazier, who had a team-high 13 tackles (two tackles for loss, one sack) and Bradley Roby (nine tackles, two TFLs and one sack) also graded out winners on defense.
"John Hankins graded out 88 percent, a lot of production points," Meyer said. "Twenty-two production points. Playing at a very high level. Right now, John is the guy that really has played well, and I thought played great in this game. I finally got a chance to really watch him in detail last night."
Roby helped keep Cal receiver Keenan Allen well under his 2011 season average of over 100 yards per game. Allen finished with nine receptions for 80 yards and no touchdowns.
"Against several future NFL receivers, he played really well," Meyer said.
For a second consecutive week, Carlos Hyde will be out of action due to a sprained MCL. He was seen walking in the Woody Hayes Athletic Center wearing a knee brace but with no limp while walking. Ohio State has been without either its first or second-string running back every game of the season.
The status for Michael Bennett remains unknown, but Meyer didn't sound encouraged.
"I don't know," he said. "He's got to play some time."
John Simon, who nearly missed the Cal game and then gave a passionate postgame speech, should be fine.