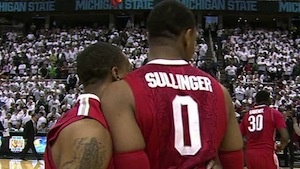 Ladies and gentlemen, this is finally it. The last Big Ten Hoops Recap of the season is here, and this week wasn't without its share of drama, blood, sweat, tears, and celebration. So, let's say goodbye to a memorable year in B1G basketball...until Thursday, when the conference tournament begins.
Like the season finale of any given TV show, the final week of Big Ten action was a cumulation of the entire year's events. In the TV universe, this often includes weddings, births, deaths, the return of someone previously thought deceased, characters' fates up in the air, a villain taken down, secrets revealed, a mystery solved, and of course, the cliffhanger to ensure that you remain a loyal viewer.
And sometimes, the good guys will overcome their obstacles and band together to defeat their nemesis. Such was the case for the motley crew known as the 2011-12 Ohio State basketball team. For a squad that hadn't been particularly clutch, different players stepped up when it mattered most, and two heavily-scrutinized Buckeyes hit game-winning shots in tough environments this week, magical moments reminiscent of a Saracen-to-Riggins-to-Smash touchdown at State.
Finale week also tends to make strange bedfellows. In this case, "State" was a word recently relearned by the Michigan community, who did the unthinkable and cheered for an Ohio State victory yesterday. When it happened, it produced an Entourage-esque "everyone wins!" ending, giving Ohio State, Michigan State, and Michigan a three-way tie for the Big Ten title1.
Although Ohio State clearly deserves team of the week honors, my arbitrary rules dictate that I award it to another program. Because they watched the Buckeyes and Spartans battle it out on the court and then used the outcome for their own gain, a la Bill Rawls, Michigan receives this prestigious designation by default. The Wolverines also went on the road and defeated two opponents about as alive as Henry Blake to help them on their way to their first conference crown, shared or otherwise, since Glen Rice was a freshman. 
MICHIGAN (2-0) // Beat Illinois 72-61, Beat Penn State 71-65
Coming away with their first win in Champaign since 1995, Michigan overtook Illinois. Tim Hardaway Jr. was his Carrie Mathison-with-her-green-pen self, recording 25 points and 11 boards, both game highs. In addition, he nailed a couple of timely shots in the second half to help withstand an Illinois rally. Trey Burke chipped in with 21 points and 5 dimes. 
Before busting out their best "Go Bucks!" chants, Michigan held off Penn State. Despite hot shooting, including 70% in the first half and 56% overall from long range, the Wolverines let the Nittany Lions back in the game. They narrowed the lead down to four points and in the last minute and a half, Burke scored 6 of his 19 points and then figured out who murdered Lilly Kane. Evan Smotrycz rediscovered his stroke for 17 points. 
INDIANA (2-0) // Beat Michigan State 70-55, Beat Purdue 85-74
Luring another top five opponent to the Island of Assembly Hall, Indiana upset Michigan State. Five different Hoosiers were in double figures, including Cody Zeller with 18 points and Christian Watford with 10 points. The latter also hauled in 14 rebounds, a career best. While it looked like MSU might stage a comeback in the second half, Indiana quickly put a halt to that, informing them, "Only, the thing is, we're going to have to take the boy ball" to the tune of 13 Spartan turnovers.
Completing their "we have to go back!"2 to the 80s mission, Indiana dispatched Purdue. Watford paved the way with 19 points and Will Sheehey and Zeller added 16 and 13, respectively. The Hoosiers built a 15-point halftime lead and staved off a couple Boilermaker runs in the second half.   
WISCONSIN (2-0) // Beat Minnesota 52-45, Beat Illinois 70-56
Scoring just 16 points in the first half, Wisconsin came back to defeat Minnesota. Mike Bruesewitz tied it at 25-all in a potentially game-changing play that was initially ruled a charge, which would have been his fourth foul. Instead, the officials switched the call to a foul against Andre Hollins. Jordan Taylor led the way with 22 points even as the Badgers made a measly 30% from the floor. Both teams went to the charity stripe 29 times apiece in a contest as pretty as Gus Fring's face, post-Tio.
In another beauty pageant of a match, Wisconsin downed Illinois. Although they finished 7/19 from downtown, they were on fire at the beginning, going 5/9 on three-pointers to start off the first half. Jordan Taylor and Josh Gasser each totaled 16 points as the Badger defense kept the Illini under 40% shooting, because Wisconsin's gotta Wisconsin. "All in the game, yo" (language warning).
NORTHWESTERN (1-1) // Lost to Ohio State 75-73, Beat Iowa 70-66
Perpetual bubble team Northwestern lost in the most Northwestern-way possible when Jared Sullinger, once again, netted the game-winner in Evanston.  It was about as painful to Wildcat fans as waking up in an alley and discovering that not only are you missing two years of your life, but that your boyfriend got married to, quite possibly, the worst character in TV history.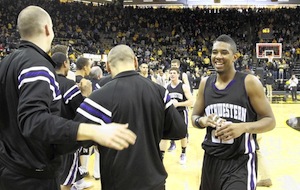 Evoking J.R. after getting shot, Northwestern's NCAA Tournament hopes stayed alive when they squeezed past Iowa. Down by 15 early on, the Wildcats countered with a 17-0 run to take a 42-35 halftime lead. The Hawkeyes fought back, though, and NU couldn't claim victory until Alex Marcotullio sank his two free throws with two seconds remaining. Receiving top billing for the game was Drew Crawford with 18 points, 7 rebounds, and 5 steals. 
PURDUE (1-1) // Beat Penn State 80-56, Lost to Indiana 85-74
On Senior Day in West Lafayette, Purdue drubbed Penn State. Fifteen-year senior Robbie Hummel posted 26 points, 8 rebounds, and 6 assists while fellow senior Lewis Jackson was good for 12 points on 6/6 shooting and 5 assists. In a send-off worthy of Li'l Sebastian, the two got the rout going after halftime. Overall, the Boilermakers made 57% of their field goal attempts and outrebounded Penn State 31-17. 
Sunday was another favorable Senior Day, albeit for the other team. Jackson (17 points) and Hummel (16 points) led five Boilermakers in double figures and sparked an 8-1 run with 11 minutes to go. But it wasn't enough against the treacherous waters of Assembly Hall as Hummel, sacrificing himself like Magnitude3, fouled out.
MINNESOTA (1-1) // Lost to Wisconsin 52-45, Beat Nebraska 81-69
Up 7 at the break, Minnesota squandered the lead in the early part of the second half. Tubby Smith, already irate with the refs and ready for the Summer of Tubby, drew a technical, and the Golden Gophers never regained the lead, thanks in part to their ghastly 24% shooting. Andre Hollins had 18 points and with 8 points of his own, Ralph Sampson III became the fifth player in school history to account for 1,000 points, 500 rebounds and 150 blocks.
Halting a six-game losing skid, Minnesota handled Nebraska. Chip Armelin put up a career-best of 20 points and 7 boards while Rodney Williams (16 points, 8 rebounds, 3 assists, 3 blocks) and Sampson (12 points, 5 rebounds, 4 assists, 2 blocks) impressed with their stat lines. Together, they formed a new team: Armelin, Williams, Sampson, Pryce.
IOWA (1-1) // Beat Nebraska 62-53, Lost to Northwestern 70-66
On the road, Iowa topped Nebraska. Star of the game Matt Gatens posted 16 points, 8 of which came over the course of 4 minutes. The senior, along with Roy Devyn Marble and Bryce Cartwright who contributed 11 points each, helped the Hawkeyes on their decisive 15-3 run in the second half, just as a member of the Beach Boys lent his voice to the Full House telethon so they could reach their fundraising goal.
Blowing a first-half lead against Northwestern, Iowa failed to make a field goal in the last seven minutes before the break. Although they turned the ball over 18 times, the Hawkeyes stormed back late in the game. With 4 seconds left and down by 2, Josh Oglesby missed an open 3-pointer and then said the wrong name at his wedding. Gatens was once again the top scorer for the Iowa with 17 points.
MICHIGAN STATE (0-2) // Lost to Indiana 70-55, Lost to Ohio State 72-70
Michigan State, ambushed like the final victim of the Trinity Killer, could not overcome Indiana's 41-27 halftime lead. Even though Draymond Green fought valiantly, outscoring the rest of his teammates combined with 29 points, the Spartans could not narrow the gap any closer than six in the second half. 
Big Ten Standings

| TEAM | CONF | OVERALL |
| --- | --- | --- |
| Ohio State | 13-5 | 25-6 |
| Michigan State | 13-5 | 24-7 |
| Michigan | 13-5 | 23-8 |
| Wisconsin | 12-6 | 23-8 |
| Indiana | 11-7 | 24-7 |
| Purdue | 10-8 | 20-11 |
| Northwestern | 8-10 | 18-12 |
| Iowa | 8-10 | 16-15 |
| Minnesota | 6-12 | 18-13 |
| Illinois | 6-12 | 17-14 |
| Nebraska | 4-14 | 12-17 |
| Penn State | 4-14 | 12-19 |
Unfavorable conditions in the early part of the game for Ohio State turned into William Buford conquering his demons by vanquishing Sparty's attempted Ascension.  
ILLINOIS (0-2) // Lost to Michigan 72-61, Lost to Wisconsin 70-56
After the break, Illinois went on a 12-5 run against Michigan to cut the deficit down to 1. But even with double-digit efforts from Meyers Leonard4 (18 points), Brandon Paul (15), and Tracy Abrams (12), the Illini did not threaten again, unlike Nina Myers to the Bauer family. 
The Illini finished their downward spiral with Wisconsin fans cleverly chanting "N-I-T!" at them. Paul, with 18 points, was the only one who mustered much offense for a team who managed just 18 points at the half. Meanwhile, Bruce Weber is hoping he can wake up in the alt-universe where Illinois did not lose 11 of their last 13 games and he can ride in a zeppelin.
PENN STATE (0-2) // Lost to Purdue 80-56, Lost to Michigan 71-65
In the Moldavian Massacre at Mackey Arena, Tim Frazier kept Penn State in the game in the first part. Despite his 24 points, 6 assists, and 5 rebounds performance, it wasn't enough to counter against Purdue's Senior Day festivities5. 
The Nittany Lions attempted a comeback versus Michigan, but they couldn't match the Wolverines' shooting. With Frazier in foul trouble early on, Jermaine Marshall stepped up with a career day of 27 points and 8 boards. Freshman Ross Travis put in a special guest appearance of 15 points and 6 rebounds before Patrick Chambers' first regular season at Penn State concluded about as satisfyingly as that of The Killing. 
NEBRASKA (0-2) // Lost to Iowa 62-53, Lost to Minnesota 81-69
In the second half, Nebraska narrowed the Iowa's lead to 34-32, but that's as close as they would get the rest of the way. Brandon Ubel scored a career-high 17 points on a perfect 7/7 from the field while his teammates watched Hallelujah montages. 
Falling for the eighth time in nine games, the Cornhuskers ended their inaugural Big Ten season with a whimper. Of his game-high 23 points, Bo Spencer scored all of them in the second half and hit 7/12 from distance. Dylan Talley tallied 16 points, and Doc Sadler probably walked to the locker room afterward to drink some of his special apple pie.
1 And it took Ohio State's help to earn them that shared title, something even the Fab Five couldn't accomplish and then vacate. 
2 I'd probably consider Lost S3's to be the best season finale I've ever seen, but not enough to get this tattoo.  
3 Pop Pop!
4 Before the game, he received a surprise visit from his brother who just completed a tour of duty in Afghanistan.
5 In the Big Ten, home teams went 4-8 on their respective Senior Days.