G'day, mates, especially Criss Angel Mindfreak, Siri, Bagger Vance, Grima Wormtongue, Roscoe the super-intelligent ferret1, Chuck Todd, and a roll of quarters. It's the last Wednesday of January, so celebrate accordingly.
If anyone wishes to commemorate such a momentous occasion in a non-traditional way, I have a couple 11W-based suggestions for you.
We are less than three months away from the Spring Game, and since we'd ideally like to hire a full-time beat writer by that time, we'll accept any amount you're willing to give, even if it's a roll of quarters.
Secondly, if any long-time, or first-time, listeners of the Dubcast have any questions for Luke and Johnny, email them to elevendubcast@gmail.com. So, whether you want to know where they fall on the Sam Thompson vs. J.D. Weatherspoon dunk debate, or if they think another Ohio State football player can possibly best Philly Brown's Twitter game, or what their opinions are on how Leslie Knope is running her city council campaign against Bobby Newport, then hit them up. They'll tackle any subject as long as it's borderline appropriate. 
A MATTA OF FACT. Despite already dropping two conference games, the Ohio State men's basketball team is on a bit of a mini-roll after shellacking Indiana and Nebraska. They're currently #1 in both the Sagarin and KenPom ratings, thanks in part to their 22-point average margin of victory, which tops the nation.
While 14 of their wins have come by 20 or more points, in single digit games, Ohio State is only 2-3. The Plain Dealer's Doug Lesmerises points out that even though their strength of schedule is ranked #37, right now it's only the seventh hardest in the Big Ten. Michigan State, with the third strongest in the country, leads the conference. 
Matta has tried to warn his squad not to become too complacent because of these blowouts. According to him, "The major goal of every game is trying to get our guys to understand possession by possession, for 40 minutes, do your job. But human nature is also to relax. With who we have remaining on our schedule, if you relax, you could be in trouble."
After they host Penn State tonight, the rest of the Buckeyes' schedule is pretty brutal, including two games a piece against Wisconsin, Michigan, and Michigan State, as well as road trips to Minnesota and Northwestern. The Badgers have been uncharacteristically vulnerable this season at home, but the Kohl Center has proven to be the most inhospitable environment for the Scarlet and Gray. And recent success in the state of Michigan aside, Ohio State will have their hands full with the Spartans and Wolverines, both of whom are hanging atop the Big Ten standings with the Bucks.
JUST ANOTHER MAD, MAD DAY ON THE ROAD. It's unclear at this point who will end up as B1G champs, but more than ever, it will come down to who can steal a couple of games on the road. Last night, Michigan finally got their first real road victory by edging Purdue in West Lafayette, and they have to follow that up with a visit to Columbus on Sunday.
Minnesota, after starting league play with an 0-4 record, has won three in a row, including two on the road. Over this period, they've been playing more efficient ball than everyone but Ohio State. Wisconsin, who began the month with a 1-3 Big Ten record, has reeled off four straight victories. Partly due to the hot streak Jordan Taylor is on, the Badgers finally look like they're gelling. 
Jason King and Mike Huguenin both believe the muddled race is the result of parity, which Illinois coach Bruce Weber backs up, stating, "You've got a very balanced league, you've got to bring your game, you've got to play. Your main guys have got to play and be consistent if you're going to have success, and you can't have any off days." 
In non-conference action, the Big Ten claims the highest winning percentage (.802). It also has the best conference RPI and boasts three of KenPom's top four teams and eight of Sagarin's top 45.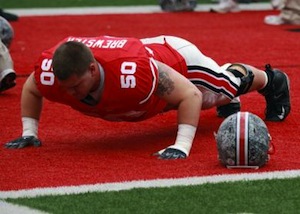 ONCE A BUCKEYE, ALWAYS A BUCKEYE. Practice for this Saturday's Senior Bowl has begun, and the lively clashes between North teammates Mike Brewster and Mike Martin, a DT from Michigan, have gotten plenty of attention. The Houston Chronicle's Lance Zierlein detailed that one play unfolded with "Brewster not only holding his ground, but also getting in Martin's face and shoving him after the rep was finished."
However, each told NFL.com's Simon Samano that it's not personal. Instead, their aggression and competitiveness developed from lining up against one another for four years in The Game. Even though Brewster didn't have the ending to his Ohio State career that we all envisioned, you can never question his inner Buckeye. 
Meanwhile, DeVier Posey is looking to impress NFL scouts after missing almost his entire senior season. He didn't expect an invitation to the Senior Bowl, but he plans to use the experience as a way to show how he's matured. As he told Matt Florjancic from ClevelandBrowns.com:
"To be able to lead, you have to serve first," Posey said. "I feel like being on scout team, helping the younger guys and being in the meeting room and telling them the little tips that I have allowed me to understand the game more and it humbled me as well. That's what I needed going into this process and going to the next level. Through this process, everything you hear is what you can't do and everyone's tearing you down. Going through the draft, you're going to hear a lot of negative things and then, when you get into camp as well, you have to be humble as well. You have to serve the team and show them you can play. I felt like I learned all those lessons this past year."
In addition, Mike Adams has been receiving good reviews out of practice, with SI's Tony Pauline noting his mobility and Wes Bunting calling him a potential top 20 draft selection.
ROOTING INTEREST. For some of us, the deciding factor in who to cheer for in the Super Bowl comes down to which team is represented by more former OSU players. This year, with Jake Ballard and Jim Cordle on the roster, the New York Giants win that battle, 2-0, over the Patriots.
If you can't stand the thought of backing the Giants for one reason or another, former linebacker Pepper Johnson is New England's defensive line coach. And though Bill Belichick is a name that rhymes with Belichick2, he happens to be a huge Ohio State supporter, too. Not only is his daughter Amanda an assistant coach for the women's lacrosse team, but he's also close friends with Urban Meyer and Mike Vrabel. 
Overall, 23 former Big Ten players will suit up for Super Bowl XLVI, with 15 on the Giants' sideline and 8 on the Patriots'. That ties the SEC for the most of any conference. 
SHE HAS NO IDEA WHAT SHE'S DOING IN COLLEGE. Laura Pappano wrote an article titled "How Big-Time Sports Ate College Life", using Ohio State as one of her examples of a school whose identity is wrapped in its athletic image, often to the frustration of the academics who work there. Salaries for coaches are growing exponentially more than they are for professors, but even as athletic departments spend more money, they also bring in more money.
While the increase of college sports on television and online contributes to their steady rise in popularity, TV can also dictate game schedules. Students, sometimes with the encouragement of the university, camp out for big games and miss classes in the process. Pappano cites studies that suggest grades decline when a school's teams perform better, and yet, colleges use athletics as a selling point for prospective students.
One needs to look no further than Joe Paterno to see what happens when a sports figure becomes the face of a university. However, sports are also a way to bond and feel a sense of community3, especially for young people away from home. For many, attending games is part of the whole college experience. Education may be the main purpose of going to college, but it doesn't mean athletics can't, or shouldn't, be enjoyed. They're not mutually exclusive entities. The key is finding a certain amount of equilibrium4.  
THE LINK PANTHER. Joe Posnanski reflects on Paterno's last days... An Op-Ed on Ryan Boatright's ineligibility... Billy Cundiff's week gets worse... You're a Creep, Charlie Brown... Bon Joviver... Puppy Paws... Need a Valentine's Day gift idea?... Nothing is written in stone. 
1 1.5 times as intelligent as a normal ferret, so like a dumb raccoon
2 A hint: it starts with a 'd'
3 Six seasons and a movie!
4 Says someone who schedules her plans around Ohio State games.