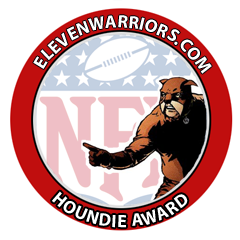 At one point in time, this award was known as the Buckeye NFLer of the Week. Thanks to a typo and the ensuing LOLsession from the commentariat, it was renamed as the Houndie. Same intent, but now with a better name.
One of the great aspects of being a Buckeye fan is watching a player develop in Columbus for three or four years and then taking their respective talents to the NFL. I'm not very good at fantasy football and my beloved Bears took a nose dive towards the end of the season, so the only saving grace for me in 2011 was the number of former Buckeyes in the league.
The Houndie is quickly gaining attention as one of the most prestigious honors around the league for the Buckeye alum and for the second consecutive season, eleven different players took home the weekly award, but only one of them can take home the yearly honor.
James Laurainitis won the initial annual award in 2009 and A.J. Hawk took home the hardware in 2010. Will the defensive side prevail again? Before we present this year's winner, let's take a look at how others fared this season.
We'll start with the Buckeyes who are left in the playoffs, which is down to eight, but we are guaranteed to have at least two in the Super Bowl.
The Giants surprised everyone when they let Kevin Boss walk in the offseason, but they knew what they were doing, as they are one game away from making the trip to Indy. Jake Ballard broke onto the scene this year, catching 38 balls for 604 yards and 4 TD's, starting 13 of his 14 games played. He took home the Houndie in weeks five and nine, as the Giants WR's were battling injuries. He sat out the final two games of the season and is still feeling the affects of his knee injury, but has returned for the playoffs, combining to catch 3 passes for 33 yards in the two wins. 
Also playing for the Giants, is Jim Cordle, who appeared in nine games after he was signed off the Giants' practice squad in early October. Look for Cordle to enter the game in goal line situations as #63 this weekend.
Across the field will be OSU-West, who will host their second straight playoff game. Since my Bears choked, I hitched my bandwagon to the 49ers in the playoffs, simply because they had the most Buckeyes on their roster. The combination of Ted Ginn, Larry Grant and Nate Clements took home four Houndies in 2011, with a fourth player, Alex Boone seeing significant PT, as he continues to turn his life around.
Ted Ginn started off the season by winning the Houndie in week one, after he returned two kicks in under a minute to help the 'Niners hold off the Seahawks. On the season, Ginn still didn't develop into the receiving threat we all hope he would have by now, catching 19 balls for 206 yards, giving him just 31 receptions in his two years by the Bay. He also rushed it eight times for 68 yards, which are both career highs, but obviously his role is returning kicks.
Though he missed two games with injury, Ginn gained 800 yards on 29 kick returns, good for a 27.6 yard average, which put him third in the league for players with at least 25 returns. His 466 yards on 38 punt returns was good for fifth, while his 12.6 YPR put him fourth. Ginn left the game Saturday with a knee injury, but returned to field some punts in the 4th quarter. He is listed as questionable for the NFC Championship game.
It was well chronicled how quickly Donte Whitner left Buffalo, looking for greener pastures and his decision to sign with the 49ers was obviously a smart choice. Whitner helped solidify the 'Niners highly rated defense and took home the Houndie in week 11. He finished the regular season with 62 tackles, 2 picks and a forced fumble in 15 games. He had five tackles in the game Saturday, including a bone crushing hit on Pierre Thomas inside the 49ers five yard line. The hit, deemed legal by the league, knocked the ball loose and knocked Thomas out of the game. 
Larry Grant may not have played much outside of special teams this year for his home town squad, but there is no question he stepped up when needed, to help San Fran hold onto the #2 seed in the NFC. When Patrick Willis went out with injury in week 13, Grant took full advantage and helped the Niners win three of four. On the season, Grant finished with 39 tackles (28 in three games started), two sacks, two Houndies and a forced fumble that sealed the win at Seattle in week 16.
Alex Boone continued his turn around in 2011, appearing in all 16 games this season. Seeing action in mostly goal line situations, the 49ers thought highly enough of Boone's play recently that they gave him a 4-year contract extension before Thanksgiving. It's great to see Boone finally live up to his potential and he will be #75 on the field Sunday.
As for the AFC Championship game, the Patriots don't have any Buckeyes on their roster and Justin Boren has hung on with the Ravens this year, spending most of his time on the practice squad.
The Bengals surprised everyone this year, finishing 9-7 and making the playoffs out of the daunted AFC North. Mike Nugent was a big part of their success, enjoying his best year as a pro, as he finished second in the NFL in FG's made. Nugent connected on 33 of 38 attempts, an 86.8% clip, good for eighth in the league and his 132 points were seventh. Nugent had the most FG's from the 40-49 mark, hitting 14/16, but never attempted one from beyond 50 yards.
Nate Clements returned home to Ohio when he joined the Bengals in the offseason. Clements started 15 games and took home the Houndie in week 15, after he registered a season high seven tackles and his only sack of the season. On the year, Clements finished with 55 tackles, 2 picks, 2 forced fumbles and a blocked FG.
Also making the playoffs were Cam Heyward and Will Allen of the Pittsburgh Steelers. Heyward appeared modestly in all 16 games, but saw extensive action in their playoff loss at Denver, recording a season high four tackles. On the year, Heyward finished with 11 tackles, a sack and a FF, proving to be a tireless worker while learning the Lebeau system. Will Allen, a special teams ace for years now, also appeared in all 16 games for the Steelers, netting nine total tackles.
The Lions playoff run was short lived, but at least they finally made it back there and Rob Sims had a big part in their success. The winner of the week 17 Houndie, Sims started all 16 games for the pass happy Lions, holding down the RG spot for Matt Stafford, who threw for over 5,000 yards this season. Sims has started every game for the Lions since he arrived before the 2010 season and with the young core of players they possess on offense, this team should be good for years to come.
Bobby Carpenter stuck with one team this season, after getting shipped around in 2010, appearing in all 16 games for the Lions, starting three of them. Carpenter finished the year with 29 tackles and a pick, which he returned for a TD in the week four win over Dallas, a play that may have kick-started the Lions season. 
Another playoff team that featured some Buckeyes in key roles was New Orleans. Malcolm Jenkins, in his third season with the Saints, started 15 games at FS, recording a career high 77 tackles, but no interceptions, to go along with a sack and a forced fumble. Unfortunately, Jenkins allowed a couple of big plays this past weekend in the Saints loss to San Fran., but he is getting better each year and should continue that rise next season.
Will Smith had a quiet year, after sitting out the first two games for his Star Cap incident. Smith finished the season with a career low 35 tackles, to go along with 6.5 sacks and 2 FF's.
The Packers were the best team all year, winning their first thirteen games, but fell flat at home this past Sunday, ending a sad week for the organization. A.J. Hawk, winner of the 2010 Houndie missed the first two games of his career in week's 13 and 14, finishing with a career low 84 tackles in 14 games. Ryan Pickett also battled injury this year, starting 14 games and finishing with 33 tackles, his second lowest total since his rookie campaign in 2001. Pickett is signed for a few more years in Green Bay, but they need to shore up their defense if they are going to make another Super Bowl run.
One of the great surprises for me this year was Brandon Saine, who took advantage of an injury-riddled Packer back field and saw action in eight games. Saine finished with 18 carries for 69 yards and 10 catches for another 69 yards, while returning two kicks for an average of 20 yards. Twice this season, Saine combined for 45 yards, as he filled in for an injured Ryan Grant and James Starks. I think most of us are surprised that Saine made an active roster this season, but we can only hope his limited play creates more success next year.
Santonio Holmes made some noise in New York this year, unfortunately it was for all the wrong reasons. Holmes complained about his role all year to anyone that would listen and his season ended on the bench, as the Jets failed to make the playoffs. Holmes had the lowest yardage of his career, finishing with 654 yards on 51 catches, while finding the endzone eight times. The TD's matched a career high, but his 12.8 YPC was also the lowest of his career. The Jets are stuck with Holmes for another couple of years, unless they take a huge hit against the cap. Something tells me they get things worked out over the summer, but if he continues the same behavior next season, cutting him will be an easy decision.
Also for the Jets, Nick Mangold missed the first two games of his career, but is still considered one of the nest centers in the NFL, as he'll enter his seventh season next year.
Michael Jenkins enjoyed some early success with the Vikings, taking home the Houndie in week three, but his numbers dipped the rest of the way, as the Vikings searched for their QB and Jenkins was finally placed on IR after week 12. He finished with 38 catches for 466 yards and 3 TD's in his first season with the Vikes. It looks like they have settled on Christian Ponder as their QB of the future, so hopefully Jenkins can get some chemistry with him in the OTA's. Also finishing the season on IR for the Vikings was Antoine Winfield, who appeared in a career low five games this year, essentially not playing after week four. He finished with 40 tackles, a pick, sack and FF.
Brian Hartline had a quiet year, as the Dolphins struggled to find their groove in 2011, going through three QB's and firing their coach at the end of the season. Hartline appeared in all 16 games, starting 10, but caught just 35 balls for 549 yards and only one touchdown. Austin Spitler also made an appearance in all 16 game this year, mostly on special teams, registering 11 tackles.
Another great surprise this year was Dane Sanzenbacher, who made the opening day roster for the Bears, after not being drafted in April. Sanzenbacher took advantage of early injuries and late season arrests to finish the year with 27 catches for 276 yards and three TD's. The reception total was good for third amongst WR's on the team and his TD's were only behind Kellen Davis for the team lead. With Mike Martz retiring, it is yet to be seen if there will be a spot for Dane next year, but my gut tells me Roy Williams is gone, Earl Bennett will move outside and Dane will have a chance to be a slot guy.
Also at receiver, Brian Robiskie was released from the Browns after six games, in which he caught just 3 passes for 25 yards. He was picked up by Jacksonville, but never saw the field and ended the season on IR. Another Buckeye picked up by Jacksonville this season was Ashton Youboty, who played in six games, starting five and finished the season with 25 tackles, a pick and fumble recovery for a TD in the week 12 loss to Houston. Youboty was continually beat in coverage, but with a new coaching staff, he might have a chance to stick around next year.
Chris Gamble had some what of a resurgent year, appearing in 15 games for the Panthers, who have life back in the organization with the emergence of Cam Newton. Gamble finished the year with 45 tackles and 3 picks, regaining the trust of the new coaching staff and extending his stay in Carolina. Ben Hartsock joined the Panthers this year, playing in 15 games as a run blocking TE. He didn't record any catches and now has two over the last three seasons.
Once again Anthony Gonzalez battled early injuries and didn't see much action for the Colts, finishing the season with zero catches. He has now appeared in a total of 11 games over the last three season in Indy, catching just 5 balls. More than likely, he'll be wearing a new helmet next season.
In Philadelphia, the "Dream Team" wasn't so dreamy, finishing the year at 8-8 and missing the playoffs. Brian Rolle and Kurt Coleman saw extensive action on the defense this season, with each finishing in the top four for tackles on the team. Coleman, playing in 15 games, won the Houndie in week 6 after his three pick performance against Washington, which helped him lead the teams in INT's at 4. KC4 was second on the team with 78 tackles, while Rolle finished fourth with 54, to go along with a sack and fumble recovery. Rolle appeared in all 16 games in his rookie campaign, starting 13 of them.
A couple of other rookies were out in Oakland, where Terrelle Pryor saw the field for one play and Chimdi Chekwa was getting some action before he injured his hammy and went on IR. Chekwa finished the season with eight tackles in four games, while it is yet to be seen what type of plan the new regime has for TP moving forward.
Also in the AFC West was Donald Washington and Na'il Diggs. Washington saw action in 12 games, starting three and had a career high with 25 tackles. Diggs, in his first year with San Diego, played in 13 games, going for 40 tackles.
This year's award came down to two players though, James Laurainitis and Beanie Wells. Laurainitis won the initial award in his rookie season, while we have all been waiting for Beanie to have his breakout season.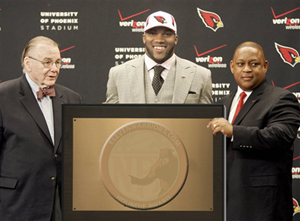 Little Animal once again lead the Rams defense and finished eighth in the NFL with 142 tackles, unfortunately the Rams were woeful and now will be coached by Jeff Fisher. The tackles were a career high for James, who won the Houndie in week's 8, 10 and 13. For his career, he has yet to miss a game and with an experienced head coach now at the helm, the Rams should be one of the teams to watch next year. Also for the Rams, Jake McQuaide played in all 16 games as their long snapper.
While Laurainitis had a good year, the winner of the 2011 Houndie goes to Beanie Wells, who stayed healthy long enough to eclipse the 1,000 mark for the first time in his career and finish amongst the top 10 for TD's.
The Cardinals let Tim Hightower walk in the off season, paving the way for Wells to carry the load by himself in 2011, which he did 245 times in 14 games. Wells tallied 1,047 yards on those carries, which was tied with Chris Johnson for 14th best in the league.
Beanie also won the Houndie three times, with his breakout game coming in week four against the Giants, where he ran for 138 yards on 27 carries and 3 TD's. He later demolished that mark in week 12, where he ran for a franchise record 228 yards on 27 carries in their 23-20 win over St. Louis.
Unfortunately, Beanie is still troubled by fumbles and injuries, but 2011 was a huge step in his career. It showed the Cardinals that he is worthy of being the #1 option, but he can't carry the entire load. The Cardinals finished strong, missing the playoffs by a couple of games, but if Beanie can heal his knee over the summer, expect more great things from Beanie and the Cardinals in 2012.
We here at 11W want to congratulate Beanie on an outstanding season and look forward to seeing if he can become the first player in NFL history to win the Houndie in back to back seasons.