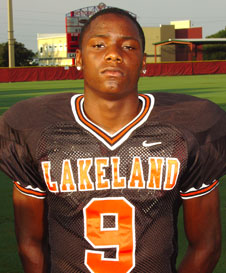 The loss of Dwayne Stanford to Oregon didn't linger too long. Just a short time ago we were able to confirm that Lakeland (FL) WR Ricquan Southward made the switch from his Miami (FL) verbal commitment and gave the OSU staff his verbal pledge.
Southward, a 4-star recruit in the class of 2012, had been committed to the Hurricanes for a while, but with the NCAA looming and Urban Meyer on the way to Columbus, the south Florida stand out decided he wanted to don the Scarlet and Gray for the forthcoming years.
An official visit the weekend of the Penn State game seemed to seal the deal for the wide receiver, who is listed at 6-2/185. He was recruited primarily by Stan Drayton, who is expected to remain on Meyer's staff next season. In addition to OSU and Miami, Southward had interest from Ole Miss, USF, Florida State, Mississippi State, Maryland, Florida, Texas Tech, Georgia, and others.
The commitment of Southward may be the first sign of the Meyer effort. Have to tip your cap to Drayton and the rest of the staff for closing this one out, but it appears the news of Meyer emerging as head coach of OSU may have definitely helped out here. Southward becomes the 16th member of the class of 2012 and the fourth wide receiver, joining Mike Thomas, Frank Epitropolous, and Roger Lewis.